Things I want to cook/bake/eat/stare at
Paneer butter masala. Paneer. Recipe Print 5 Minute Chocolate Mug Cake recipe - All recipes Australia NZ - StumbleUpon. Chocolate Chip Cookie Dough + Cupcake = The BEST Cupcake. Ever. Recipe - Al... - StumbleUpon. Brownie Batter Chocolate Fudge Cupcakes | Kevin & Amanda - StumbleUpon.
98K+Pin It With Outrageously Rich Chocolate Indulgence Frosting.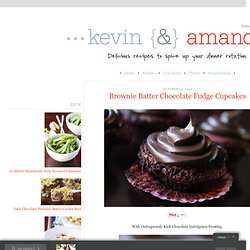 AKA The Mega. Extreme. Chocolate. Overdose. Better Than Takeout Orange Chicken - StumbleUpon. Yesterday as I stood in the kitchen trying to figure out what to make for dinner I wondered to myself, how do those people do it on those shows where they are given random ingredients and are suppose come up with something genius.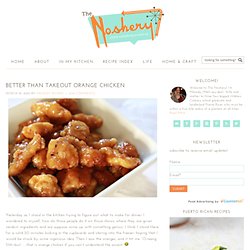 I think I stood there for a solid 20 minutes looking in the cupboards and staring into the freezer hoping that I would be struck by some ingenious idea. Then I saw the oranges, and it hit me "O-raang Shh-ikun"….that is orange chicken if you can't understand the accent. Chinese barbecue pork buns (char siu bao) recipe. Recipe: chinese char siu bao (barbecue pork buns) Fork.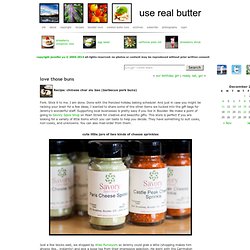 Stick it to me. I am done. Shrimp, Scallop and Pork Shumai Recipe : Tyler Florence. Directions To make the filling: Combine the shrimp, scallops, pork, ginger, cilantro, shallots, vinegar, sesame oil and egg whites in a food processor.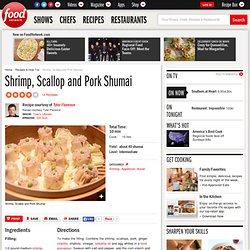 Season with salt and pepper, add the corn starch and lemon juice and pulse to combine-- I like my fillings to have a little texture. (Alternatively chop the shrimp and scallops finely then add the pork, ginger, cilantro and vinegar and chop together. Transfer the mixture to a bowl and rapidly mix in the vinegar, sesame oil, egg whites, seasoning, corn starch and lemon juice.) Cheesecake Stuffed Strawberries | - StumbleUpon. Cheesecake Stuffed Strawberries These cheesecake stuffed strawberries are the perfect dessert treat!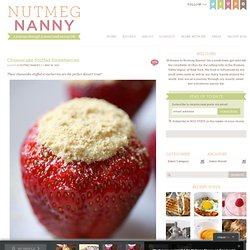 Can I just say that I have died and gone to heaven. Cheesecake stuffed strawberries….how have I not made these before?! Twix Cheesecakes – Gingerbread Bagels - StumbleUpon. Best Steak Marinade in Existence Recipe - Allrecipes.com - StumbleUpon. The Brownie That Will Change Your Life - StumbleUpon. Let me start off by saying that viewer discretion is advised for today's post.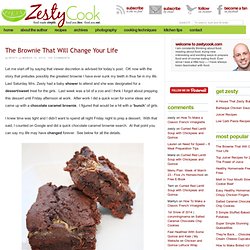 OK now with the story that preludes possibly the greatest brownie I have ever sunk my teeth in thus far in my life. Last Saturday Mrs. Zesty had a baby shower to attend and she was designated for a dessert/sweet treat for the girls. Last week was a bit of a zoo and I think I forgot about prepping this dessert until Friday afternoon at work. After work I did a quick scan for some ideas and came up with a chocolate caramel brownie. Better Grilled Cheese - Cook This! Not That - Mens Health. Funky versions of America's simplest sandwich have been popping up at national restaurants and quick-service chains more and more in recent years.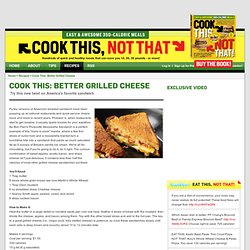 Problem is, when restaurants start to get creative, it usually spells trouble for your waistline. Au Bon Pain's Prosciutto Mozzarella Sandwich is a perfect example of this "more is more" mantra, where a few thin slices of cured ham and a mozzarella blanket turn a lunchtime bite into a sandwich that packs as much saturated fat as 5 scoops of Breyers vanilla ice cream. We're all for innovating, but if you're going to do it, do it right. The curious combination of sweet apples, smoky bacon, and sharp cheese isn't just delicious, it contains less than half the calories of most other grilled cheese sandwiches out there. You'll Need: 1 Tbsp butter 8 slices whole-grain bread (we love Martin's Whole Wheat) 1 Tbsp Dijon mustard 6 oz shredded sharp Cheddar cheese 1 Granny Smith apple, peeled, cored, and sliced 8 strips cooked bacon. My FAVORITE Chocolate Chip Cookie.
I have experimented with countless recipes searching for that perfect chocolate chip cookie.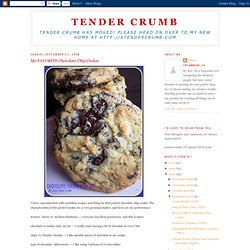 The characteristics of the perfect cookie are a very personal matter, and here are my preferences: texture: chewy w. medium thickness --- everyone has their preference, and this is mine! Chocolate to cookie ratio: 50/50 --- I really enjoy having a lot of chocolate in every bite chips vs. chunks: chunks --- I like sizeable pieces of chocolate in my cookie. type of chocolate: bittersweet --- I like using Valrhona 61% extra bitter. Maple Jam Thumbprint Cookies | A Dash of Sass. Maple Jam Thumbprint Cookies Cookie season is upon us.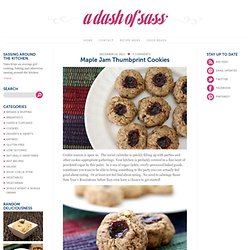 The social calendar is quickly filling up with parties and other cookie-appropriate gatherings. Your kitchen is probably covered in a fine layer of powdered sugar by this point. In a sea of sugar-laden, overly-processed baked goods, sometimes you want to be able to bring something to the party you can actually feel good about eating. Waffles with Ham and Egg | Eat This, Not That - StumbleUpon. Baked French Toast Casserole with Maple Syrup Recipe : Paula Deen.
Pumpkin Monkey Bread | Sugarcrafter - StumbleUpon. September 23, 2011 | Print | E-mail | Filed under bread, pumpkin Monkey bread.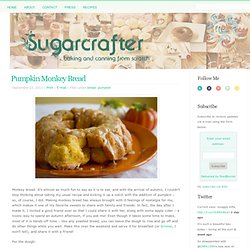 It's almost as much fun to say as it is to eat, and with the arrival of autumn, I couldn't stop thinking about taking my usual recipe and kicking it up a notch with the addition of pumpkin – so, of course, I did. Making monkey bread has always brought with it feelings of nostalgia for me, which makes it one of my favorite sweets to share with family and friends. In fact, the day after I made it, I invited a good friend over so that I could share it with her, along with some apple cider – a lovely way to spend an autumn afternoon, if you ask me! Tuesday Tasting Butternut Squash Ravioli. Every year, around the same time I dig out my winter sweaters and scarves, I always start craving butternut squash everything…especially if said squash happens to be wrapped in homemade pasta dough and drizzled with warm sage brown butter.
Last weekend after spending the day decorating the Christmas tree and stringing the lights, I decided to break out the pasta maker and mix up dough from scratch. It was my first time making ravioli, and once the sheets of dough were made, it was really just a matter of scooping out the filling and sealing each little pillow of goodness shut. It wasn't a 30-minute meal by any means, but with every mouthwatering bite, we were reminded that the process is so worth it. Pretzel Bread - StumbleUpon. Baking bread, whether as an occupation or as a hobby, is extremely satisfying. Bakers have almost complete control over their bread, requiring little more than some very simple ingredients, time and the willingness to get his or her hands a little messy. Pretzel bread is not quite a simple as flat bread or dinner rolls, but the loaves come out of the oven with a deep, brown pretzel crust and a slightly sweet, tender center.
This particular recipe should be treated as a base to which other ingredients may be added. Cinnamon and extra brown sugar can create a sweet pretzel, or garlic and other spices can create a more savory pretzel.
---