3D and Game development
Multimedia Fusion 2
Game and software creation has never been easier or quicker than with Multimedia Fusion 2! Discover the tool used by so many multimedia professionals, game creators, and creative people from all walks of life. With MMF2's amazing event editor system you are able to quickly generate games or apps in without mastering a traditional programming language. Within your first hour you will have learned the basics which will allow you make games for Windows, iOS, Android, Flash and XNA for windows mobile phones and the Xbox. Harness the power of Multimedia Fusion 2 today.
I sincerely believe that the user experience community should add game design to its toolbox of competencies. If we're truly committed to creating satisfying user experiences, then there's no reason why games, which can satisfy people so richly, should be excluded. Operating successfully in the games domain means learning a new set of competencies, and I don't want to oversimplify the challenges of designing high-quality game experiences. However, if you're in a position to jump in and start designing, then I can at least offer a primer to help you steer clear of some of the most common mistakes.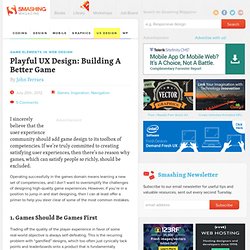 Playful UX Design: Building A Better Game
Articles, tutorials and opinions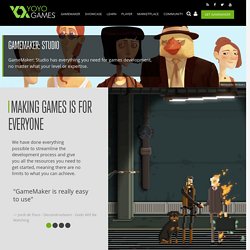 YoYo Games: GameMaker
With GameMaker: Studio™ 's built-in GameMaker Language (GML), you can control every last detail of your game – pathfinding, physics, object interaction, particles, data structures and more…
Activate Games
Unity is a game development ecosystem: a powerful rendering engine fully integrated with a complete set of intuitive tools and rapid workflows to create interactive 3D content; easy multiplatform publishing; thousands of quality, ready-made assets in the Asset Store and a knowledge-sharing Community. For independent developers and studios, Unity's democratizing ecosystem smashes the time and cost barriers to creating uniquely beautiful games.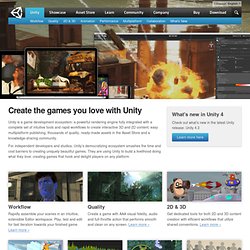 PixieEngine: Create Games Online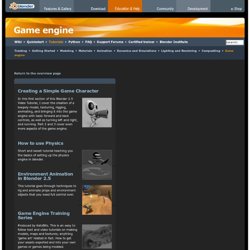 Return to the overview page Creating a Simple Game Character In this first section of this Blender 2.5 Video Tutorial, I cover the creation of a lowpoly model, texturing, rigging, animating, and bringing it into the game engine with basic forward and back controls, as well as turning left and right, and running. Part 2 and 3 cover even more aspects of the game engine. How to use Physics Short and sweet tutorial teaching you the basics of setting up the physics engine in blender.
Game engine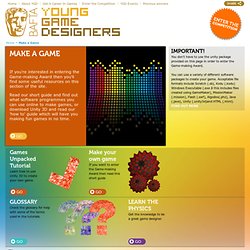 BAFTA Young Game Designers
You don't have to use the unity package provided on this page in order to enter the Game-making Award. You can use a variety of different software packages to create your game. Acceptable file formats include Scratch (.sb), Kodu (.kodu) Windows Executable (.exe – this includes files created using GameMaker), MissionMaker (.mission), Flash (.swf), Algodoo(.phz), Java (.java), Unity (.unity3d)and HTML (.html).