Fashion 1
Pandora
It Girl of Tomorrow: Louise Ebel -- style, personal, style, paris
The cherry blossom girl
Hakone est un joli coin de campagne, à environ 1h30 de train de Tokyo. On peut suivre un parcours pour admirer la nature environnante. Au choix: trams, téléphériques, balade à pied, et même bateaux de pirate ! Il y a aussi un grand nombre de musées (ça vaut le coup de rester deux jours ). Mais grâce à ses sources chaudes, la spécialité de la région, c'est le Honsen ! Un moment de détente très appréciable, surtout en hiver après avoir cavalé toute la journée !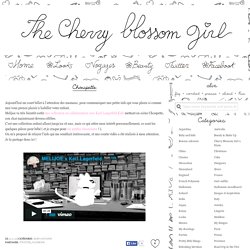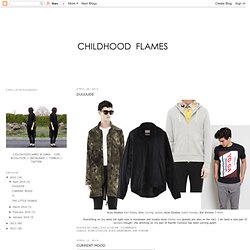 childhood flames
Just finished reading (re-reading in the case of Calvino) If on a winter's night a traveler and Meditations in an Emergency. I feel like I read constantly online but this year I'd like to read more physical books and academic texts. Open to any suggestions related to linguistics/language, intersectional feminism, critical race theory, textiles/design, etc.! Next up on my list: Lunch Poems, Species of Spaces and Other Pieces, To Whom it May Concern, Here and There Vol. 8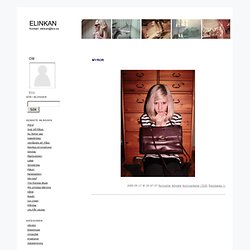 Elinkan
Myror Svar på frågor. Nu flyttar jag! Klick! Jag flyttar till Radar Magazine och jag hoppas ni alla följer med mig.
StyleBites: An Insider's Blog
LOOKBOOK.nu: collective fashion consciousness.
Refinery 29
Le Blog de Betty : Blog mode
Nubbytwiglet.com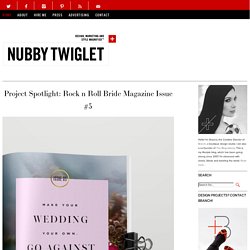 The quickest way to grow your blog doesn't hinge on implementing the latest SEO techniques or posting a lot of pretty images. If you want an audience that's engaged and keeps coming back for more, create genuinely helpful content. If you poke around the internet, you'll notice that a majority of the most popular blogs are heavy on content that teaches you something.
Street Clash
my friend shelley and i have been friends for 28 years...since we were 10. i was new at woodlands elementary school in longwood, florida, and she reached out to me and befriended me. our lives have diverged in different directions over the decades, but i still love her as a sister and when i go down to florida a couple of times a year i try to get together with her if time and circumstances allow. back in july of 2013, she told me she was pregnant. i was overcome with joy for her (and her partner danny). just after christmas 2013, one day after, to be specific, she had her second child, a tiny little girl named danielle. this quilt is for that special baby girl, little dainelle, the new baby of my oldest, dearest friend. :)
bits and bobbins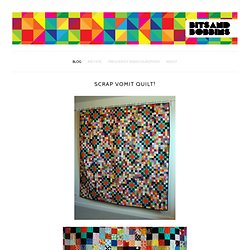 the street walker
Welcome to Hope Street Markets
Mod Retro Indie Clothing & Vintage Clothes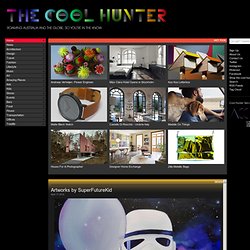 We are scratching our heads, searching for new words to describe the attraction we have for buildings such as the Limantos residence by Fernanda Marques Arquitetos Associados. The one-family residence of 820 square meters (8,826 sq.ft) is built on three levels on a steep 780 square-meter (8,395 sq.ft.) plot in the upscale neighbourhood of Cidade Jardim (Garden City) in the West Zone of São Paulo, Brazil. What is it that so appeals to us in this? Yes, it is the clean, classic lines, the Miesian harmony between nature and the indoors, the understated elegance of less is more. It is also the achievement of open-space opulence without pretentious pomposity.
thecoolhunter.com.au
Wardrobe Remix - a set on Flickr
Only shallow
bits and bobbins by tricia royal
moderniteter - en blogg från Tjejsajten.se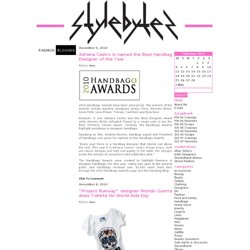 Style Bytes
2010 Handbago Awards have been announced. The winners of the awards include big-time designers Jimmy Choo, Hermès Birkin, Linea Pelle, Lena Erziak, Treesje, Cashhimi and Nyla Noor. However, it was Adriana Castro won the Best Designer Award while Hermès Birkin defeated Chanel by a single vote to win the Best Timeless Classic Award. Certainly, the Handbago Awards highlight excellence in designer handbags. Speaking on this, Kristina Moreno, handbag expert and President of Handbago.com gives her opinion on the Handbago Awards: "Every year there is a handbag designer that stands out above the rest.
After days of furious coding, databases crashing (not my fault…), late nights, and trying not to change the design yet again, I have a portfolio website! I'm so ecstatic! In the process I also moved my blog, and the new address is: http://blog.caseybrowndesigns.com. As with my last blog-move, I'll be posting in conjunction with the "old" blog for a week, and then will permanently move to the new home. So please adjust your feeds (sorry about this–I know it's so annoying!).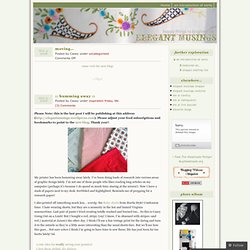 elegant musings
15 January 2014, 11:11 Do you believe in the existence of a girl code — a basic system of ethics and morals that guide us as women? When columnist E. Jean was asked (in a recent issue of Elle), she offered up these suggestions. "Here's the BLC — Basic Lady Code: Never hate a woman you've never met, never date a friend's ex, never reveal another female's secret, never leave an inebriated friend alone at a bar, never invite a friend's enemy to a party, never dine alone with a friend's boyfriend. Here's the AWC — Advanced Woman Code. + Never stay silent when a friend is falling for an asshole. + Never favorite a best friend's bon mot.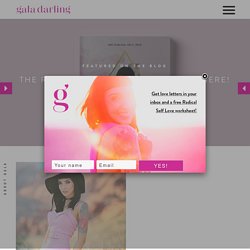 iCiNG - galadarling.com
januari 15, 20142 I purchased this jumpsuit a while ago knowing I'll probably wear it to death in the summertime (that is, if that's ever going to happen again) and thought it'll be ideal for parties too so teamed it up with some chunky heels and my new embellished blazer for cold season's sake. Pictures by OOTD Magazine. H&M jumpsuit / Choies blazer / ASOS ankle boots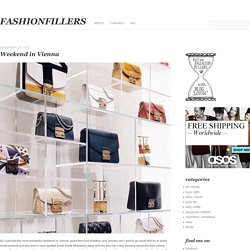 FashionFillers
garance doré: une fille comme moi
Et voici le premier post de Megan, qui va nous parler d'amour et qui se présente aujourd'hui. Bonne journée ! Garance Hello new friends !
Painfully Hip — Fashion-Forward Finds for the Weak of Wallet
Fops and Dandies
wear palettes
style stalking blogs
Street Peeper: Global Street Fashion
080311 - Tröjaskärpskor. - lisaplace - en blogg från Tjejsajten.se
Ledig måndag - Dagens - moderniteter - en blogg från Tjejsajten.se
Fashion Toast
Style Bubble Daily Wear
Kingdom Of Style
:: madeit - buy & sell independent goods online, home of the independent australian designers directory ::
El Fashionista — Blog de moda
liebemarlene vintage
Street Peeper: Global Street Fashion
NOTCOUTURE
NOTCOT
Tokyomade Online Shop: Tokyo style by Tokyo and Japan-based designers
Style Bubble
Kingdom Of Style
Blog: Shop Outside the Mainstream
she's in fashion.