Innovative
Nature by Numbers. Best Street Art of 2011 - StumbleUpon. 20 awesome examples of street art - StumbleUpon. Viscosity: browse artwork. Illustrations by Daniela Uhlig | Designerscouch #thecritiquenetwork. This is What Happens When You Give Thousands of Stickers to Thousands of Kids | Colossal - StumbleUpon. This December, in a surprisingly simple yet ridiculously amazing installation for the Queensland Gallery of Modern Ar, artist Yayoi Kusama constructed a large domestic environment, painting every wall, chair, table, piano, and household decoration a brilliant white, effectively serving as a giant white canvas.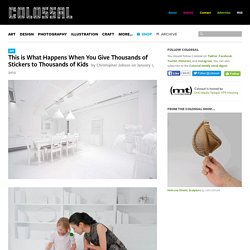 Over the course of two weeks, the museum's smallest visitors were given thousands upon thousands of colored dot stickers and were invited to collaborate in the transformation of the space, turning the house into a vibrantly mottled explosion of color. How great is this? Given the opportunity my son could probably cover the entire piano alone in about fifteen minutes. The installation, entitled The Obliteration Room, is part of Kusama's Look Now, See Forever exhibition that runs through March 12. If you liked this you'll also enjoy Roman Ondak's Room of Heights and Karina Smigla-Bobinski's helium-filled kinetic drawing sculpture.
BeinArt Collective & Publishing. Yuki Matsueda. Look in art: Sayaka Kajita Ganz. LookInArt.net may be available for purchase.
Inquire today! Inquiry Form Inquire with your Facebook or LinkedIn profile, or complete this form to receive a free quote. - StumbleUpon. - StumbleUpon. Fine arts blog & Star Wars arts. Travel Le Borgne Cedric's light. Cedric Le Borgne French artist created for Lumiere festival in the UK a series of works that can easily pass as miracles.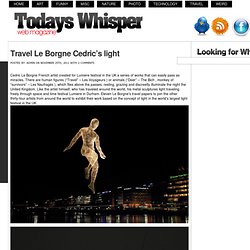 There are human figures ("Travel" – Les Voyageurs ) or animals ("Deer" – The Bich , monkey of "survivors" – Les Naufragés ), which flies above the passes, resting, grazing and discreetly illuminate the night the United Kingdom. Like the artist himself, who has traveled around the world, his metal sculptures light traveling freely through space and time festival Lumiere in Durham. Eleven Le Borgne's travel papers to join the other thirty-four artists from around the world to exhibit their work based on the concept of light in the world's largest light festival in the UK. The Making of a Tattoo Flash & Illusion & The Most Amazing Creations in Art, Photography, Design, and Video. - StumbleUpon.
ANNIE WU: Sketches. - StumbleUpon. - StumbleUpon. - StumbleUpon. - StumbleUpon. (click images for detail) For the better part of three decades multidisciplinary artist Guy Laramee has worked as a stage writer, director, composer, a fabricator of musical instruments, a singer, sculptor, painter and writer.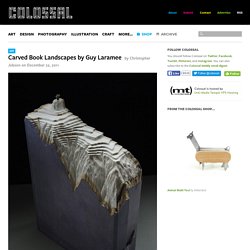 Among his sculptural works are two incredible series of carved book landscapes and structures entitled Biblios and The Great Wall, where the dense pages of old books are excavated to reveal serene mountains, plateaus, and ancient structures. Of these works he says:
---