Innovative
viscosity: browse artwork
Illustrations by Daniela Uhlig | Designerscouch #thecritiquenetwork
This December, in a surprisingly simple yet ridiculously amazing installation for the Queensland Gallery of Modern Ar , artist Yayoi Kusama constructed a large domestic environment, painting every wall, chair, table, piano, and household decoration a brilliant white, effectively serving as a giant white canvas. Over the course of two weeks, the museum's smallest visitors were given thousands upon thousands of colored dot stickers and were invited to collaborate in the transformation of the space, turning the house into a vibrantly mottled explosion of color.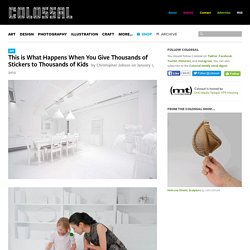 Yuki Matsueda
Look in art: Sayaka Kajita Ganz - StumbleUpon
- StumbleUpon
- StumbleUpon
Fine arts blog & Star Wars arts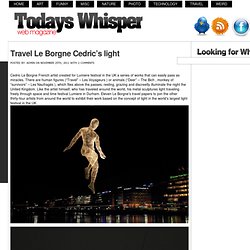 Travel Le Borgne Cedric's light
Cedric Le Borgne French artist created for Lumiere festival in the UK a series of works that can easily pass as miracles. There are human figures ("Travel" – Les Voyageurs ) or animals ("Deer" – The Bich , monkey of "survivors" – Les Naufragés ), which flies above the passes, resting, grazing and discreetly illuminate the night the United Kingdom.
first image 'sunken sediment', 2010 (detail) hand-cut paper & foam core, light 31'' x 42'' x 38'' all images courtesy of jen stark american artist jen stark creates three-dimensional pieces which take paper to a whole new level of sculpture. in works such as 'sunken sediment', stark takes construction or acid-free colored paper and intricately cuts each sheet with an X-acto knife, layering the paper into a topographical landscape of color and bold shapes. other works such as 'centrifugal' or 'the highest point' see overlapping paper spiraling into a kaleidoscopic effect of color, mesmerizing the viewer and drawing them into the work.
(click images for detail)