Innovative
viscosity: browse artwork
This December, in a surprisingly simple yet ridiculously amazing installation for the Queensland Gallery of Modern Ar, artist Yayoi Kusama constructed a large domestic environment, painting every wall, chair, table, piano, and household decoration a brilliant white, effectively serving as a giant white canvas. Over the course of two weeks, the museum's smallest visitors were given thousands upon thousands of colored dot stickers and were invited to collaborate in the transformation of the space, turning the house into a vibrantly mottled explosion of color.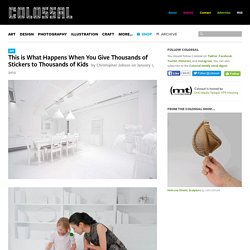 Yuki Matsueda
Look in art: Sayaka Kajita Ganz - StumbleUpon
LookInArt.net may be available for purchase.
- StumbleUpon
- StumbleUpon
Fine arts blog & Star Wars arts
Travel Le Borgne Cedric's light
jen stark: paper art
(click images for detail)