Physics
How to use Physics to Guess the Number of M&M's in a Jar : Living the Scientific Life (Scientist, Interrupted)
Universe to multiverse
Stephen Hawking's 'The Grand Design' puts M-theory to the mysteries of the universe
"Philosophy is dead," Stephen Hawking declares in the introduction to his new book. "Philosophy has not kept up with modern developments in science, particularly physics." It's the kind of brash toss-off we've come to expect from Albert Einstein's heir.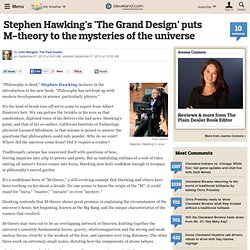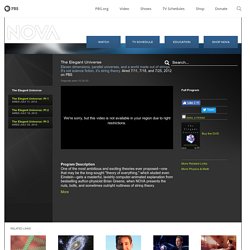 The Elegant Universe: Part 3 PBS Airdate: November 4, 2003 NARRATOR: Now, on NOVA, take a thrill ride into a world stranger than science fiction, where you play the game by breaking some rules, where a new view of the universe pushes you beyond the limits of your wildest imagination.
cqo4t.jpg (JPEG Image, 3850 × 1925 pixels)
The Astronomical Highlights of 2010
Examination of the Fabric of the Universe Video
Dr. Quantom
Description In addition to the basic concepts of Electromagnetism, a vast variety of interesting topics are covered in this course: Lightning, Pacemakers, Electric Shock Treatment, Electrocardiograms, Metal Detectors, Musical Instruments, Magnetic Levitation, Bullet Trains, Electric Motors, Radios, TV, Car Coils, Superconductivity, Aurora Borealis, Rainbows, Radio Telescopes, Interferometers, Particle Accelerators (a.k.a.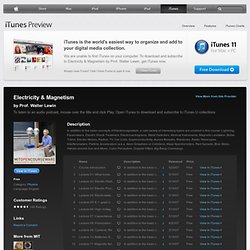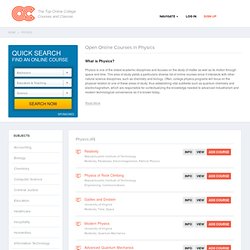 What is Physics?
2011-15-d-print.jpg (JPEG Image, 3000x2400 pixels) - Scaled (37
Physics III: Vibrations & Waves - Download free content from MIT on iTunes
Podcasts - Astronomy 161 - Introduction to Solar System Astronomy by Richard Pogge
Description Overview of modern scientific cosmology, including discussion of stars, the Milky Way galaxy, black holes, dark matter, the big bang, and evidence for our current understanding of the universe. Customer Reviews
More Science :: Feature Articles :: November 29, 2010 :: :: Email :: Print See Inside Deep down, the particles and forces of the universe are a manifestation of exquisite geometry By A. Garrett Lisi and James Owen Weatherall
A Geometric Theory of Everything
NASA's SDO Captures a Monster Prominence [video]
Time Dialation