Python
Scientific Analysis in Python
Python based scientific analysis cookbook James Battat Created: October 3, 2006 Last Modified: July 12, 2010 I find Python very user-friendly.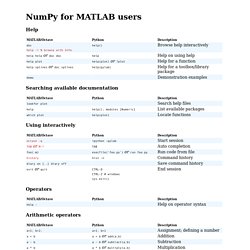 NumPy for MATLAB users – Mathesaurus
Help Searching available documentation
In order to compliment my linear regression in google docs post (and because I keep forgetting how to do it), here is a quick and dirty guide to linear regression using python and pylab. First some notes. One, there is some good info on this online (how else do you think I find this stuff?).
Linear regression with pylab | Wired Science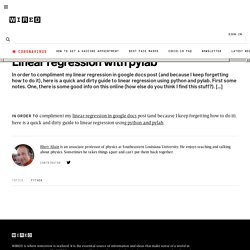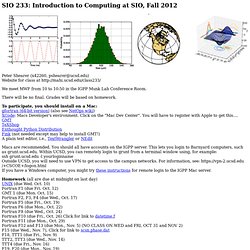 Peter Shearer (x42260, pshearer@ucsd.edu) Website for class at http://mahi.ucsd.edu/class233/
Python/Unix Course
Simplicity, Flexibility, Beauty!, Kiwi PyCon 2011, August 27-28, 2011, Wellington, New Zealand
Python for Scientists
In reaction to several colleagues asking about Python , I thought a webpage would be more useful than giving an exhaustive rundown on Python verbally. Python is a script based language that allows programmers/scientists to get their algorithms and functions working in little or no time. A large number of modules and wrappers are being built for Python, like RPy and Scipy , to allow advanced tools and faster processing speeds to be implemented.
VPython