Decorating, styles and home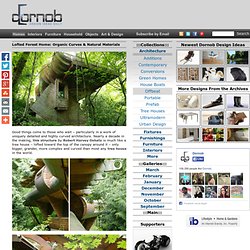 Good things come to those who wait – particularly in a work of uniquely detailed and highly curved architecture. Nearly a decade in the making, this structure by Robert Harvey Oshatz is much like a tree house – lofted toward the top of the canopy around it – only bigger, grander, more complex and curved than most any tree house in the world. The perimeter of the structure is pushed out into the forest around it, curving in and out to create views as well as a sense of intimacy with the coniferous and deciduous tree cover. The wood and metal detailing is incredible in its variety and customization – each piece designed to fit a particular form and function.
An oversized ottoman for an undersized budget—less than $200 all in! Above, from top : In the Loop (P5209-24) paint, Para Paints ; "Waves at Our Feet" by Gabriella Collier , Art Interiors; Steven and Chris Oxford sofa , Zilli Home ; pillows, HomeSense ; Aurora rectangular tray , Williams-Sonoma. Materials For a 4-ft. x 4-ft. ottoman 1 4- x 8-ft. sheet plywood 2 1- x 6-in. pieces lumber wood glue drill wood screws 4-ft. x 4-ft. x 4-in. piece foam spray glue batting staple gun 2 yd. double-width fabric 4 turned legs 4 castors
Steven and Chris | DIY Upholstered Ottoman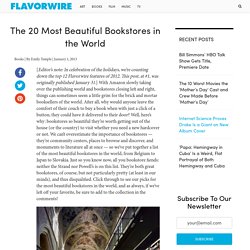 [ Editor's note: In celebration of the holidays, we're counting down the top 12 Flavorwire features of 2012. This post, at #1, was originally published January 31. ] With Amazon slowly taking over the publishing world and bookstores closing left and right, things can sometimes seem a little grim for the brick and mortar booksellers of the world. After all, why would anyone leave the comfort of their couch to buy a book when with just a click of a button, they could have it delivered to their door? Well, here's why: bookstores so beautiful they're worth getting out of the house (or the country) to visit whether you need a new hardcover or not. We can't overestimate the importance of bookstores — they're community centers, places to browse and discover, and monuments to literature all at once — so we've put together a list of the most beautiful bookstores in the world, from Belgium to Japan to Slovakia.