Mexican
Empellón Chef Alex Stupak's Homemade Green Chorizo Tacos with Kale and Potatoes. [Photograph: Christina Holmes] Can you really write a book on America's Greatest New Cooks and not mention Alex Stupak of Empellón?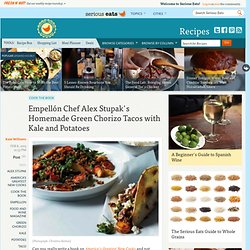 After all, it takes a great mind to move from avant-garde pastry to idiosyncratic Mexican cuisine in one successful fell swoop (even if Stupak insists it was a natural transition). Country Boys' Chorizo Huaraches from 'New York à la Cart' [Photograph: Alexandra Penfold] Huaraches are my new favorite Mexican street food.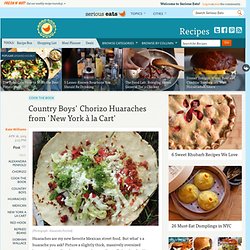 But what's a huarache you ask? Picture a slightly thick, massively oversized homemade tortilla. Then picture this tortilla stuffed with refried beans. Yellow Mole with Masa Dumplings (Mole Amarillito con Chochoyotes) from 'Pati's Mexican Table' [Photograph: Penny De Los Santos] Making mole has a reputation for being an arduous process with dozens of steps and even more ingredients.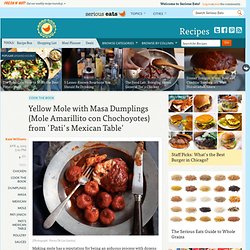 But not all moles are particularly difficult or time consuming, and they don't always have to contain one of every item in your neighborhood Mexican grocery. The Yellow Mole with Masa Dumplings from Pati's Mexican Table is one such mole. Shredded Pork in Ancho-Orange Sauce (Chilorio) from 'Pati's Mexican Table' [Photograph: Penny De Los Santos] Carnitas make for one of the best taco fillings: slow braised pork, shredded and then crisped up before serving, is perfect unadorned in a warm corn tortilla.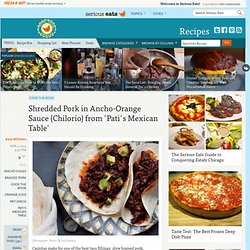 But what if you're looking to take it up a notch? In Pati's Mexican Table, Pati Jinich presents a different version of braised and shredded pork, this time fancied up with orange juice and a fragrant, tangy ancho chile sauce. With a generous pour of apple cider vinegar, the finished dish tastes almost like Mexican pulled pork—and I wouldn't consider that a bad thing. Why I picked this recipe: Carnitas are one of my favorite taco and burrito fillings, so it was a no-brainer to try this chile and citrus-laced take on shredded pork. Breakfast Nachos Skillet from 'Ultimate Nachos' [Photograph: Karen Wise] Nachos for breakfast?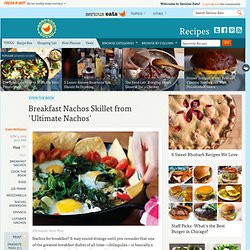 It may sound strange until you consider that one of the greatest breakfast dishes of all time—chilaquiles—is basically a dressed-up version of nachos. In their cookbook, Ultimate Nachos, Lee Frank and Rachel Anderson offer more than a few tortilla chip-based breakfasts (including chilaqueles, of course). This particular dish, the Breakfast Nachos Skillet, is a take on baked eggs with spinach. They nacho it up by adding generous amounts of fresh mozzarella, halved cherry tomatoes, and plenty of chips. Torta del Cielo. Almond Torte or Torta del Cielo is often made for holidays and special occasions.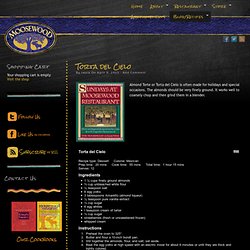 The almonds should be very finely ground. It works well to coarsely chop and then grind them in a blender. Mole de Olla. (Mexican Kettle Stew) Mole means "mixture" in Spanish.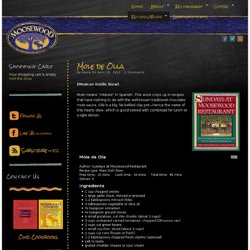 This word crops up in recipes that have nothing to do with the well-known traditional chocolate mole sauce. Olla is a big, fat-bellied clay pot—hence the name of this hearty stew, which is good served with cornbread for lunch or a light dinner. Rodrigo-Style Fish (Pescado Rodrigo) from 'Pati's Mexican Table' [Photograph: Penny De Los Santos] Fish tacos beg to be eaten standing up outside on the porch with a cold beer and plenty of napkins to sop up dripping lime juice and salsa.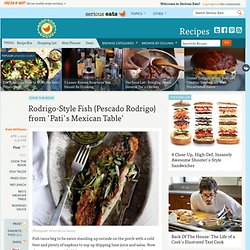 Now that it's starting to feel like spring, it is time to get cracking with some fried fish. Pati Jinich's excellent Rodrigo-Style Fish from Pati's Mexican Table is just the ticket. Dredged in flour and pan-fried, the fish fillets themselves are nothing out of the ordinary. But add a generous drizzle of her citrusy-salty-herby sauce and you'll quickly be in fish taco heaven. Grilling: Grill-Pressed Chorizo Tortas. [Photographs: Joshua Bousel] Over the past couple years, sandwiches have become some of my favorite things to grill.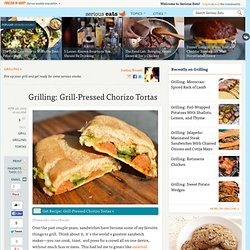 Think about it, it's the world's greatest sandwich maker—you can cook, toast, and press for a crowd all on one device, without much fuss or mess. This had led me to greats like meatball parms, banh mi, Italian party panini, and cubanos. I'm now adding these chorizo tortas to that list. Chile-Marinated Pork Sandwiches on Cemita Rolls Recipe. Eatsy: Baja-Style Fish Tacos With Shredded Cabbage Slaw. There are a lot of less than stellar things about living in Los Angeles.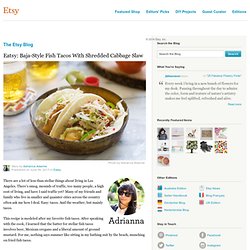 There's smog, mounds of traffic, too many people, a high cost of living, and have I said traffic yet? Many of my friends and family who live in smaller and quainter cities across the country often ask me how I deal. Easy: tacos. And the weather, but mainly tacos. This recipe is modeled after my favorite fish tacos. Tex Wasabi's Koi Fish Tacos Recipe : Guy Fieri. Directions In medium bowl, combine lime juice, tequila, cumin, salt, and pepper; mix thoroughly.
Add the fish and toss to coat. Enchilada Casserole - Mexican Lasagna. Bean and Cheese Tamales Recipe. Difficulty:Hard | Total Time: 3 hrs 20 mins, plus soaking time | Active Time: | Makes:35 tamales Beans and cheese, a tried-and-true combination, star in these easy, classic tamales. What to buy: Queso fresco is a mild white cheese that doesn't melt when heated. It can be found in the refrigerated cheese case of most grocery stores or at specialty cheese shops or Latin markets. Corn husks can be found at Latin markets. Chipotle Skirt Steak Tacos & The Parking Adventures of La Taqueria. Wednesday, May 2, 2007 Note: I was not responsible for slicing the skirt steak…that would be another person who resides at the Steamy household. We shall keep him nameless. Anyways, the skirt steak was cut incorrectly – they should have been sliced perpendicular or ACROSS the grain. Pork Braised in Red Chile Sauce. New Media Publishing / Photography: Flat Art Studios.com / Stylist: Abigail Donnelly total prep 423 calories/serving This recipe is for those who can't find dried ancho chiles but have been bitten by the rich flavor of an adobo, a sauce based on dried chiles.
14 Taco Recipes We Love for Your Cinco De Mayo Fiesta. 70 Cinco de Mayo Mexican Recipes. Arrrriiiibbaa! And welcome to this 70 recipe Cinco de Mayo round-up. And that my friends is as far as 6 years of Spanish classes has gotten me. Besides my two most used Mexican speaking phrases, "Una cerveza por favor" soon to be followed by, "Dondé es el baño?" Bi-lingual I am not. Mole Verde. Muy Bueno Cookbook » Lamb Barbacoa with Avocado Tacos + Giveaway. 10 minute cooking school: Puerco Pibil. Tamales - Tamales with Pork Filling - Tamale Recipe. Quick and Easy Cheese Tamales - Tamales de Queso - Recipe for Cheese Tamales. Mango Guacamole Recipe. Dee's Roast Pork for Tacos Recipe. Mexican Casserole Recipe - Mexican Black Bean Enchilada Casserole - Easy Vegetarian Casserole Recipe - Mexican Enchilada Casserole.
Mexican Ceviche
---