Edible Landscaping
It痴 Okay to Eat the Lavender Flowers. Madeline Wajda Adams County Master Gardener As gardeners, we tend to think of lavender as a beautiful plant with a lovely scent—great for bringing in fresh for bouquets or drying for crafts.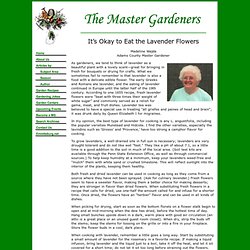 What we sometimes fail to remember is that lavender is also a food with a delicate edible flower. The early Greeks and Romans ate lavender, and the eating of lavender continued in Europe until the latter half of the 19th century. "Edible Landscaping Online" Edible Flowers. If you feel like growing flowers, why not try growing some of the edible flowers?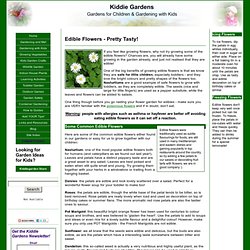 Chances are, you will already have some growing in the garden already, and just not realised that they are edible! One of the big benefits of growing edible flowers is that we know they are safe for little children, especially toddlers - and they love the bright colours and pretty shapes of the flowers too. Nasturtiums are a good example of safe flowers to grow with toddlers, as they are completely edible. Edible wild plants. Guide to Eating Flowers. Sidebar: Edible Flowers List Edible Flower Recipes: • Pork Chops with Sage Flowers • Lilac Flower Sorbet • Chocolate Cake with Mint Flowers • Sautéed Portabella Mushrooms and Anise Hyssop Florets • Chive Blossom Broad Beans More: How to Candy Flowers.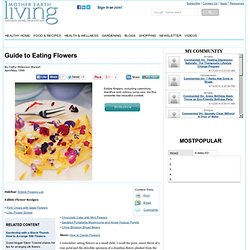 Organic Recipes, Organic Food, Local Food, Small Farms, Family Farms, Edible... Plants that Taste as Good as they Look. Pretty trees with can't-miss fruit Photo/Illustration: Steve Aitken Many fruit trees are breathtakingly beautiful when in bloom in spring, but few fruit trees can hold their own in the landscape as year-round ornamentals without needing various sprays to bear their delectable bounty.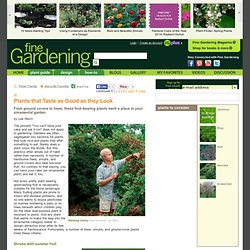 Two attractive trees with delicious, care-free fruit are juneberry and Cornelian cherry. Some species of juneberry are native to every state in the contiguous United States. Edible Flowers, How to choose Edible Flowers, Eatable Flowers, Edible Flower Chart, List of Edible Flowers, Incredible Edible Flowers. Edible flowers are the new rage in haute cuisine Photo of edible flowers picked in Linda's garden in July (lavender, thyme, dill, cilantro, day lily, squash blossom, Nasturtiums, chives, and basil).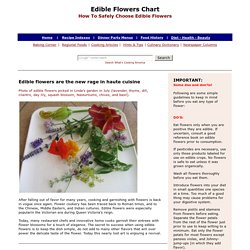 After falling out of favor for many years, cooking and garnishing with flowers is back in vogue once again. Flower cookery has been traced back to Roman times, and to the Chinese, Middle Eastern, and Indian cultures. National Gardening Association. The USDA Hardiness Zone Map divides North America into 11 separate zones; each zone is 10°F warmer (or colder) in an average winter than the adjacent zone.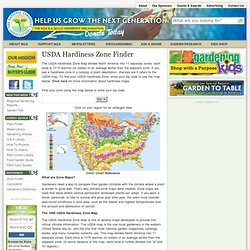 If you see a hardiness zone in a catalog or plant description, chances are it refers to the USDA map. To find your USDA Hardiness Zone, enter your zip code or use the map below.
---