Ratings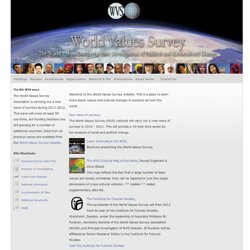 The 6th WVS wave The World Values Survey Association is carrying out a new wave of surveys during 2011-2012. This wave will cover at least 50 countries, but funding decisions are still pending for a number of additional countries. Data from all previous waves are available from the World Values Survey website . Site Shortcuts:
Online Data Sources Political Governance Stability Corruption
Posted on March 9th, 2011 editor0 HSI Version 2 Data have been released for Human Security Index Version 2, and for a "classic" Human Development Index. The United Nations Development Programme's 2010 global Human Development Report changed its formulation for the HDI, and also reduced coverage to 169 countries.
Human Security Index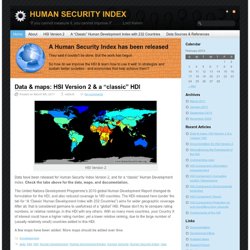 Democracy Ranking
Investing Across Borders - World Bank Group
Business Environment Snapshots - The World Bank Group
Active Portfolio Management - Fuel quantitative and fundamental models, define an eligible investment universe Research & Analysis - Multi-dimensional data on over 2,300 public companies to assist in pre-trade opportunity analysis and idea generation Selection & Screening - Assess portfolio exposure to different risk themes, identify high risk companies, obtain an objective benchmark for engagement and stewardship Risk Management - Identify and understand sources of ESG risk in a portfolio and your changing ESG risk profile, add a valuable quantitative ESG input to risk analytics and research Custom Solutions - FTSE4Good ESG Ratings provide the basis for the development of customized indices and financial products. Customize by risk category, theme, pillar, geography or any combination of these factors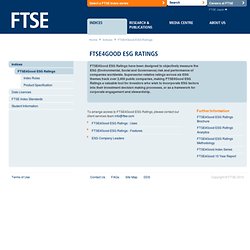 4Good ESG Ratings - FTSE
Rule of Law Index | World Justice Project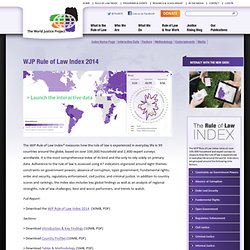 The WJP Rule of Law Index® measures how the rule of law is experienced in everyday life in 99 countries around the globe, based on over 100,000 household and 2,400 expert surveys wordlwide. It is the most comprehensive index of its kind and the only to rely solely on primary data. Adherence to the rule of law is assessed using 47 indicators organized around eight themes: constraints on government powers, absence of corruption, open government, fundamental rights, order and security, regulatory enforcement, civil justice, and criminal justice. In addition to country scores and rankings, the Index also includes key global findings as well as an analysis of regional strengths, rule of law challenges, best and worst performers, and trends to watch. Full Report: > Download the WJP Rule of Law Index 2014 (30MB, PDF)
Euro, EUR, Prediction and volatility data table
ViewsWire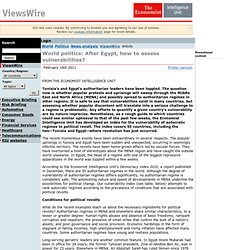 Tunisia's and Egypt's authoritarian leaders have been toppled. The question now is whether popular protests and uprisings will sweep through the Middle East and North Africa (MENA) and possibly spread to authoritarian regimes in other regions. It is safe to say that vulnerabilities exist in many countries, but assessing whether popular discontent will translate into a serious challenge to a regime is problematic.
Indices | Equity | Europe
EIU Risk rating
Home | About Maplecroft | Media Room | News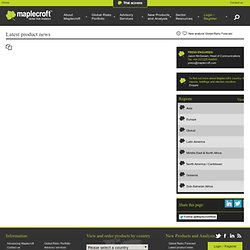 Algeria Maplecroft's in-depth Country Risk Report on Algeria offers high-level analysis of the governance framework, the regulatory and business environment, political violence, human rights and society. Protests in Algiers on 22 January 2011 turned violent after riot police began to forcibly disperse demonstrators, resulting in 32 injured. Approximately 300 people had gathered to participate in the protests, amid discontent over rising food prices and continuing unemployment. Throughout January, similar protests have occurred both in Algiers and across the provinces. With protests in Algeria following the formation of a new unity government in Tunisia and the departure of Tunisia's president Zine al-Abidine Ben Ali on 18 January, speculation is mounting over the possibility of similar regime change taking place in Algeria.
Herfindahl-Index
Der Herfindahl-Index (nach Orris Clemens Herfindahl, 1918–1972) auch: Hirschman-Index oder Herfindahl-Hirschman-Index genannt (Abkürzung: HHI, Zeichen: ), ist die am häufigsten benutzte Kennzahl zur Konzentrationsmessung (zum Beispiel in einem Markt). von Produzenten auf, die das Erzeugnis herstellen. Allerdings verteilt sich der Absatz meist nicht gleichmäßig auf alle Erzeuger. Über das Ausmaß der Konzentration des Absatzes auf einen oder wenige Anbieter gibt nun der Herfindahl-Index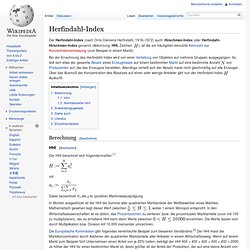 Cost of Living Index By Country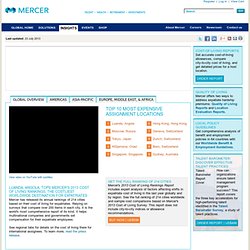 s 2010 Cost of Living survey highlights
Relative stability in the Americas, but multiple factors influence ranking shifts In the Americas, cities in South America are the most expensive for expatriates. Living in some cities, particularly those in Brazil, became cheaper because of the US dollar's strengthening against local currencies. Other cities became more expensive.
Beyond GDP - International Initiative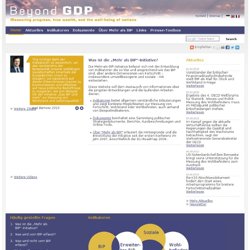 Aktuelles 27.02.2013 Europäische Kommission sieht bei der Ausarbeitung von Zielen für eine nachhaltige Entwicklung eine wichtige Rolle für Indikatoren, die über das BIP hinaus gehen und bestätigt, ihre Arbeiten an solchen Indikatoren fortzusetzen Weiterlesen 28.01.2013 Deutsche Enquete-Kommission schlägt ein Set von zehn Indikatoren zur Messung von gesellschaftlichem Wohlstand vor Weiterlesen 19.12.2012 Die Messung des Fortschritts: Warum es keine Einheitslösung gibt. John Hall, ehemaliger Leiter des "globalen OECD Projekts zur Messung des Fortschritts von Gesellschaften", betont sowohl den Wert von Mehrkomponentenindikatoren als auch jenen von Indikatorensets.
WorldView
EIU democracy index
country risk /Euromoney magazine
Global Enabling Trade | World Economic Forum-Global Enabling Trade
Transformation: Status Index
Transformation: Management Index
Predictions and volatility
Renewable Energy Attractiveness Indices
An adjustment to the technology weightings to reflect solar's increasing importance has caused significant movement in the index. Countries across Southern Europe, Latin America, Asia and the Middle East have benefited, while those in wind-heavy regions such as Northern Europe, and particularly the Nordics, have slipped down. Top 10 shuffle Japan replaces the UK in fourth place thanks to its rapidly growing solar markets, thriving offshore sector and proactivity in addressing infrastructure barriers. The UK continues to be hampered by political infighting and mixed policy measures. A series of offshore wind project cancellations also helped take it down to fifth place.
Explore the state of global peace on interactive maps Latest peace news,research and videos Contact us Vision of Humanity is an initiative of the Institute for Economics and Peace (IEP). IEP have offices in New York and Sydney. For more specific inquiries related to the peace indexes and research, please contact IEP directly.
Want to dig deeper into culture? The Hofstede Centre and its partners offer a wide variety of courses (certification courses, management courses, and webinars). In addition, you can find links to recommended books and products about culture, our facebook page and info about The Hofstede Centre itself.
The Global Competitiveness Index Analyzer 2010-2011
Country Risk
Ratings Sovereigns Ratings List | United States
International - the global coalition against corruption