Languages
Helping Geeks Achieve Success Through Lifelong Learning - RepeatGeek. Category:Programming Languages. How do I... This section is intended for the impatient.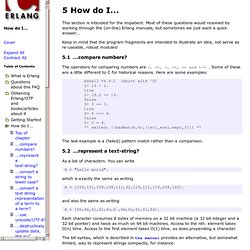 Most of these questions would resolved by working through the (on-line) Erlang manuals, but sometimes we just want a quick answer... Keep in mind that the program fragments are intended to illustrate an idea, not serve as re-useable, robust modules! 5.1 ...compare numbers? The operators for comparing numbers are >, >=, <, =<, == and =/= .
NMAI Codetalkers. Aprender idiomas gratis online | Aprende inglés, francés, alemán, italiano, portugués, español | busuu. Linux. A Place for Translators, Interpreters, Voice Talents, Other Language Professionals and Their Clients. Visitors to TranslatorsCafé.com will find a new and very convenient way to connect with others in the international linguistic community.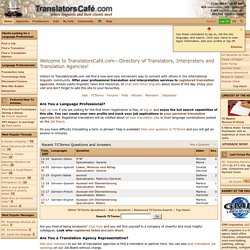 Offer your professional translation and interpretation services to registered translation agencies. Access useful linguistic news and resources. Or chat with other linguists about issues of the day. Enjoy your visit and don't forget to add this site to your favourites. Are You a Language Professional? Forvo: the pronunciation guide. All the words in the world pronounced by native speakers.
RhinoSpike : Foreign Language Audio on Demand! Latin phrases, latin quotes. Wordnik: All the Words. 100 Free Foreign Language Classes Online. March 1st, 2010 If you have always wanted to learn a language but were too put off by the high cost associated with most classes, then take a look at all these great opportunities to learn a foreign language online, at no cost to you.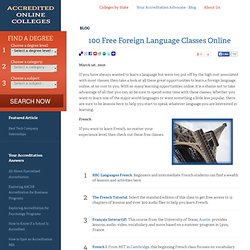 With so many learning opportunities online, it is a shame not to take advantage of all that you can, so be sure to spend some time with these classes. Whether you want to learn one of the major world languages or want something a little less popular, there are sure to be lessons here to help you start to speak whatever language you are interested in learning. French If you want to learn French, no matter your experience level, then check out these free classes.
Home Page | Learn Language Vocabulary with Mnemonics @ Memorista.com. Deaf Resources. Digital Dialects language learning. 75 Free Language Learning Resources Online. Whether you're trying to learn English, Spanish, French, Portuguese, Japanese, Chinese, Italian –you get the picture – it's good to get free help along the way.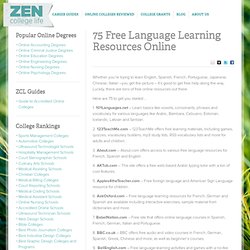 Luckily, there are tons of free online resources out there. Here are 75 to get you started … 1. 101Languages.net – Learn basics like vowels, consonants, phrases and vocabulary for various languages like Arabic, Bambara, Cebuano, Estonian, Icelandic, Latvian and Serbian. 2. 123TeachMe.com – 123TeachMe offers free learning materials, including games, quizzes, vocabulary builders, mp3 study lists, RSS vocabulary lists and more for adults and children. Top List of the hardest languages to learn.
We had so many interesting responses to this article that we decided to create a poll to see what people think the hardest languages to learn overall are.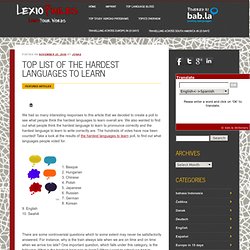 We also wanted to find out what people think the hardest language to learn to pronounce correctly and the hardest language to learn to write correctly are. The hundreds of votes have now been counted! Take a look at the results of the hardest languages to learn poll, to find out what languages people voted for. 1. Basque 2. Enrich your Vocabulary | 3 Easy Steps to Learn foreign Words. Top List of the hardest languages to learn. Enrich your Vocabulary | 3 Easy Steps to Learn foreign Words.
Dictionaires. Online Language Courses.
---