Travel
Simon Tong Photography. Awesome pictures from around the world | Vivi The Mage. Someone sent me these in a chain email, it was horribly formatted.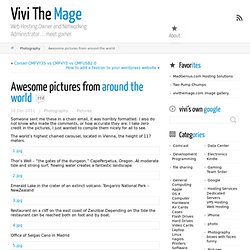 I also do not know who made the comments, or how accurate they are. I take zero credit in the pictures, I just wanted to compile them nicely for all to see. Shenandoah National Park - Backcountry Camping - Beginner Trips (U.S. National Park Service) - StumbleUpon. New and Beginner Backpacking Trips Using Campgrounds Is this your first time backpacking?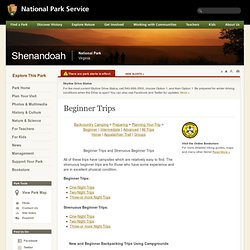 Perhaps you are trying out new equipment? Someone in your group is new to backpacking or nervous? Is this the first time out with your children? Blog & Tentsile, the Portable Treehouse. Want to go camping, but afraid of bugs, snakes, or bears?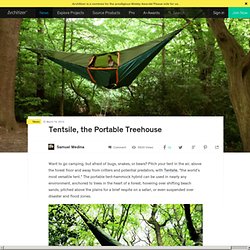 Pitch your tent in the air, above the forest floor and away from critters and potential predators, with Tentsile, "the world's most versatile tent. " The portable tent-hammock hybrid can be used in nearly any environment, anchored to trees in the heart of a forest, hovering over shifting beach sands, pitched above the plains for a brief respite on a safari, or even suspended over disaster and flood zones. Add To Collection Save this image to a collection. 66 Beautiful Small Cities & Towns In Europe - StumbleUpon. - StumbleUpon. Backpacks Infographic: How to Find the Right Backpack - REI - StumbleUpon. Need a break from the daily multitasking merry-go-round?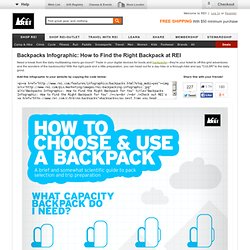 Trade in your digital devices for boots and backpacks—they're your ticket to off-the-grid adventures and the wonders of the backcountry! With the right pack and a little preparation, you can head out for a day hike or a through-hike and say "CUL8R" to the daily grind. Add this infographic to your website by copying the code below: <p><a href=" Plitvice Lakes National Park, Croatia | Beautiful Places to Visit - StumbleUpon. The stunning Plitvice Lakes National Park lies in the Lika region of Croatia.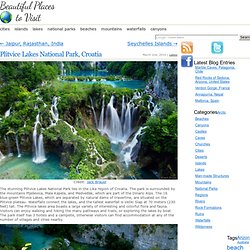 The park is surrounded by the mountains Plješevica, Mala Kapela, and Medveđak, which are part of the Dinaric Alps. The 16 blue-green Plitvice Lakes, which are separated by natural dams of travertine, are situated on the Plitvice plateau. Waterfalls connect the lakes, and the tallest waterfall is Veliki Slap at 70 meters (230 feet) tall. The Plitvice lakes area boasts a large variety of interesting and colorful flora and fauna. How to Travel Full-Time for $17,000 a Year (or Less!) | Wise Bread - StumbleUpon. Wise Bread Picks For the last five years, I've been traveling the world full-time, and for less money than I've ever spent (and I'd wager less money than most people would spend) to live in one place.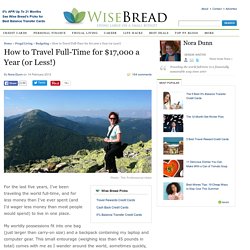 My worldly possessions fit into one bag (just larger than carry-on size) and a backpack containing my laptop and computer gear. World's Largest Rope Swing | LOKOIWORLD - StumbleUpon. Enquête 2014 sur l'utilisation de 51c4d6f847d00c23480295b9 - Mardi, 08 Avril 2014 Question : 1 sur 4 Comment évalueriez-vous 51c4d6f847d00c23480295b9 sur une échelle de 1 à 5 (1 étant la meilleure note) ?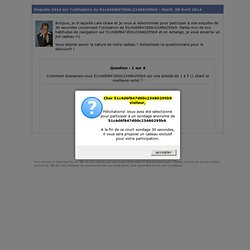 Question : 2 sur 4 À partir d'où utilisez-vous 51c4d6f847d00c23480295b9 ? Question : 3 sur 4. 10 places you should visit before you die & Go! from HomeAway - StumbleUpon. UPDATE: Discover the best places on earth and receive personalised travel recommendations with HomeAway's new microsite Places to See Before You Die, your guide to the world's once in a lifetime destinations.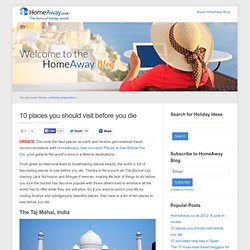 From great architectural feats to breathtaking natural beauty, the world is full of fascinating places to see before you die. Thanks to films such as The Bucket List, starring Jack Nicholson and Morgan Freeman, making life lists of things to do before you kick the bucket has become popular with those determined to embrace all the world has to offer while they are still alive. So if you want to enrich your life by visiting diverse and outrageously beautiful places, then here is a list of ten places to see before you die. 10 Best Places to Live for Escaping World Conflict | Expatify - StumbleUpon. Where would you be the safest if World War 3 broke out tomorrow?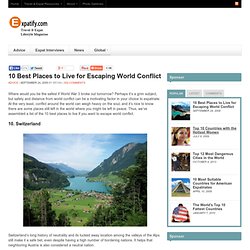 Perhaps it's a grim subject, but safety and distance from world conflict can be a motivating factor in your choice to expatriate. At the very least, conflict around the world can weigh heavy on the soul, and it's nice to know there are some places still left in the world where you might be left in peace. Thus, we've assembled a list of the 10 best places to live if you want to escape world conflict. 10. Switzerland. 50 of the Most Important Landmarks of the World (Part 1) - StumbleUpon. Originally, a landmark literally meant a geographic feature used by explorers and others to find their way back or through an area.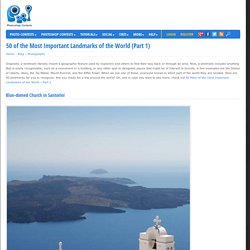 Now, a landmark includes anything that is easily recognizable, such as a monument or a building, or any other spot to designate places that might be of interest to tourists. A few examples are the Statue of Liberty, Uluru, the Taj Mahal, Mount Everest, and the Eiffel Tower. When we see one of those, everyone knows in which part of the world they are located. Here are 50 landmarks for you to recognize. The Town With No Roads - StumbleUpon. VolksWagen Transporter DoubleBack Luxury Camper Van | Joy Enjoys - StumbleUpon. VolksWagen Transporter DoubleBack Luxury Camper Van Volkswagen mostly began submiting "pop tops" on its camper vans. In the decades since, the soft-sided interior height-extenders suffer become a ubniquitous sight on VW vans parked in campgrounds all throughout the world. Now, Welsh organization Overlander Motorhomes is presenting how it sees as the rational compliment to the pop top – it is the DoubleBack, a sliding insulated pod so extends the interior length of Volkwagen's T5 Transporter van.
Life-Changing Adventure Trips | Chile. You Have: Two weeks off and enough money for a plane ticket to South America.You Want: To kayak huge fjords, hike through icefields, and catch fat trout.The Trip: For a DIY road trip in a foreign country, you can't do much better than Chilean and Argentinean Patagonia. The crime is low, the food is great, and you can ramble between fjords, mountains, and trout-filled rivers. The roads can be crappy, though, so you do need a 4x4.
Fly into Chile's Punta Arenas (there are direct flights from Santiago) and pick up your rental. From there, drive six hours to the iconic Torres del Paine National Park and trek the French Valley. Stay at Cerro Guido (from $200), a working ranch that serves a mean roast lamb. 10 Weird and Mysterious Places on Earth. Digg 1. Mystery Spot.
"I want to go to there" & KRISATOMIC - StumbleUpon. Neuschwanstein Castle in Bavaria, Germany by Luiz Pires There are so many places I want to see, I've been browsing and bookmarking and basically putting together travel porn (oh dear, that phrase isn't going to be good for my blog search results is it). I'm going to Nice in may and maybe Davos in the summer, so that should satisfy me for the year. If I had unlimited funds I'd do a leisurely Trans Siberian Railway route through Russia and then travel around China and Japan. Tipping Etiquette Around the World | MintLife Blog | Personal Finance News & Advice - StumbleUpon. Sliding Rock in North Carolina | Travel Blog Direction & Places to Visit - StumbleUpon.
The Luxury Dhigu Resort, Maldives | Luxury Furniture, Property, Travel & Interior Design | Adelto - StumbleUpon. Amazing Places To Experience Around The Globe (Part 1) - StumbleUpon. In Photos: NatGeo 20 Travel Hotspots for 2012 | Top Travel Tips, Destination Guides & Deals - Dealchecker Blog. 21 Of the Most Extraordinary Places To Visit. MLC® Bag- Maximum Legal Carry-On Bag.
---