Photography
Photography and helpful tips. The PhotoPortal. What Digital Camera, digital camera reviews and photography tips | What Digital Camera. PhotographyBB Online Magazine and Community - Nikonites. Nikonites. The PhotoPortal. The Luminous Landscape. The Photographers Corner: News. The Photographers Corner: News. Magnum Photos. The Photographers' Gallery. USB Digital Compact Camera | Digital.
Cameras. Surreal-beach.jpg (1200×806) DOUBLE EXPOSURE PORTRAITS on the Behance Network. Most Amazing Time Lapse Video of Milky Way Ever Made. Seriously. Splash of water - Photos. Posted By Admin On Friday, April 15, 2011 09:09 AM.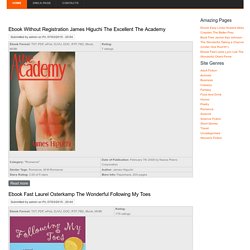 Under Amazing Photos Thirty-three Marcus Regulus dripping water, milk or other liquids into the saucer, Egg or teaspoons and photographed splashes. Photography. Photo Forums. Landscape and Nature Potography. British Photography Exhibitions. Inspirational Photographers. Dave Morrow's Custom Creations. David Bailey. Exclusive Interview with Photographer Peter Kemp – and 45 Absolutely Amazing Glamour Shots.
Peter Kemp is an absolutely fantastic photographer who builds visual stories out of fashionable life scenes.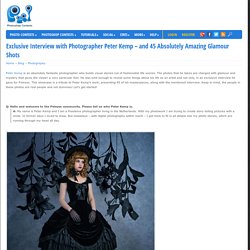 The photos that he takes are charged with glamour and mystery that gives the viewer a very particular feel. He was kind enough to reveal some things about his life as an artist and not only, in an exclusive interview he gave for Pxleyes. This showcase is a tribute to Peter Kemp's work, presenting 45 of his masterpieces, along with the mentioned interview. Keep in mind, the people in these photos are real people and not dummies! Trey Ratcliff. 500 Photographers. This is not porn - Rare and beautiful celebrity photos. Terry O'Neill (photographer) Terry O'Neill (born July 30, 1938; London, UK) is a British photographer.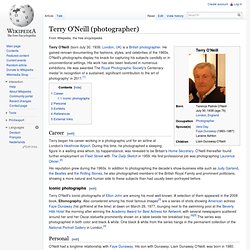 He gained renown documenting the fashions, styles, and celebrities of the 1960s. O'Neill's photographs display his knack for capturing his subjects candidly or in unconventional settings. The Terry O'Neill Tag Award 2011. DAWN CALL PHOTOGRAPHY.
LIFE photo archive hosted by Google. Photo Forums. Chris Beetles Art Gallery. National Geographic's Photography Contest 2010. A supercell thunderstorm rolls across the Montana prairie at sunset.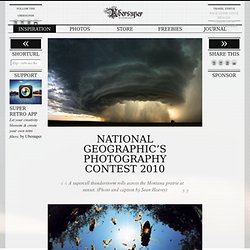 (Photo and caption by Sean Heavey) Salvation. Appreciate life to save the world. John Alton - Painting With Light. [...]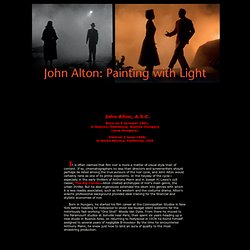 Alton always strove to reinforce the depth of the images by arranging actors in several planes in front of the camera. Whereas many directors of cinematography would simply arrange for two actors to be equal distance from the camera, Alton loved to give us one actor up close, preferrably turned sideways to the camera, while another actor stood in the background.
In T-Men, we see Dennis O'Keefe's profile as he grimaces in pain as Charles McGraw twists (and threatens to break) his fingers. And in Raw Deal, Raymond Burr lights some candles while O'Keefe gets the drop on him and steps into the back of the room. Unforgettable Photos. 1957.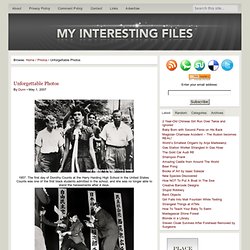 The first day of Dorothy Counts at the Harry Harding High School in the United States. Counts was one of the first black students admitted in the school, and she was no longer able to stand the harassments after 4 days. January 12th, 1960. A second before the Japanese Socialist Party leader Asanuma was murdered by an opponent student. Print a Cardboard 35mm Pinhole Camera. Francesco Capponi (Dippold on Flickr) has a fun printable template for creating your own nifty-looking 35mm pinhole camera.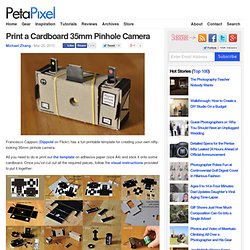 All you need to do is print out the template on adhesive paper (size A4) and stick it onto some cardboard. Once you've cut out all the required pieces, follow the visual instructions provided to put it together: Unlike many other paper pinhole camera projects we've seen, the final result for this one actually looks pretty nice, and will definitely make a conversation piece.
If you do take the time to make this thing, be sure to report back to us with the resulting photographs! (via Make) My Pinhole Cameras [pinhole.cz] DIY PAPER PINHOLE CAMERA KIT ONLINE INSTRUCTION. Corbis Readymech Cameras. Photography at DzineBlog. Learn how to earn $125 or more per hour as a freelancer - Click Here Weather photography is a beautiful anomaly used to showcase some of mother nature's finest patterns.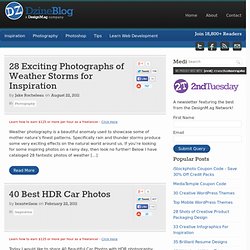 Specifically rain and thunder storms produce some very exciting effects on the natural world around us. If you're looking for some inspiring photos on a rainy day, then look no further! Below I have cataloged 28 fantastic photos of weather […] Read More. Dear Photograph.
---