Life
I am pleased to introduce this guest article by a new friend John, the creator of HiLife2B , where he hopes to inspire people and to help them achieve their dreams. Follow him on Twitter: @janyasor 1. Believe that even the smallest compliment can save someone's life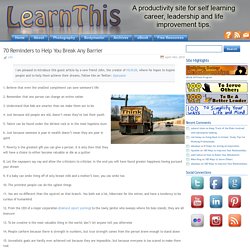 Hello there! It's been a busy week with a trip to Seattle for the Picasso exhibition and a drive out to the coast but I knew I had to share this amazing remodel with you before the week came to a close. Everyone loves good makeovers and the ones involving tiny spaces, creative design and ingenious solutions are my all time favorites! Check out how Seattle artist, designer and welder, Michelle de la Vega , created this beautiful little 250 sq. ft. haven…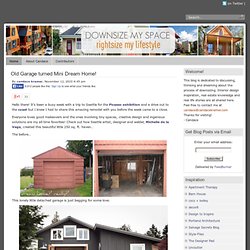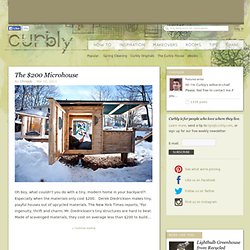 Oh boy, what couldn't you do with a tiny, modern home in your backyard?! Especially when the materials only cost $200. Derek Diedrickson makes tiny, playful houses out of upcycled materials. The New York Times reports, "For ingenuity, thrift and charm, Mr. Diedricksen's tiny structures are hard to beat. Made of scavenged materials, they cost on average less than $200 to build....
The $200 Microhouse » Curbly | DIY Design Community « Keywords: DIY, tiny, house, upcycle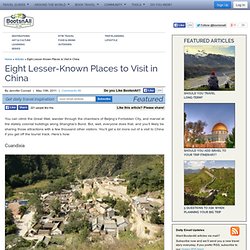 Eight Lesser-Known Places to Visit in China
You can climb the Great Wall, wander through the chambers of Beijing's Forbidden City, and marvel at the stately colonial buildings along Shanghai's Bund. But, well, everyone does that, and you'll likely be sharing those attractions with a few thousand other visitors. You'll get a lot more out of a visit to China if you get off the tourist track.
The 36 Rules of Life
1. Never, under any circumstances, take a sleeping pill and a laxative on the same night. 2. Don't worry about what people think, they don't do it very often. 3. Going to church doesn't make you a Christian anymore than standing in a garage makes you a car.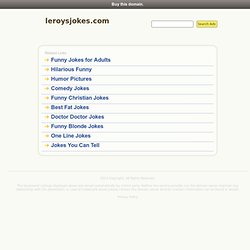 I've had this Living Rules list for over two years now. I think it's important to learn from your mistakes and the mistakes of others. So much in the style of Gibbs from NCIS, I decided to document my personal set of rules in order to better follow them. Unlike the primetime Alpha Male, however, I made it a note on Facebook.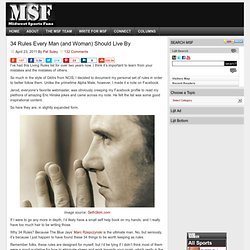 post written by: Marc Email These questions have no right or wrong answers. Because sometimes asking the right questions is the answer. How old would you be if you didn't know how old you are?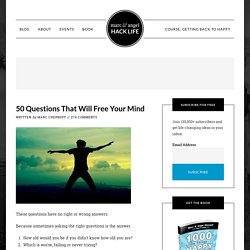 A time comes in your life when you finally get…when, in the midst of all your fears and insanity, you stop dead in your tracks and somewhere the voice inside your head cries out…ENOUGH1 Enough fighting and crying and blaming and struggling to hold on. Then, like a child quieting down after a tantrum, you blink back your tears and begin to look at the world through new eyes. This is your awakening. You realize it's time to stop hoping and waiting for something to change, or for happiness, safety and security to magically appear over the next horizon.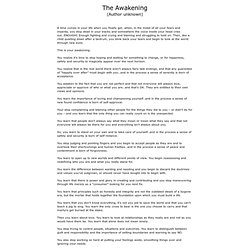 March 2008 The web is turning writing into a conversation. Twenty years ago, writers wrote and readers read.