Twitter 101
40 Tried And Tested Twitter Tips For Newbies, Apprentices And Pros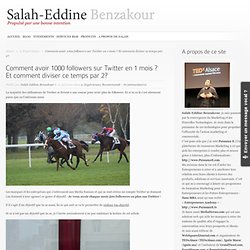 Publié par Salah Eddine Benzakour le 21 juil 2010 dans 2. Expériences , Recommandé | 72 commentaires
Comment avoir 1000 followers sur Twitter en 1 mois ? Et comment diviser ce temps par 2? | Salah-Eddine Benzakour /// Blog Officiel
Four Ways to Annoy Your Twitter Followers
What makes you UNfollow someone on Twitter?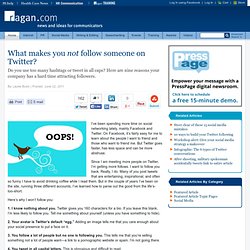 I've been spending more time on social networking lately, mainly Facebook and Twitter. On Facebook, it's fairly easy for me to learn about the people I want to friend and those who want to friend me. But Twitter goes faster, has less space and can be more abstruse.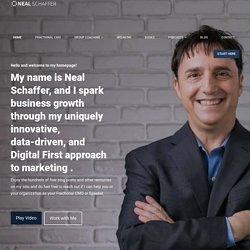 Twitter Followers vs Following: What is the Ideal Ratio?
Image by Matt Johnston The never-ending question of quality vs quantity of Twitter Followers is similar to the argument of how many people you should connect with on LinkedIn or "friend" on any other social networking site. Yesterday I wrote that without enough connections on LinkedIn, you will not show up in as many search results . With Twitter, the Followers vs Following ratio is an important one that will also speak lots about your Twitter Brand. Windmill Networking treats all of the social networking sites the same. It all comes down to your objective, your brand, and implementation of these through the unique functionalities and environments of the different sites.
140 Best Twitter Feeds
Authors You can't stop a writer from writing: TIME's picks of the best prose stylists in digital literature's shortest medium More » Business The feeds you need to stay on top of the latest economic news and get management insights from the mouths of the oracles themselves More » Celebrities Nine stars with devoted Twitter followings, including the unusual stylings of Lady Gaga and Ellen's best quips More » Comedians Want some funny in your feed? These digitally savvy comics condense jokes into 140 characters More » Companies Forget 1-800 numbers.
Comment mettre un onglet Twitter sur sur s page Facebook ?
Un article de Wikipédia, l'encyclopédie libre. Ne doit pas être confondu avec Tweeter .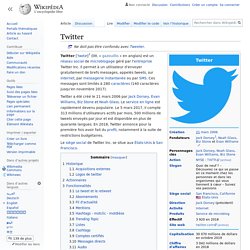 Odeo Releases Twttr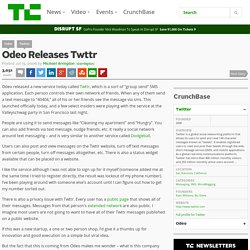 Odeo released a new service today called Twttr , which is a sort of "group send" SMS application. Each person controls their own network of friends. When any of them send a text message to "40404," all of his or her friends see the message via sms. This launched officially today, and a few select insiders were playing with the service at the Valleyschwag party in San Francisco last night. People are using it to send messages like "Cleaning my apartment" and "Hungry". You can also add friends via text message, nudge friends, etc.
5 Years Later, Jack Dorsey Tweets About Twitter?s Beginning
New to Twitter? This post will drastically improve the information you get from Twitter. For example, one of the most underused features on Twitter is the Favorite button that acts as a great way of bookmarking what you want to come back to later. It's underused but the people who do use it are perhaps the best curators of content on the web because you can essentially piggyback on their hard work and get all their amazing content for free. It's how I find lots of interesting things and one of my first ports of calls when I need to read amazing content without trawling the web. You should probably start putting Twitter on steroids yourself…
How to utilize the "Favorite" button on Twitter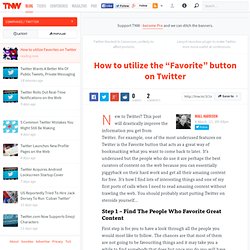 Top 5 URL Shorteners (And 3 Honorable Mentions)
Twitter's 140-character limit has forced the internet to get a little creative in how it shares links. You'll likely have noticed that links on Twitter aren't in your standard www.websitename.com/articlename format – instead, they're shortened using URL shorteners to take up as little precious characters as possible. We've compiled a list of 5 great URL shorteners you can use to share your links on Twitter without worrying about going over the character limit (and 3 honorable mentions, too). Here are my favorite five URL shorteners, in no particular order. These are among the most popular URL shorteners out there, and they offer features like stats, tracking, and integration with some of the most-used Twitter dashboards. 1. bit.ly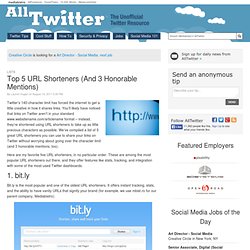 Twitter looks chaotic: but don't be afraid | Technology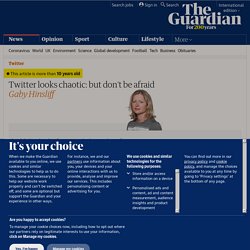 Imagine a jumble sale just after a gaggle of pensioners have steamed through it. It's a haphazard pile of clashing colours and styles, heaps of dross tangled up with the odd gem. Yet if you let your eye adjust to the chaos, and then rummage, it's surprising what turns up. That, more or less, is what Twitter is like.
5 conseils pratiques pour bien tweetter
Bonjour à toutes et à tous. Lorsque l'on cherche à évaluer l'efficacité d'une présence sur les médias sociaux, on en vient souvent à entendre des phrases telles que « Ils ont 6.000 followers sur Twitter », ou encore, « Les gens adorent ! 10.000 fans sur Facebook ». Pourtant, lorsque j'avais posé la question sur la Fan-Page de Kriisiis.fr sur Facebook, vous aviez été nombreux à dire que non, ces indicateurs ne sont pas pertinents .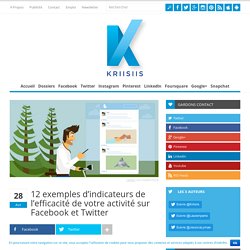 5 choix à faire pour garder vos followers sur Twitter
Twitter évolutions et usages en 2010 (slides)
Here at Buffer we've been developing new features and often find ourselves pondering how to make our product better. This week we'd like to share some of the thoughts we've had about how questioning our actions more can help us. What we have found helps us a lot in various situations is to simply pause and actively reflect upon what we are doing at that moment. It seems obvious, but it helps us to focus, see problems from more viewpoints and work on only the changes which are really required for an improved experience inside our product. We've learned that asking ourselves "why" again and again is crucial to reach the right "what".
5 Reasons Why Twitter is Awesome
I've long had a theory that the easier you are to contact, the stupider the questions become. For instance, how many times has someone sent you an instant message about a simple question, and if you answer the question right away, you get the same question from the same person again? If instead you missed the message and waited five minutes to respond, and asked them what's up, and their first response is, "I figured it out", and then you never receive that same question again. Should that person have IMed you instead of thinking?
Why Twitter Has Become My Favorite Instant Messenger
This past January, I wrote up the " Top 15 Twitter acronyms " for @pistachio 's Touchbase blog. As readers rightly pointed out, many were abbreviations or initialisms — hence the title for this post.
#FollowFriday
Where Twitter Trending Topics Really Come From [STATS]
HP 's Social Computing Research Group has released the results of a new study that dives into the anatomy of Twitter's Trending Topics . For its research, HP analyzed 16.32 million tweets on 3,361 different trending topics between September and October 2010. To get its data, HP queried Twitter's search API every 20 minutes.
Baby Boomer Business - Twitter Lists, 3 Effective Ways to Use Twitter Lists