Blender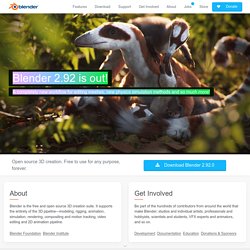 Top 20 developers in 2013 To salute and applaud the developers: here's a 2013 top-20 Blender developers page. Plans for 2014-2015
Blender hot keys cheat sheet
Blender 3D Design Course Note: Added new Lesson #13 - NURBS Surfaces / Meta Objects - April 27, 2013 Note: Added new Lesson #14 - Rigid Body Dynamics- June 1, 2013 Students: This course is also available for downloading to your iPhone or iPad via Tufts University iTunesU.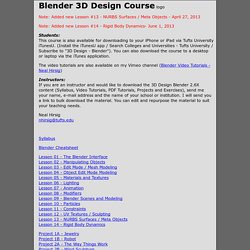 You are strongly encouraged (read as begged) to contribute to this book! There are many things you can do to help: edit existing modules (to correct errors, improve the writing, or make additions)add new modules (tutorials or reference material)upload new images (screen shots or sample renders)join the team responsible for this WikiBook How to Edit a Module To edit any wiki page (including this one):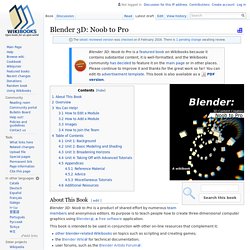 Tutorial 1: Your first scene - LuxRender Wiki
From LuxRender Wiki This tutorial covers the basics of using LuxBlend and LuxRender 0.6rc3 in Blender to build a simple scene with a light source and a few simple materials. It is intended for users who are new to LuxRender, but who are somewhat familiar with Blender. Introduction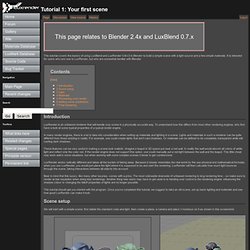 61 listed Suggestions Most wanted: electric Shock / bort This Database provides a collection of free materials for the open source software Blender 3D. You can download every material without registration and can use it in your commercial or non-commercial projects without paying any fees. Many Users of the open source community around Blender 3D provide their materials here and we have many new materials every week.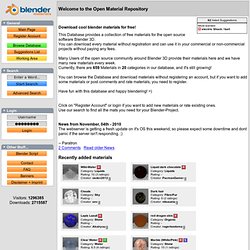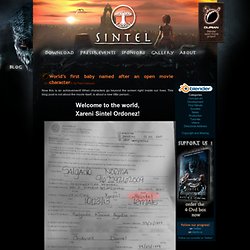 World's first baby named after an open movie character on December 7th, 2013, by Pablo Vazquez Now this is an achievement! When characters go beyond the screen right inside our lives. Sintel The Game - A game based on the Blender Foundation movie: Sintel
Hey guys! For those of you still with us, this post will be a large, in-depth update on whats gone on since the last post (which was waaaaaaay to long ago). I will also talk about what is coming up soon!
It's time again to start thinking about articles, tutorials and images for Issue # 44 of Blenderart Magazine. The theme for this issue is "Mech Mayhem" Mechanical objects are endless fascinating. They can range from the simple can opener to highly specialized robotic equipment. In this issue we are going to have some fun and see what unusual and interesting mechanical objects we can create.
About BAM Translators Contribute Issues ISSUE 44: Mech Mayhem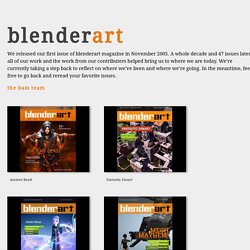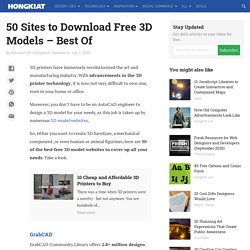 3D models represent a 3D object using a collection of points in 3D space, connected by various geometric entities. A free 3D model definitely can save your budget and deadline. On average, a modeler saves over 2 hours of modeling time when they could get a free 3D model. Today, 3D models are used in a wide variety of industries.
Learn Digital Design: No budget necessary.
Custom Search - Blender