Self Improving
Get flash to fully experience Pearltrees
Once something has outlived its usefulness in one area of life, its purpose for being in existence is no longer the same. The leaf that captures a stream of sunlight, and then transfers its energy to the tree, serves one purpose in the spring and summer, and another completely different one through the fall and winter. Its form first appears as an agent of conversion that collects sunlight, helping to feed the tree; and then, as it dies and falls to the earth, it is converted, itself becoming food for the tree. Imagine for a moment that the leaves on a deciduous tree had the will to somehow hold onto their form, and refused to fall to the ground in their due time in order to nourish the tree that originally gave them life. Not only would the vibrant beauty of that tree soon fade but, in relatively no time at all, the tree itself would starve to death, and have no choice but to perish and pass away from its present form.
Avoid frustrating memory loss. Retain and recall more information. It's a classic situation - you meet someone new, and then moments later you've forgotten their name!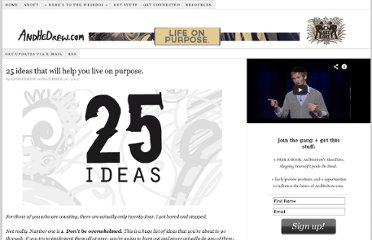 For those of you who are counting, there are actually only twenty-four. I got bored and stopped. Not really.
Posted at Nov 28, 2011 | by Nancy | Welcome to our blog! Here you'll find bits and pieces of wisdom learned from cycling 17,000 miles together as a family. Hope it inspires you to live your dream! Now that I'm old and gray (but not quite in my rocker yet!) I look back on my life and think about things I wish I knew earlier.
post written by: Marc Email When you stop chasing the wrong things you give the right things a chance to catch you. As Maria Robinson once said, "Nobody can go back and start a new beginning, but anyone can start today and make a new ending."