Computers
Most of the time our PC will get repaired for no reason. It may be due to some corrupt files or may be due to virus. It's really very difficult to predict what could have caused the problem. Sometimes even simple issue in registry can also make your PC to reboot automatically. We may think that this errors can't be solved and almost everyone use to Format the windows drive. But if we format we will loose all the important applications and reinstalling them will waste your time.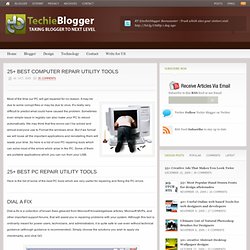 Freeware made by Emiel Wieldraaijer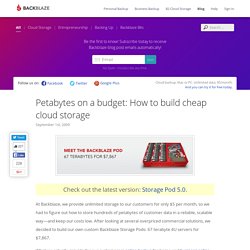 At Backblaze, we provide unlimited storage to our customers for only $5 per month, so we had to figure out how to store hundreds of petabytes of customer data in a reliable, scalable way—and keep our costs low. After looking at several overpriced commercial solutions, we decided to build our own custom Backblaze Storage Pods: 67 terabyte 4U servers for $7,867. What we actually provide for our customers is online backup for home and business online backup for work. However, in this post, we'll share how to make one of these storage pods, and you're welcome to use this design.
WASHINGTON (Reuters) - U.S. regulators will announce a major Internet policy this week to revolutionize how Americans communicate and play, proposing a dramatic increase in broadband speeds that could let people download a high-definition film in minutes instead of hours. Dramatically increasing Internet speeds to 25 times the current average is one of the myriad goals to be unveiled in the National Broadband Plan by the the Federal Communications Commission on Tuesday. The highly anticipated plan will make a series of recommendations to Congress and is aimed at spurring the ever-changing communications industry to bring more and faster online services to Americans as they increasingly turn to the Internet to communicate, pay monthly bills, make travel plans and be entertained by movies and music. "This is a fairly unique event," said Paul Gallant, an analyst with Concept Capital.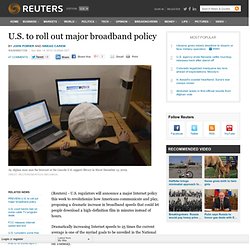 U.S. to roll out major broadband policy
IPID: Your IP address is ...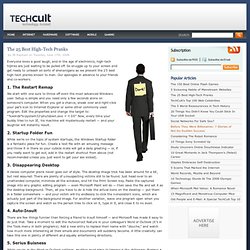 Everyone loves a good laugh, and in the age of electronics, high-tech hijinks are just waiting to be pulled off. So snuggle up to your screen and get ready to unleash all sorts of shenanigans as we present the 25 best high-tech pranks known to man. Our apologies in advance to your friends and co-workers. 1. The Restart Remap
Whether you're a designer, developer, animator, or blogger, your workstation plays a major role in how you get things done. Some of us like a neat, clean, and inspiring workspace, while others require a crazy over-the-top hardware configuration. In this article, we've compiled a showcase of photos that will give you workstation envy.