Implementation
1:1 iPads In A Third Grade Classroom. On Tuesday, June 19th, 2012, I attended iPadpalooza at Westlake High School in Austin, Texas.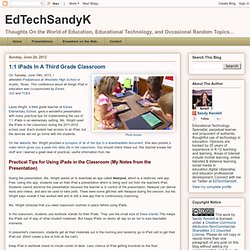 This conference about all things iPad in education was co-sponsored by Eanes ISD and TCEA. Laura Wright, a third grade teacher at Eanes Elementary School, gave a wonderful presentation with many practical tips for implementing the use of 1:1 iPads in an elementary setting. Ms. Wright used the iPads in her classroom during the 2011-2012 school year. School iPad Program – not as easy as I thought! One term into the official launch of our iPad program, I thought it would be opportune to reflect on the successes, failures and everything in between.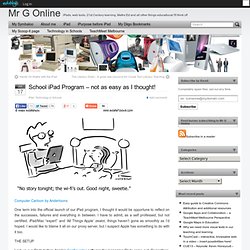 I have to admit, as a self professed, but not certified, iPad/Mac "expert" and 'All Things Apple' zealot, things haven't gone as smoothly as I'd hoped. I would like to blame it all on our proxy server, but I suspect Apple has something to do with it too. I set up our iPads before Apple's Configurator software for managing iPads came out. Regardless, the initial set up was pretty smooth. 7 Summer Activities to Get Better With Your iPad.
Many teachers and schools are buying iPads now in preparation of next year.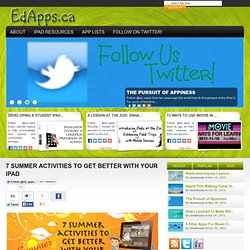 I've made this list of 'Summer Goals' after a few schools have asked for assistance in getting teachers ready for Septembers iPad roll out in their schools. I've tried to order these from simplest to most complex task – but don't feel like you must follow this order. After all, summer is about having fun! 1) Surf the Net and Watch Youtube I think that if you can enjoy the iPad, you can learn with it. 39 Sites For Using iPads in the Classroom. Pages - Menu This Blog Linked From Here Sites to Follow Friday, October 7, 2011.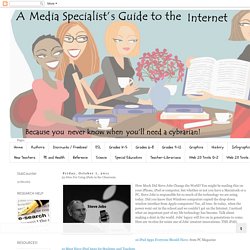 Tips2012: Teachers' Voices #2: Doug's i-Story. A frequently asked question is "How do I transfer items created on my iPad to other devices?"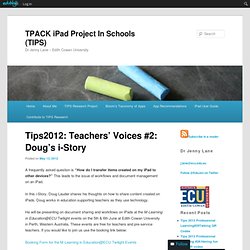 This leads to the issue of workflows and document management on an iPad. In this i-Story, Doug Lauder shares his thoughts on how to share content created on iPads. Doug works in education supporting teachers as they use technology. TEDxManhattanBeach - Thomas Suarez - iPhone Application Developer... and 6th Grader. Curriculum Linked with Apps a Winner in the Classroom | ipadsineducation. iPad Not Required: Macs Can Now Wirelessly Mirror Displays. Courtesy: GDGT Liveblog Up until this point, we've recommended that classroom have at least one iPad so they can take advantage of a critical piece of interaction in the classroom: wireless video mirroring.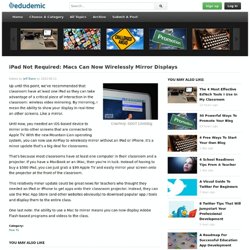 By mirroring, I mean the ability to show your display in real-time on other screens. Like a mirror. Until now, you needed an iOS-based device to mirror onto other screens that are connected to Apple TV. Classroom iPod touches & iPads: Dos and Don'ts. Do delete content.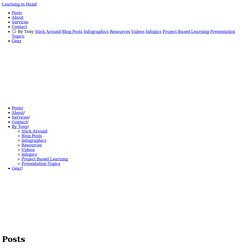 Since you are mirroring the computer's iTunes Library onto the iPods, deleting items from iTunes will delete them from the iPods. After you no longer have a need for a podcast, video, or audiobook, delete it so it is not taking up room and cluttering up the iPods. 25 Ways To Use iPads In The Classroom. In case you haven't heard the news, we're putting out a special mini-issue early next week.
It'll be available in the Edudemic Magazine iPad app and, best of all, FREE to subscribers! If you're not (yet) a subscriber, it'll be just $0.99. The following is an excerpt from just one of the articles in the mini-issue. iPads (or other devices) and Literature Circles – co-starring Edmodo. CC Licensed Literature Circles have been around forever.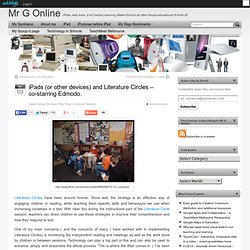 Done well, the strategy is an effective way of engaging children in reading, while teaching them specific skills and behaviours we use when immersing ourselves in a text. With clear foci during the instructional part of the Literature Circle session, teachers can direct children to use these strategies to improve their comprehension and how they respond to text. Schools-across-the-country-bring. ARLINGTON, Va. — On a warm spring morning, a pair of first-grade boys enter the computer lab at Jamestown Elementary, a traditional-looking red-brick neighborhood school that's educated generations of students.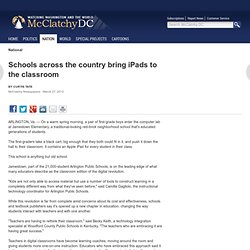 The first-graders take a black cart, big enough that they both could fit in it, and push it down the hall to their classroom. It contains an Apple iPad for every student in their class. This school is anything but old school. Jamestown, part of the 21,000-student Arlington Public Schools, is on the leading edge of what many educators describe as the classroom edition of the digital revolution. "Kids are not only able to access material but use a number of tools to construct learning in a completely different way from what they've seen before," said Camilla Gagliolo, the instructional technology coordinator for Arlington Public Schools.
An introductory guide to iPads for Teachers. I'm delivering some iPad training to a school tomorrow, so thought it might be useful to collate some of the links I've been putting together for the session. The session is concentrating mainly on teachers using the iPads for their own professional use, rather than being used as a classroom resource, but a lot of the apps below will be suitable for use by students too.
I'll do another post sometime of great apps for different subject areas. Here's some of the useful apps I'd recommend investigating. 75 Interesting Ways to use an iPad in the Classroom. iPad Literature Circles - Literature Circles. iPad Literature Circles - Literature Circles. Literacy Journal: Only 1 iPad in the Classroom? | All Things 1 to 1. PD, PD, PD! Train Your Teachers Before Deploying More iPads! | Tech happens! North Carolina School District Has Success With MacBook Air Initiative. The Mooresville, North Carolina district is one of a handful in the country to issue laptops, the MacBook Air in this case, to each student. Mooresville is attempting to turn the public school education on its head, using technology to change the culture of instruction. The district was profiled in the New York Times on Monday.
The Times says the district has "quietly emerged as the de facto national model of the digital school. " [Superintendent of schools Mark] Edwards spoke on a White House panel in September, and federal Department of Education officials often cite Mooresville as a symbolic success. 18 Enlightening iPad Experiments in Education. You know from experience that when you enjoy a subject, learning about that subject is easier, more fun, and you retain the information longer. Getting kids to enjoy learning is more productive to education efforts than spending more money, lengthening school days, you name it. This is the reason many educators are excited about the possibilities inherent to the iPad. More than 600 school districts in America have brought iPads into the classroom.
Taking A Step Back And Thinking Critically About Technology. I am probably going to take a lot of heat for this post. But maybe that's a good thing. Perhaps more conversation is needed... I remember where I was when I heard the iPad announced. I was sitting in my office when I was still working at a school.
---