Gamification
My #1 goal in life is to see a game designer nominated for a Nobel Peace Prize. I've forecast that this will happen by the year 2023. Of course, it's not enough to just forecast the future — I'm also actively working to make it a reality.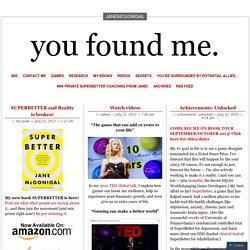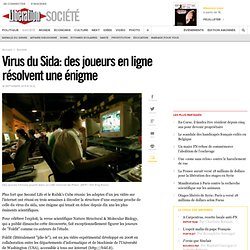 Plus fort que Second Life et le Rubik's Cube réunis: les adeptes d'un jeu vidéo sur l'internet ont réussi en trois semaines à décoder la structure d'une enzyme proche de celle du virus du sida, une énigme qui tenait en échec depuis dix ans les plus éminents scientifiques. Pour célébrer l'exploit, la revue scientifique Nature Structural & Molecular Biology, qui a publié dimanche cette découverte, fait exceptionnellement figurer les joueurs de "Foldit" comme co-auteurs de l'étude. Foldit (littéralement "plie-le"), est un jeu vidéo expérimental développé en 2008 en collaboration entre les départements d'informatique et de biochimie de l'Université de Washington (USA), accessible à tous sur internet (http://fold.it). Son but: faire résoudre par les joueurs humains un problème auquel se heurtent toujours les ordinateurs, en l'occurrence comment une molécule se "plie" pour former une structure en trois dimensions et donner ainsi naissance à une protéine.
Virus du Sida: des joueurs en ligne résolvent une énigme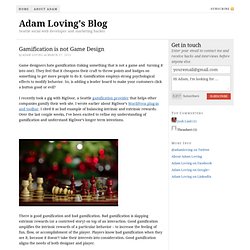 Game designers hate gamification (taking something that is not a game and turning it into one). They feel that it cheapens their craft to throw points and badges on something to get more people to do it. Gamification employs strong psychological effects to modify behavior. So, is adding a leader board to make your customers click a button good or evil? I recently took a gig with BigDoor, a Seattle gamification provider that helps other companies gamify their web site. I wrote earlier about BigDoor's WordPress plug-in and toolbar.
Gamification is not Game Design
One term we've heard more of this past year is "gamification," the transfer of gaming activities and concepts to more mainstream enterprise software. Certainly, this isn't new: corporate games have been around for a long time; Maritz (the HR benefits company) has built a wonderful business using many gaming techniques. But this year it seemed that games were everywhere, and not just Foursquare badges and check-ins.
Infographic: Gamification Becomes Mainstream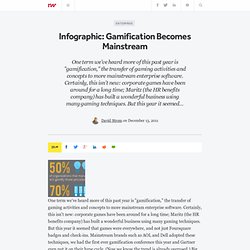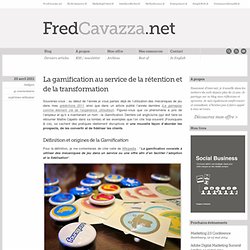 Souvenez-vous : au début de l'année je vous parlais déjà de l'utilisation des mécaniques de jeu dans mes prédictions 2011 ainsi que dans un article publié l'année dernière (Le gameplay comme élément clé de l'expérience utilisateur). Figurez-vous que ce phénomène a pris de l'ampleur et qu'il a maintenant un nom : la Gamification. Derrière cet anglicisme (qui doit faire se retourner Maitre Capello dans sa tombe) et les exemples que l'on cite trop souvent (Foursquare & cie), se cachent des pratiques réellement disruptives et une nouvelle façon d'aborder les prospects, de les convertir et de fidéliser les clients. Définition et origines de la Gamification
La première fois que j'ai entendu Jane McGonigal, c'est sur une vidéo TED. Elle y exposait son slogan : "les jeux vidéo vont sauver le monde". Sauver le monde ? Vraiment ? Oui, vraiment.
Les illusions de la gamification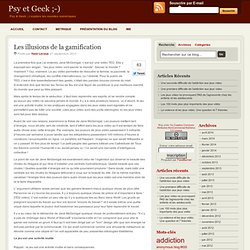 Game mechanics for thinking users Posted by Pietro Polsinelli on November 9, 2010 · 12 Comments Many software applications and web sites that are not commonly understood as games have some aspect that can be described in gaming terms. My point here is that a game design perspective can contribute in usability and functionality also in non gaming context. The post ends with examples of real world usage of game mechanics and some application suggestions. Which game mechanics?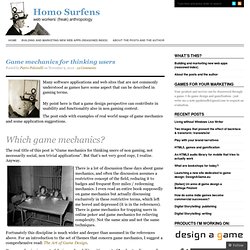 Game mechanics for thinking users « Homo Surfens
N'importe quelle tâche routinière peut-elle devenir un jeu ? C'est en tout cas l'un des paris de la « gamification ». Un terme né en 2008 que Gabe Zichermann, l'un des gourous de cette tendance, définit comme « le procédé visant à intégrer des pensées et mécanismes issus des jeux vidéo pour drainer des audiences et résoudre des problèmes ». Simple expansion numérique des programmes de fidélité pour les uns, révolution visant à « ludifier » toute activité – bien au-delà des approches purement marketing – pour les autres, ce concept né aux Etats-Unis s'annonce peut-être comme le successeur des réseaux sociaux. Souvent cité comme exemple, Foursquare comporte la « quincaillerie » de la gamification dans son acceptation la plus basique. Système de badges basé sur la géo-localisation, jeu de rôle avec l'élection d'un « maire », l'application est pourtant loin de résumer toutes les possibilités de la gamification.
Gamification : l'avenir des réseaux sociaux ?