Digcit and data
BY ANDREW M. SEAMAN NEW YORK Mon Jan 6, 2014 7:38am EST (Reuters Health) - More than one in five middle-school aged children with behavioral or emotional problems has recently engaged in sexting, according to a new study.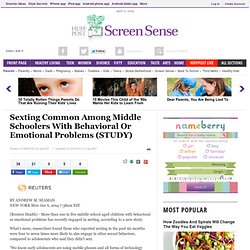 Sexting Common Among Middle Schoolers With Behavioral Or Emotional Problems (STUDY)
etcML - Home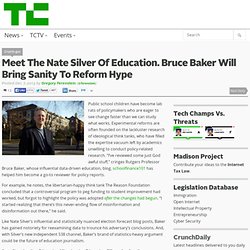 Public school children have become lab rats of policymakers who are eager to see change faster than we can study what works. Experimental reforms are often founded on the lackluster research of ideological think tanks, who have filled the expertise vacuum left by academics unwilling to conduct policy-related research. "I've reviewed some just God awful stuff," cringes Rutgers Professor Bruce Baker, whose influential data-driven education, blog, schoolfinance101 has helped him become a go-to reviewer for policy reports.
Meet The @FiveThirtyEight Of Education. Bruce Baker Will Bring Sanity To Reform Hype
Why Procrastinators Procrastinate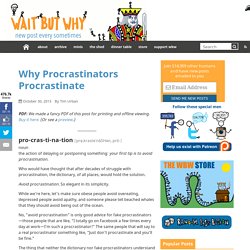 pro-cras-ti-na-tion |prəˌkrastəˈnāSHən, prō-| noun the action of delaying or postponing something: your first tip is to avoid procrastination. Who would have thought that after decades of struggle with procrastination, the dictionary, of all places, would hold the solution. Avoid procrastination.
simple_answers
Here's the hard part about Facebook and news — it's there, but users only find it accidentally
As the media industry continues to be disrupted by what we like to call the "democratization of distribution" produced by the social web, platforms like Facebook have become more and more important for news outlets as a way of reaching new readers. Unfortunately for media companies, using these platforms is not always as simple as it seems, and a new report from the Pew Research Center illustrates one reason why: it found that while many users come across news on Facebook, they don't go there specifically looking for it. In other words, finding news on the giant social network is more of an accident than it is a deliberate event, and that complicates how news outlets handle what they do there.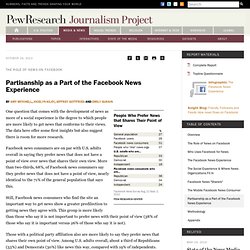 Partisanship as a Part of the Facebook News Experience By Amy Mitchell, Jocelyn Kiley, Jeffrey Gottfried and Emily Guskin One question that comes with the development of news as more of a social experience is the degree to which people are more likely to get news that conforms to their views. The data here offer some first insights but also suggest there is room for more research. Facebook news consumers are on par with U.S. adults overall in saying they prefer news that does not have a point of view over news that shares their own view.
Partisanship as a Part of the Facebook News Experience | Pew Research Center's Journalism Project
The Role of News on Facebook | Pew Research Center's Journalism Project
On Facebook, the largest social media platform, news is a common but incidental experience, according to an initiative of Pew Research Center in collaboration with the John S. and James L. Knight Foundation. Overall, about half of adult Facebook users, 47%, "ever" get news there. That amounts to 30% of the population.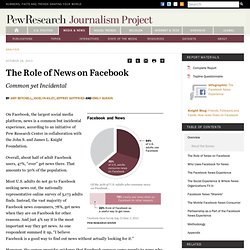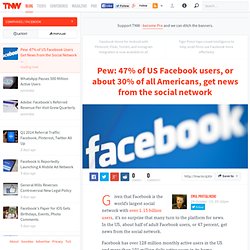 Pew: 47% of US Facebook users, or about 30% of all Americans, get news from the social network
Given that Facebook is the world's largest social network with over 1.15 billion users, it's no surprise that many turn to the platform for news. In the US, about half of adult Facebook users, or 47 percent, get news from the social network. Facebook has over 128 million monthly active users in the US and more than 101 million daily active users in its home country. Extrapolating the previous figure, about 30 percent of the US population gets news from the social network.
The Impact of Digital Tools on Student Writing and How Writing is Taught in Schools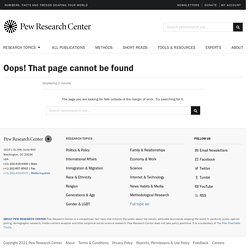 Overview A survey of teachers who instruct American middle and high school students finds that digital technologies are impacting student writing in myriad ways and there are significant advantages from tech-based learning. Some 78% of the 2,462 advanced placement (AP) and National Writing Project (NWP) teachers surveyed by the Pew Research Center's Internet & American Life Project say digital tools such as the internet, social media, and cell phones "encourage student creativity and personal expression." In addition: 96% agree digital technologies "allow students to share their work with a wider and more varied audience"79% agree that these tools "encourage greater collaboration among students"
Overview Three-quarters of AP and NWP teachers say that the internet and digital search tools have had a "mostly positive" impact on their students' research habits, but 87% say these technologies are creating an "easily distracted generation with short attention spans" and 64% say today's digital technologies "do more to distract students than to help them academically." These complex and at times contradictory judgments emerge from 1) an online survey of more than 2,000 middle and high school teachers drawn from the Advanced Placement (AP) and National Writing Project (NWP) communities; and 2) a series of online and offline focus groups with middle and high school teachers and some of their students. The study was designed to explore teachers' views of the ways today's digital environment is shaping the research and writing habits of middle and high school students.
How Teens Do Research in the Digital World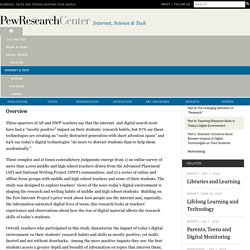 Framework for 21st Century Curriculum and Assessment
Updated February 2013 Adopted by the NCTE Executive Committee November 19, 2008 Context for NCTE's 21st Century Literacies Framework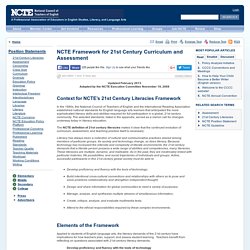 There are no forbidden words or expressions on Wikipedia, but certain expressions should be used with care, because they may introduce bias. Strive to eliminate expressions that are flattering, disparaging, vague, or clichéd, or that endorse a particular point of view. The advice in this guideline is not limited to the examples provided and should not be applied rigidly.[1] What matters is that articles should be well-written and consistent with the core content policies—Neutral point of view, No original research, and Verifiability.
Manual of Style/Words to watch
A Big Mac miss by The Huffington Post
The Huffington Post reports that McDonald's could double its workers wages by raising the price of a Big Mac by 68 cents. It went large on the Internet on Tuesday. Unfortunately, what it originally claimed was a study by a University of Kansas researcher turns out to be something—a term paper, maybe?