Innovación y management
Fordisme - Tiempos Modernos
Ex ET
Innovation and Strategic Growth
El futuro del Management
20090920-innovation-whitepaper
Alex Osterwalder on Business Model Innovation
Paper Esteban y Mauro_Multinacionales
Plataforma de descarga de publicaciones del MICINN
Change by Design - IDEO
Tim Brown, CEO of IDEO, shows how the techniques and strategies of design belong at every level of business. The myth of innovation is that brilliant ideas leap fully formed from the minds of geniuses. The reality is that most innovations come from a process of rigorous examination through which great ideas are identified and developed before being realized as new offerings and capabilities.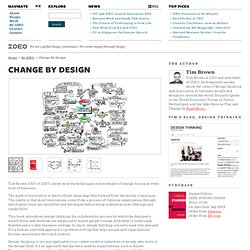 Edge Perspectives with John Hagel
Unanticipated events, especially extreme unanticipated events, can harm us or even destroy us. But they can also help us to grow and make us stronger. If they do the former, we tend to fear them and avoid them wherever possible.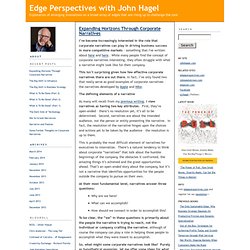 2010_Score_R&D
Home | InnoCentive
TEDxSol - Beatriz Muñoz-Seca - Gestionando cerebros de obra
Echevarría
Henry Chesbrough - Open Innovation Seminar 2009 - Brazil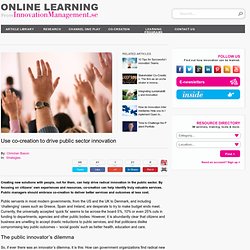 Creating new solutions with people, not for them, can help drive radical innovation in the public sector. By focusing on citizens' own experiences and resources, co-creation can help identify truly valuable services. Public managers should embrace co-creation to deliver better services and outcomes at less cost. Public servants in most modern governments, from the US and the UK to Denmark, and including 'challenging' cases such as Greece, Spain and Ireland, are desperate to try to make budget ends meet.
Use co-creation to drive public sector innovation | InnovationManagement
A Strategy for American Innovation: Driving Towards Sustainable Growth and Quality Jobs
On February 4, 2011, President Obama released an updated Strategy for American Innovation. You can view the updated Strategy here. "History should be our guide. The United States led the world's economies in the 20th century because we led the world in innovation.