House Stuff
Looking for those great places that are of different architectural design or something that adds to making your house more of a home.
The Sifters Top 10 Homes of 2010. If you're a regular reader of the Sifter you're familiar with my real estate fascination.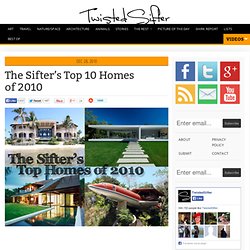 I love posting all types of homes. From the unique and interesting to the grand and opulent. Below you will find a collection of the Sifter's Top 10 Homes from 2010. Click any picture or link to be taken to the original post, enjoy! Portable Whangapoua Beach Hut. Outdoor style | Miss Design. A Low Impact Woodland Home. Treehotel. The Cabin This treeroom's location was based on the idea of creating a platform high up on a sharp hillside overlooking the Lule River valley.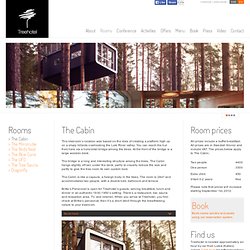 You can reach the hut from here via a horizontal bridge among the trees. At the front of the bridge is a large wooden deck. The bridge is a long and interesting structure among the trees. The Glass House :: Jodlowa House in Krakow& The Jodlowa House was designed by London-based architects firm PCKO in collaboration with MOFO Architects.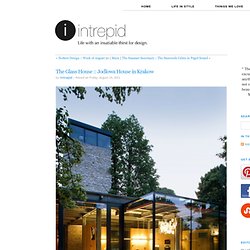 This modern residence is located in Krakow, Poland. The fully glazed steel frame structure, suspended above the site, makes the most of the outstanding location and at the same time preserves the existing natural environment. The design incorporates a covered swimming pool, two main bedrooms, 140sqm of living area and a 5 storey viewing tower. 52 Totally Feasible Ways To Organize Your Entire Home. Kuhl Design + Build. Ultimate Pirate Ship Bedroom (14 pics) "The rope bridge is connected to the top of the jail cell, built to accommodate evil doers, thieves and little sisters.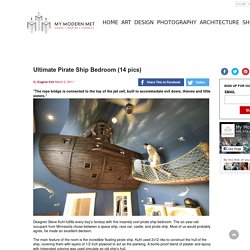 " Designer Steve Kuhl fulfills every boy's fantasy with this insanely cool pirate ship bedroom. The six-year-old occupant from Minnesota chose between a space ship, race car, castle, and pirate ship. Most of us would probably agree, he made an excellent decision. The main feature of the room is the incredible floating pirate ship. - StumbleUpon. - StumbleUpon. 25 Simple Gadgets and Accessories - FizX Entertainment. You know what they say, "less is more", and these simple (yet awesome) gadgets are the perfect examples.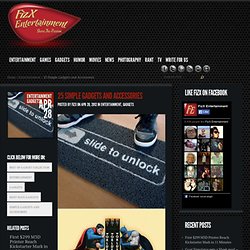 While the "Slide to Unlock" doormat and superhero bookends don't feature the latest in technology, they most certainly are eye candy as well as conversation pieces. Continue reading to see twenty five more. 25. Mini Doughnut Factory. Drinkify. Don't Throw That Old Pallet Away [35 PICS] Luxury Villa Amanzi, Thailand by Original Vision Studio | Luxury Furniture,... - StumbleUpon. Luxury Villa Amanzi, Thailand by Original Vision Studio The Villa Amanzi by Architect firm Original Vision Studio is a stunning modern vacation residence located in the exclusive Cape Sol on the West coast of Phuket, Thailand.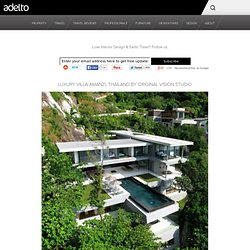 Villa Amanzi is a stunning six bedroom residence with a 15m infinity pool and breathtaking views over the Andaman Sea. Our 13 Best Recipes For Pomegranates. Pomegranates have been savored in the Middle East for centuries , and today they're finally getting their due in the West.
It's no wonder the secret's out: the ruby-colored fruits have a distinctly tart flavor that pops in both sweet and savory dishes. (Plus, they're good for you, brimming with healthy antioxidants , vitamins, potassium, folic acid and even iron.) Site Unavailable | UK2 - StumbleUpon. BuildItSolar: Solar energy projects for Do It Yourselfers to save money and... - StumbleUpon. Detroits Beautiful, Horrible Decline. Къщата на хобитите в Уелс. Scientists Develop Affordable Solar Panels That Work In The Dark. It's about damn time, don't you think?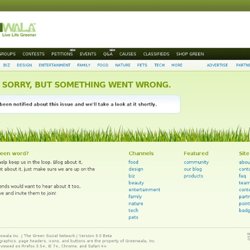 Scientists at Lawrence Berkeley National Laboratory announced Wednesday that they have been able to confirm a new high-efficiency solar cell design that utilizes nearly the entire solar spectrum. Translation: They figured out a way to make solar panels generate electricity in the dark. Geothermal Installation by the Numbers in Pennsylvania | Geothermal Genius. A lot of friends and neighbors ask why we switched to geothermal; here is the answer to that question by the numbers.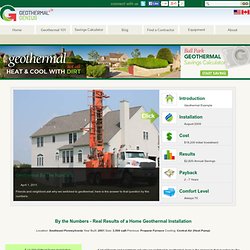 All numbers used are verified averages, they are not estimates. In August of 2009 we installed a 5 ton geothermal heating and cooling system to replace our propane furnace and central air conditioner. The chart to the left shows the system cost.
---