Exploring ideas
The critics are right: Neal Gabler's essay in yesterday's New York Times — the one proclaiming the death of the big idea at the hands of Twitter and Facebook and the Internet in general — is wrong. And we should probably, after giving the thing a slow clap for its bold attempt to transform the Death of the Big Idea into a Big Idea of its own, just dismiss it as so much linkbaitery, and then get on with our (ever more trivial, ever more egotistical, ever more tweet-addled) lives. But the essay's wrong, actually, in an interesting way. Gabler is making a big assumption: that the Big Idea is Big precisely because it is, actually, big — largely acknowledged, largely apprehended, largely accepted. "Once upon a time," Gabler writes, ideas "could ignite fires of debate, stimulate other thoughts, incite revolutions and fundamentally change the ways we look at and think about the world."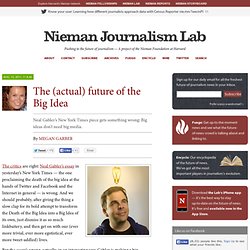 The (actual) future of the Big Idea » Nieman Journalism Lab » Pushing to the Future of Journalism
Foundation uses gaming to inspire rad R&D thinking
Could the aggressive strategies used in gaming come to the rescue of the biomedical research community? The Myelin Repair Foundation thinks so. The non-profit medical research organization is hosting a special "gaming event" this fall for R&D experts and biotech players designed to get them to shed their carefully laid plans in favor of forging a breakthrough approach to drug research.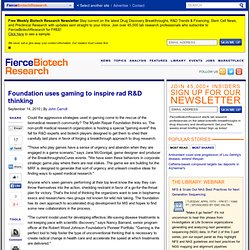 Environmental Disasters
Immersion by the MIT Media Lab is a view into your inbox that shows who you interact with via email over the years. Immersion is an invitation to dive into the history of your email life in a platform that offers you the safety of knowing that you can always delete your data.Just like a cubist painting, Immersion presents users with a number of different perspectives of their email data. It provides a tool for self-reflection at a time where the zeitgeist is one of self-promotion. It provides an artistic representation that exists only in the presence of the visitor.
RSA Animate – Re-Imagining Work How can we get people more engaged, more productive, and happier at work? Is technology part of the problem – and could it also be part of the solution? Dave Coplin, Chief Envisioning Officer at Microsoft, imagines what might be possible if more organisations embraced the full, empowering potential of technology and encouraged a truly open, collaborative and flexible working culture. Taken from a talk given by Dave Coplin as part of the RSA's free public events programme.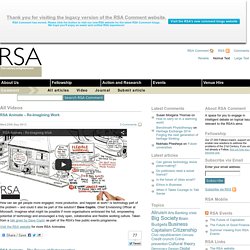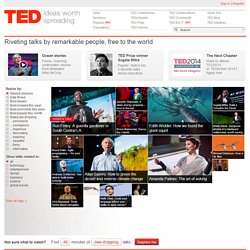 Gabby Giffords and Mark Kelly Be passionate. Be courageous. Be your best. On January 8, 2011, Congresswoman Gabby Giffords was shot in the head while meeting constituents in her home town of Tucson, Arizona.
John Cleese on creativity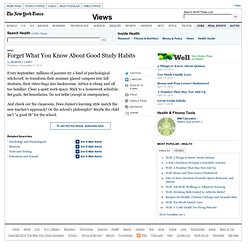 And check out the classroom. Does Junior's learning style match the new teacher's approach? Or the school's philosophy? Maybe the child isn't "a good fit" for the school. Such theories have developed in part because of sketchy education research that doesn't offer clear guidance.
Mind - Research Upends Traditional Thinking on Study Habits
Home | The Economist | Human Potential | September 15-16, 2010 | New York
The Semantic Web for Life Sciences
Cognitive Surplus by Clay Shirky
Following up from my post last week , below is a suggested list of features that should be supported in documents written in scholarly markdown. Please provide feedback via the comments, or by editing the Wiki version I have set up here . Listed are features that go beyond the standard markdown syntax . The goals of scholarly markdown are to support writing of complete scholarly articles, don't make the syntax more complicated than it is today, and don't rely on HTML as the fallback mechanism. In practice this means that scholarly markdown should support most, but not all scholarly texts – documents that are heavy in math formulas, have complicated tables, etc. may be better written with LaTeX or Microsoft Word.
Nice to meet your big idea – Prospect Magazine « Prospect Magazine
How useful are global gatherings that invite great minds to share ideas and innovations in person? Google's US headquarters, which hosted the SciFoo technology camp in July. Attendees create the conference schedule on the spot In Oxford, it was shaking hands with legendary videogame designer Peter Molyneux. In Mountain View, California, it was when Larry Page, one of Google's two founders, sat down beside me and blandly introduced himself. A very particular conference skill-set kicked in: blinking in fame's reflected glare while trying to appear entirely blasé.