Other Resources
Main Page - Teflpedia
What is a wiki? You're reading a wiki now. It is a repository of knowledge which can be edited by anybody—including you.
Mark's ESL World -- ESL Related Websites
Kristina Pfaff's Linguistic Funland
talent : Resources
ESOL Online / English - ESOL - Literacy Online website - English - ESOL - Literacy Online
Aardvark's English Forum: ESL, EFL, ELT, TESOL, TEFL, TESL
English School of Teacher Phil English Online Learning and Hoc Tieng Anh
1- Sites for your own personal and/or professional use... Bized A site "for students and educators in business studies, economics, accounting, leisure, sport & recreation and travel & tourism" - and not one primarily intended for business English per se. The huge collection of material on this site will probably repay the time you invest in finding what is going to be of most interest to your own learners.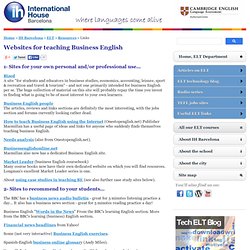 Articles, Research Papers, Lessons Plans, Classroom Handouts, Teaching Ideas & Links Please make a bookmark and come back again. Home | Articles | Lessons | Techniques | Questions | Games | Jokes | Things for Teachers | Links | Activities for ESL Students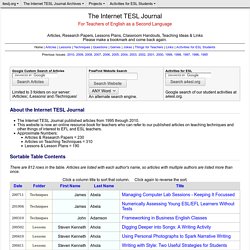 ESL Desk