School
Le Bal des actrices (All About Actresses)(The Actress' Ball)
Kurt Vonneguts 8 Tips on How to Write a Great Story - Entertainment - The Atlantic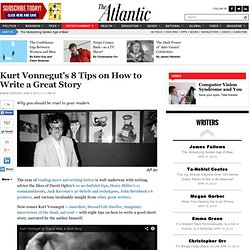 Why you should be cruel to your readers AP Images The year of reading more and writing better is well underway with writing advice the likes of David Ogilvy's 10 no-bullshit tips, Henry Miller's 11 commandments, Jack Kerouac's 30 beliefs and techniques, John Steinbeck's 6 pointers, and various invaluable insight from other great writers.
Can you name the answers to these 50 Riddles?? by gundam743 | Online Games &Trivia by Sporcle
Chill, Hipster Child. Light A Cigarette And See The Smoke Take Shapes. | hellosunschein | 92 likes | 616 listens | 8tracks internet radio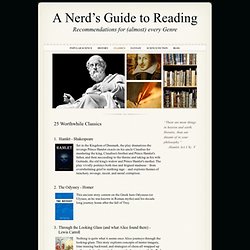 Set in the Kingdom of Denmark, the play dramatizes the revenge Prince Hamlet exacts on his uncle Claudius for murdering the king, Claudius's brother and Prince Hamlet's father, and then succeeding to the throne and taking as his wife Gertrude, the old king's widow and Prince Hamlet's mother. The play vividly portrays both true and feigned madness – from overwhelming grief to seething rage – and explores themes of treachery, revenge, incest, and moral corruption.
Classics - A Nerd's Guide to Reading
I've edited a monthly magazine for more than six years, and it's a job that's come with more frustration than reward. If there's one thing I am grateful for — and it sure isn't the pay — it's that my work has allowed endless time to hone my craft to Louis Skolnick levels of grammar geekery. As someone who slings red ink for a living, let me tell you: grammar is an ultra-micro component in the larger picture; it lies somewhere in the final steps of the editing trail; and as such it's an overrated quasi-irrelevancy in the creative process, perpetuated into importance primarily by bitter nerds who accumulate tweed jackets and crippling inferiority complexes.
20 Common Grammar Mistakes That (Almost) Everyone Gets Wrong | LitReactor - StumbleUpon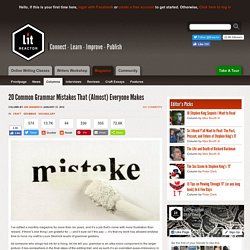 Funny: Moss graffiti making tips
Noisey - StumbleUpon
Premieres It's Friday so Let's Take Off Our Shirts and Dance to the New Video for Royce Wood Junior's "Hardly" The track comes from his debut EP 'Tonight Matthew,' out April 21. Dumbing for Drummies Building An Empire with SJC Drums The company started in the owner's grandma's basement. Now they make drums for Green Day. Canada's National Music Centre Is The Coolest Museum Ever Canada's unknown historic music vault is in the coolest museum ever. 100 Most beautiful words in the English language* | Deshoda - StumbleUpon
Become a Google Pro.
THEOI GREEK MYTHOLOGY, Exploring Mythology & the Greek Gods in Classical Literature & Art - StumbleUpon
The Theoi Project profiles each deity and creature of Greek Mythology on a separate page, incorporating an encyclopedia summary, quotations from a wide selection of ancient Greek and Roman texts, and illustrations from ancient art. Analysis of the texts and interpretation of the stories of myth is currently beyond the scope of the project. For such detailed analysis, I would suggest consulting some of the good books available on the subject. Transliterated forms of Greek names are used throughout the biography pages of the site rather than their Latin forms, e.g. Kirke instead of Circe, Ouranos for Uranus, Apollon in place of Apollo, etc.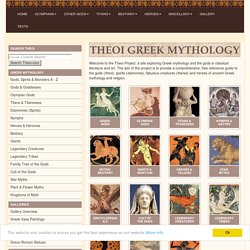 - StumbleUpon
Whichbook | A new way of choosing what to read next - StumbleUpon