Pintura
Conrad Roset: The Art of the Muse. Historically, the relationship between an artist and their muse can range from a complex, private and intimate connection to, in our world of new media, one of pure visual stimulation and inspiration, without physical benefits or complications.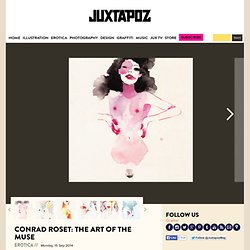 Since the beginning of time, muses have been present in the visual arts, driving the creative process and enhancing it for many notable artists. As a painter feeds off of their muse's energy or essence, they create work that often praises their model, and in Conrad Roset's case, expresses the sensuality and often simplistic beauty of a woman. With his delicate line-work and subtle erogenous focus, Roset portrays this gentle seduction, almost effortlessly. With his history of depicting women in minimal form, Roset brings a certain warmth to his pieces, through the light use of gradients, washes and erotically directed color play. - Lust After Lust After: Who are the muses in your works?
TINTYPES - Victoria Will. Olga Zavershinskaya: "El trabajo de papel. Nacida en Voronezh, URSS, Olga Zavershinskaya se ha dedicado completamente a la fotografía desde 2007.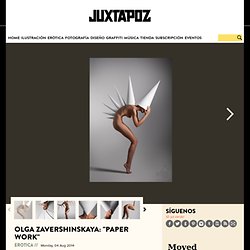 Olga dice que la base de su trabajo es una idea asociada de manera cercana con el método de realización, y los principios emocionales y estéticos. El balance entre concepto y método de expresión es la característica más significativa de su trabajo. La belleza de Kate Zambrano. A consistently wide-eyed wanderer, Kate Zambrano explores the human condition though visual stimulation.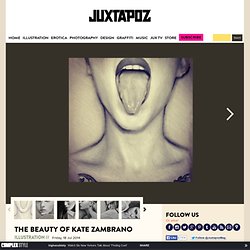 Often coupling the standard idealization of beauty with a deep, haunting melancholy, she uses monochromatic and subtle colors in her paintings to create a genuine and simplified journey into individuality. She works with different mediums and techniques as well as incorporating texture and drips to create an unsettling concept of what is attractive. Her work is made to bring up the emotions, ideas, and opinions of the viewer. It forces self-exploration and internal dialogue. She starts most paintings with the eyes, the fingerprint of the soul, which leads the viewer to reflect on him or herself. Surreal Landscape Photography by Reuben Wu. Stanley donwood en Tumblr. Ben Tours. Horyon Lee: The Art of the Voyeur. We cannot get over Horyon Lee's voyeuristic paintings.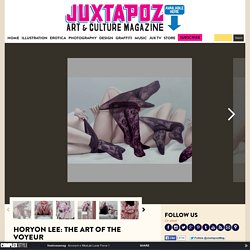 Combining the moment-to-moment compositing technique of time-lapse photography with the sensitive, careful brushwork of fine painting, Lee's works are a hybrid of many forms. His chosen subject matter has captured our erotica department's heart--focusing on the delicate, sensual movements of women moving and removing their undergarments, these paintings are uniquely sexy and innocent at the same time. Lee gives us all the freedom of a voyeur with all the agency of an art-lover. We cannot wait to see more from him. CIAN MCLOUGHLIN - Buscar con Google. Blaž Porenta. Françoise Nielly - artiste :: Galerie. Blaz porenta. Ninja art. Mark Dorf | Areasucia. Nicholas tay. Juxtapoz Magazine - Home. Streetagainst. Gallery ‹ hebru.
Gallery - Category: McAdoo - Image: Tyson McAdoo_5. Sweet Surreal Photo Manipulations (12 photos) Budapest, Hungary-based Sarolta Bán is a 28-year-old photographer whose surreal photos have a surprisingly sweet side to them.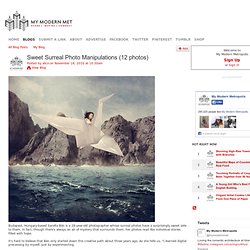 In fact, though there's always an air of mystery that surrounds them, her photos read like individual stories filled with hope. It's hard to believe that Bán only started down this creative path about three years ago. As she tells us, "I learned digital processing by myself, just by experimenting. The 2nd Annual Supersonic Electronic Invitational @ Spoke Art, SF. Only a few days remain to check out the 2nd Annual Supersonic Electronic Invitational at Spoke Art in San Francisco.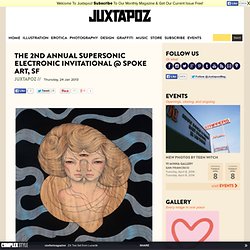 What is a 2nd Annual Supersonic Electronic Invitational you may ask? Curator Zach Tutor has compiled a group of 32 contemporary artists, including Audrey Kawasaki, Erik Jones, Joao Ruas, Soey Milk, Conrad Roset who blur "the lines between multitudes of genres into a single, pluralistic whole. " "The 32 artists in this years Supersonic Electronic Invitational were chosen not only for their outstanding ability to create dynamic art but also for their position as innovators at the forefront of a generation of artists. Artists whose lives have been saturated with visual ephemera and who have had access to endless amounts of inspiration via the Internet." "This area of the contemporary art scene is what the Supersonic Electronic website seeks to chronicle, the rise of a movement which sees artists blurring the lines between multitudes of genres into a single, pluralistic whole.
"Skirt Flirt" Paintings by Ho Ryon Lee. I took the red eye from San Diego to the east coast yesterday in order to meet my mother , sister, godmother, and 6 other friends of ours at Arrowmont School of the Arts and Crafts.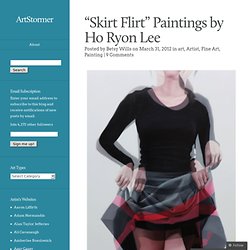 I'm taking "glass beads" which means I'm operating a blow torch and melting glass rods into "round" shapes. My work product is very, let's just say, "arty" (oval, pear, not round). Ho Ryon Lee may have been inspired by jet lag when he conceived of these "double vision" paintings. Dizzingly delightful! Gallery representation: Galerie Bhak. Www.simkom.com/sketchsite/image.php?id=126476626116541. Russ Mills on Behance. My work dwells in a netherworld between urban fine art and contemporary graphics, A collision of real and digital media it is primarily illustration based with a firm foundation in drawing, I focus mainly on the human form particularly the face, interweaving elements from the animal kingdom often reflecting the ab… Read More My work dwells in a netherworld between urban fine art and contemporary graphics, A collision of real and digital media it is primarily illustration based with a firm foundation in drawing, I focus mainly on the human form particularly the face, interweaving elements from the animal kingdom often reflecting the absurdity of human nature.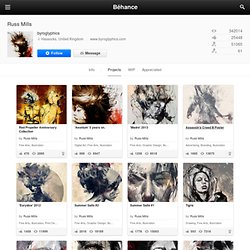 Read Less. Db illustration. Facebook. Rene almanza - Buscar con Google. Florian Nicolle. Magazine - Gallery - Category: Simon Birch - Image: Simon Birch_7. Magazine - Pinturas de Simon Birch | Current. Después de hablar con Conor Harrington recientemente, nos ha fascinado la idea del movimiento en las pinturas.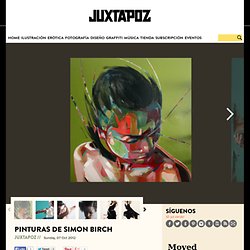 Cuando nos encontramos la obra del artista basado en Hong Kong Simon Birch, nos fascino la forma en que el artista muestra el movimiento, ambos en sus sujetos y en sus elementos surrealistas dentro de sus pinturas. Simon Birch es un artista nacido en GBU, quien es un residente permanente de Hong Kong, China. Aunque mucha de su obra es y han sido grandes, figurativas pinturas al óleo, en los últimos años él se ha aventurado en películas e instalaciones culminando en algunos particulares y notables proyectos a gran escala: Azhanti High Lightning (2007, Singapore), This Brutal House (April 2008, Hong Kong) y la instalación multimedia de 20,000 pies cuadrados 'HOPE & GLORY: A Conceptual Circus' (April 2010, ArtisTree, Hong Kong). Estos proyectos grandes en multimedia, incluyen filmes, pinturas, instalación, escultura y performance todos configurados en un espacio en especifico .
Facebook. More Naked Appeal From Derek Woods. Gallery - Category: JulienPalast - Image: JulienPalast_4. In Erotica: The Work of Adara Sánchez Anguiano. Gallery - Category: Vladimir Shorokhova erotica - Image: Vladimir Shorokhova erotica_12. Beast man graffiti - Buscar con Google. Viktor SHELEG - See all Artworks Viktor SHELEG. Indoor - ARYZ. Nudes by Eric Engelhard | Erotica. Adrian Ghenie - Nicodim Gallery. Justin Mortimer Painting 'Haftling' show at Mihai Nicodim. Retratos bajo el agua by Jacob Sutton. Magazine - Gallery - Category: Michael Page - Image: Michael Page _15. Sam Spratt | Homepage. (1) Alice Pasquini's Art. Magazine - Gallery - Category: Andrew Salgado - Image: Andrew Salgado_24. Gallery - Category: Hideaki Kawashima - Image: Hideaki Kawashima_20. 3D Sketchbooks by Nagai Hideyuki. Euan Uglow | Areasucia. VOKA. Florian Nicolle (NEO) | Areasucia.
Secuencia de fotos de C215. Sit. ILLUSTRATION - thetourshow. A Due Colori: Ink Underwater by Alberto Seveso. This is id-iom | Dropping the bomb with absolute aplomb. Herakut.
---