CSS
Get flash to fully experience Pearltrees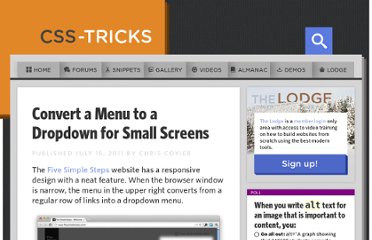 Published by Chris Coyier The Five Simple Steps website has a responsive design with a neat feature. When the browser window is narrow, the menu in the upper right converts from a regular row of links into a dropdown menu. When you're on a small screen (iPhone shown here) and click the dropdown, you get an interface to select an option where each option is nice and big and easy to choose.
A tiny , no-frills, framework-independent, targeted overflow: auto polyfill for use in responsive design. Disable Overthrow What is this all about? You want to use CSS overflow in your designs, but overflow doesn't work properly in many browsers, particularly mobile ones. Many popular mobile browsers treat overflow: auto the same as overflow: hidden , cropping overflow content from view, and leaving users no way to access it. But wait - many browsers actually support overflow very well!
In this tutorial we will create a slideshow with a parallax effect using several CSS3 properties. The idea is to move the background positions of two backgrounds while sliding the container of the slides. View demo Download source In this tutorial, we are going to create a slideshow with a parallax effect with the help of some CSS3 properties. We'll use radio buttons and sibling combinators for controlling which slide is shown. There will be two backgrounds and the idea is to change the background positions and the position of the slider with transitions in order to create a slight parallax effect.
CSS3 is probably the hottest trend in web design right now, allowing developers the opportunity to implement a number of solutions into their projects with some very straightforward CSS while avoiding having to resort to nonsemantic markup, extra images, and complex JavaScript. Unfortunately, it's not a surprise that Internet Explorer, even in its most recent version, still does not support the majority of the properties and features introduced in CSS3. Experienced developers understand that CSS3 can be added to new projects with progressive enhancement in mind .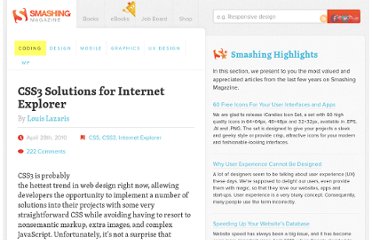 Select catcher Created by Ian Hansson (@teapoted) Art from Brendan Zabarauskas ( @bjzaba_ ). Icons from the iconSweets set. Browser Support:
1. position:static The default positioning for all elements is position:static , which means the element is not positioned and occurs where it normally would in the document. Normally you wouldn't specify this unless you needed to override a positioning that had been previously set. 2. position:relative
Content sliders are a great way to make a website more dynamic. They add flair, and if used correctly, could be the difference between a purchase and a back button. Normally, they would be built with jQuery or some other Javascript library. However, with the advent of CSS3, I will show you how to build one using only CSS. The result won't be the most semantic thing to ever be made, but it will be completely functional nonetheless. Demo & Source Files
Tired of turning upside down the internet and not finding what you're looking for? Well, here we're providing you the best of our CSS buttons search. Here you'll find over 100 buttons, among pure CSS and image + CSS made.
via Ad Packs animate.css is a bunch of cool, fun, and cross-browser animations for you to use in your projects. Great for emphasis, home pages, sliders, and general just-add-water-awesomeness.