Philosophy
Get flash to fully experience Pearltrees
This classic statement of anarchism was written by a diverse group of anarchists in Cardiff around 1980 and it is an interesting historical record of the optimism of mainstream anarchist thought at that time. Terry Phillips There is probably more rubbish talked about anarchism than any other political idea.
The latest in the Big Kerfuffle about whether Gnu Athesists are mean, and whether we should STFU about the palpable incompatibility between science and faith: Jason Streitfeld , Ophelia Benson , and Russell Blackford take issue with the notion that the science/faith conflict is too complicated to discuss in the "public square. " Jason Rosenhouse agrees with them . So does Eric Macdonald , who also posted a picture of the "Look at Her" girl! Over at his website, Jeremy " Look At Her " Stangroom has started a Big Project: he's trawling through Gnu Atheist blogs, looking desperately for any signs of incivility. The latest is his earth-shaking discovery that Richard Dawkins once referred to a woman as having a "stupid face." That remark was certainly ill-advised, but does it outweigh the reams of perfectly civil writing that Dawkins has done on atheism?
I am completely fascinated with the work/antics of the internet hactivists know as Anonymous. They have it seems, become at least in part, the Robin Hood of the intertubes. You may not agree with their motives or their actions but the undercover group has become downright legendary .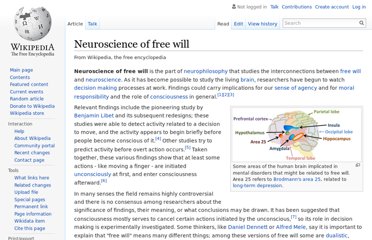 Neuroscience of free will refers to recent neuroscientific investigation of questions concerning free will . It is a topic of philosophy and science . One question is whether, and in what sense, rational agents exercise control over their actions or decisions. As it has become possible to study the living brain , researchers have begun to watch decision making processes at work. Findings could carry implications for moral responsibility in general. Moreover, some research shows that if findings seem to challenge people's belief in the idea of free will itself then this can affect their sense of agency (e.g. sense of control in their life). [ 1 ] [ 2 ]
But 30 years after the commercials debuted, neuroscientist Read Montague was still thinking about them. Something didn't make sense. If people preferred the taste of Pepsi, the drink should have dominated the market. It didn't.