Stratégie & diplomatie
Federation of American Scientists. Alliance Geostrategique. Institut Francais de Géopolitique. INTELWIRE.com. Fundación para las Relaciones Internacionales y el Diálogo Exter. The new geopolitics of peace operationsOn 9 April, FRIDE Research Director Daniel Keohane spoke at a joint SIPRI-Friedrich Ebert Stiftung conference on "The new geopolitics of peace operations".Europe, Japan and Asian securityOn 8 April, FRIDE Research Director Daniel Keohane participated as a panelist at a high-level conference on "Europe, Japan and Asian security", organised by the Institute for European Studies in Brussels and the Japanese Ministry of Foreign Affairs.Maghreb and Cold War: What next?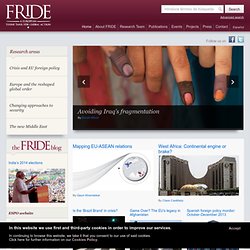 FRIDE Senior Researcher Barah Mikail spoke about 'Maghreb and Cold War: What next?' At the Grenoble's Festival of Geopolitics, held on 4 April 2014. Jean-Marie Collin. Accidents de sous-marins nucléaires américains de Jean-Marie Collin, le 7 avril 2014 Selon les données publiées par le Naval Safety Center, il y a eu 906 accidents impliquant des sous-marins américains entre 2005 et 2013, soit un accident tous les 3 jours !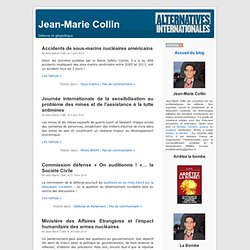 Lire l'article » Journée internationale de la sensibilisation au problème des mines et de l'assistance à la lutte antimines. Marc Lynch | FOREIGN POLICY. European Interagency Security Forum. Stephen M. Walt | FOREIGN POLICY. Intelligence Economique, veille, recherche d informations - Accu. Hautes Études Internationales: Accueil. [herodote.org] Center for International Studies. - Renseignement, Défense, Technologie, Terrorism. Diploweb.com, revue geopolitique, articles, cartes, relations in. Flashpoint Intelligence.
CENTRE FRANÇAIS DE RECHERCHE SUR LE RENSEIGNEMENT. Eric Denécé, docteur ès Science Politique, habilité à diriger des recherches, est directeur du Centre Français de Recherche sur le Renseignement (CF2R) et de sa société de conseil en Risk Management (CF2R SERVICES).
Auparavant, il a été successivement : Officier-analyste à la direction de l'Evaluation et de la Documentation Stratégique du Secrétariat Général de la Défense Nationale (SGDN).Ingénieur commercial export chez Matra Défense.Responsable de la communication de la société NAVFCO, filiale du groupe DCI (Défense Conseil International).Directeur des études du Centre d'Etudes et de Prospective Stratégiques (CEPS).Fondateur et directeur général du cabinet d'intelligence économique ARGOS.Créateur et directeur du département d'intelligence économique du groupe GEOS. E. Denécé a notamment opéré au Cambodge, aux côtés de la résistance anticommuniste, et en Birmanie, pour la protection des intérêts de Total contre la guérilla locale.
Foreign Policy - portail/magazine sur la politique globale, l&#0. Xavier Raufer - Accueil. - Renseignement, Défense, Technologie, Terrorism. Affaires-strategiques.info. Fondation pour la recherche stratégique. The Investigative Project on Terrorism. Infoguerre. Armees.Com. Centre de documentation de l'Ecole militaire. Affaires-strategiques.info. Alliance G?ostrat?gique. Secret défense. L'intervention française au Mali (opération Serval), qui a démarré de manière fracassante le 11 janvier dernier, était dans les cartons depuis 2009.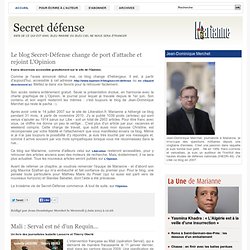 Une planification de l'état-major, baptisée Requin, prévoyait alors quasiment ce qui advenu cet hiver. Et qui a failli être déclenché à plusieurs reprises sous la présidence Sarkozy... Puis après l'élection de François Hollande, qui juge le dossier malien prioritaire, tout se met en place à partir du 31 octobre 2012. L'offensive des djihadistes en janvier servira de coup de sifflet pour y aller. Military News | Military Forum. Strategic Studies Institute (SSI) | US Army War College. Analysis Intelligence - Open Source Intelligence Analysis & Government Analysis, Clever Analysis Techniques. Info 1 Défense Sécurité Defence. Home - Centre of International Relations. Kings of War.
---