Sides
I love all things made with Frank's Red Hot (or any hot sauce, really. But especially Frank's Red Hot) I also love cheese. And crescent rolls. And ranch dressing.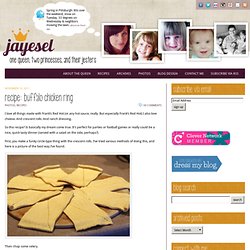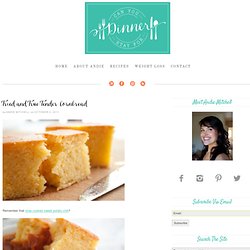 Remember that slow cooked sweet potato chili? Goodness, I hope so. Well, bake this yellow number to go alongside it. Salty winking at sweet. Nooked, crannied, and unabashedly crumbly.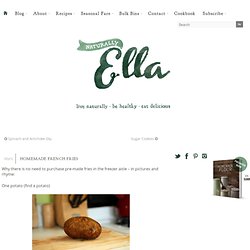 Why there is no need to purchase pre-made fries in the freezer aisle – in pictures and rhyme: One potato (find a potato) Two potato (cut the ends off)
Homemade Crispy Potato Tots (Tater Tots) I went to a Sonic Drive In for the first time a few weeks ago and was surprised to see that they served tater tots. I just had to order some, and believe me I enjoyed every last tot.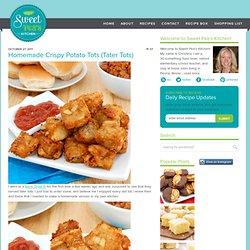 Servings: 4-6 Ingredients: 2 shallots, minced (about 2 tablespoons)Salt6 tablespoons champagne vinegar2 tablespoons honey2 tablespoons Dijon mustard3/4 cup extra virgin olive oil2 cups radish slices2 Granny Smith apples, cored and diced4 cups arugula 2 cups (10-12 ounces) Wisconsin Blue Cheese, crumbled Cooking Directions: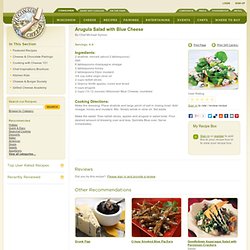 Recipe 10 - Arugula Salad with Wisconsin Blue Cheese | Favorite Foods with Chef Michael Symon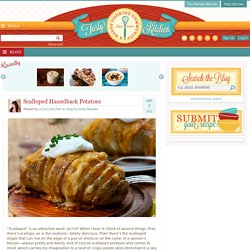 "Scalloped" is an attractive word, isn't it? When I hear it I think of several things: first, there's scallops, as in the seafood—totally delicious. Then there's the scalloped shape that can live on the edge of a pair of shorts or on the collar of a woman's blouse—always pretty and dainty. And of course scalloped potatoes also comes to mind, which carries my imagination to a land of crispy potato skins drenched in a sea of cheese and cream.
Ok are you ready for Pizza Monkey Bread. It will kinda change your life. And maybe your waistline.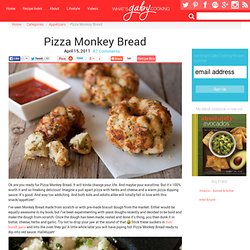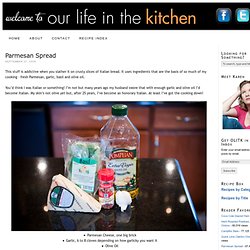 This stuff is addictive when you slather it on crusty slices of Italian bread. It uses ingredients that are the basis of so much of my cooking – fresh Parmesan, garlic, basil and olive oil. You'd think I was Italian or something!
Hey Guys! So…it's still really hot out…wtf! I'm totally ready for fall…forget this, "I just don't want summer to end" BS…I'm OVER IT! Okay, I apologize for being aggressive right there, but man does this weather make me grumpy.
1. Classic Cover 2 pounds whole russet or Yukon gold potatoes with cold salted water; simmer 45 minutes. Drain, peel and mash with 1/2 to 1 stick butter.
50 Mashed Potatoes : Recipes and Cooking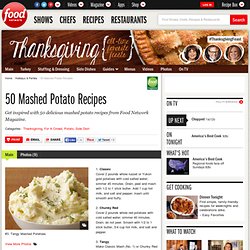 I truly appreciate your visiting my site! If this looks delicious to you, please subscribe for my occasional emails with more great recipes, to the right of this post. You can also follow what I'm cooking on Facebook, Google+, Pinterest and Twitter. One of my absolute favorite flavors in the world (right up there with Nutella and mangoes) is Chipotle Peppers in Adobo Sauce. Spicy, smoky, and oh-so-yummy! This french fry recipe is so flavorful that you really don't need to dip them in anything.
Email Traditional "Cheesy" Kale Chips 1 bunch kale 2-3 Tbsp olive oil
Traditional and Asian-Inspired Kale Chips Are an Affordable, Healthy, and Irresistible Snack
Cooking With Miles: Pepperoni & Cheese Buns Recipe
I once made the driest pancake in the world. I can see you sitting at home, staring at your computer screen, and scoffing at my bold statement. Driest pancake in the world?
Ok fine. I'm officially ready to make the transition to fall. And I thought, what better way to do it than with my all time favorite Parmesan Roasted Potatoes! These are like candy. 100% addictive. Once you stop, you just can't stop.
Baked Green Bean Fries with Roasted Garlic Dipping Sauce | my kitchen addiction