Cookies
Buttery Crisp XXL Chocolate Chip Cookie For Santa. If you are looking for the perfect cookie to leave for Santa, look no further!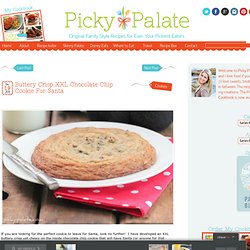 I have developed an XXL buttery crisp yet chewy on the inside chocolate chip cookie that will have Santa (or anyone for that matter) jumping for joy My favorite part…..it's prepared in one little bowl. No mixer….minimal dishes, YES! San Diego Food and Wine's Classic Spritz Cookie - San Diego Fine Dining. Since childhood we have been enjoying a holiday classic.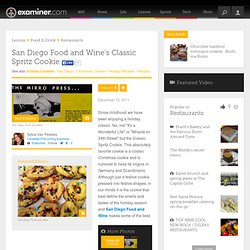 No, not "It's a Wonderful Life" or "Miracle on 34th Street" but the Classic Spritz Cookie. This absolutely favorite cookie is a classic Christmas cookie and is rumored to have its origins in Germany and Scandinavia. Lunch Lady Bars | Do you attend cookie exchanges this time of year?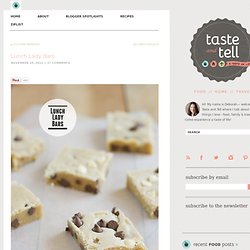 I've only ever attended a couple of them in my life, but every year, I tell myself that I'm either going to attend one or host one. Of course, this usually doesn't happen. Three Safe-to-Eat Cookie Doughs: Chocolate Chip, Sugar, and Cake Batter! I'm siiiiick.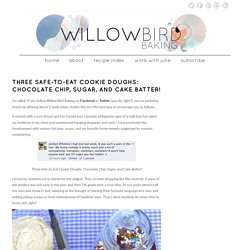 If you follow Willow Bird Baking on Facebook or Twitter (you do, right?) , you've probably heard me whining about it lately (okay, maybe this isn't the best way to encourage you to follow). It started with a sore throat and has turned into a beastly, phlegmatic ogre of a cold that has taken up residence in my chest and commenced hanging draperies and such. I have protested this development with various hot teas, soups, and my favorite home remedy suggested by readers: complaining. Chocolate Mice Recipe. Christmas Cookie Recipes - Best Christmas Cookies Ideas. Christmas Cookie Recipes. Home > Recipes > Holiday & Celebration Recipes > Christmas Recipes > Christmas Cookie Recipes Christmas Cookie Recipes Find your favorite Christmas cookie recipes with this guide to the best sugar cookies, gingerbread cookies, oatmeal cookies, chocolate cookies, peanut butter cookies and more favorite holiday cookie recipes!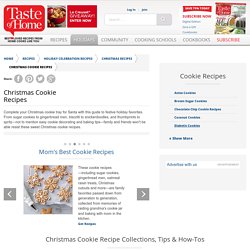 Easter Recipes Guide Advertise with us Christmas Cookie Countdown. Peppermint Candy Cookies & and a trip to . . . You won't believe how easy these cookies are to make!!!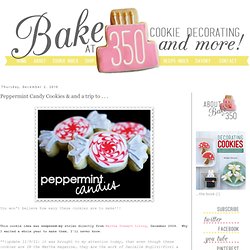 This cookie idea was inspired by stolen directly from Martha Stewart Living , December 2009. Why I waited a whole year to make them, I'll never know. These peppermint candy cookies would be so cute for a cookie exchange, Christmas gifts, holiday open houses...anything, really. University of Cookie: Decorating Cookies with DOTS! a video tutorial. More Tasty than a Chocolate Frog. *Do you have the theme song in your head yet?
* Last week, part one of the movie of the last Harry Potter book was released. University of Cookie: Wood Grain on Cookies! a video tutorial. Dotty Winter Trees. ...otherwise known as the "Trees of Indecision.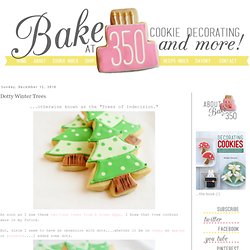 " As soon as I saw these two-tone trees from A Dozen Eggs, I knew that tree cookies were in my future. But, since I seem to have an obsession with dots....whether it be on cakes or apples or presents....I added some dots. The indecision came in with the sanding sugar and the wood grain trunk. Cinnamon Roll Cookies. Forget the weights get your bicep curl on in this hand to mouth cookie lift.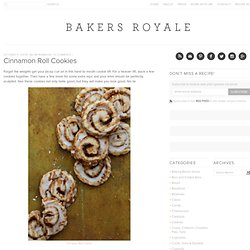 For a heavier lift, stack a few cookies together. Then have a few more for some extra reps and your arms should be perfectly sculpted. See these cookies not only taste good, but they will make you look good. No lie. Graham Cracker S'mores Cookies. Graham Cracker S'mores Cookies Graham Cracker S'mores Cookies with a graham cracker base, topped with a chocolate chip marshmallow cookie and chopped Hershey's bars on top.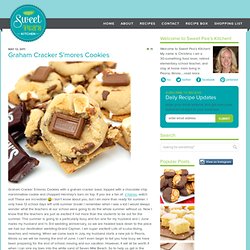 If you are a fan of s'mores, watch out! These are incredible! Crazy Domestic: Melted Snowman Cookies. I saw a picture of these the other day on Allrecipes.com and thought it was such a cute idea, I had to try it. After googleing it, I found a good tutorial on Stacy's Sweet Shop. I modified a few things to make it more simple for me (less homemade more store bought). To see the original Melted Snowman Cookie, and meet the inventor herself, go check out Meaghan (great name) @ The Decorated Cookie!
Here's what I used: No-Bake Chewy Cookies and Cream Bars. Oh how I love a treat that can be whipped up in about 15 minutes. My boys and their buddies couldn't get enough of these Chewy Oreo Bars we had as an after school snack this week. Sometimes my spontaneous recipe creations turn out to be the most fun, lol! Yes you use an entire package of Oreo Cookies, but what you get in return is a marshmallow-y Oreo treat that is worth every bite Surprise the kids (and yourself) with this one, they'll be all smiles, Enjoy! 3 whole ingredients. Under the High Chair: Browned Butter Triple Chocolate Chunk Cookies. Home from an intense blogging conference and what am I doing? Baking. Right now it is the best way to sort through all the info crammed into my head on topics such as viral marketing, blogging curation, and advanced monetization, to name but a few.
There's also the song from the surprise flashmob that I performed in at the conference close; can't get it out of my head. Baking seems like the best thing to do at this point. Gluten Free Peanut Butter Cookie Recipe. Recipe for Fudgy Brownie Cookies at Life. Chocolate Chip Oreo Cookies. The Infamous Jacques Torres Chocolate Chip Cookies. Homemade Milano Cookies.
---