My Body
AllRecipes.com - the top web site for recipes, food and cooking tips. Medicine: Nutrition. ...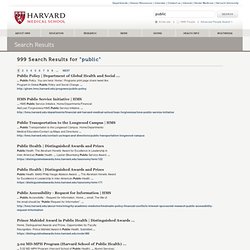 Public Policy. You are here: Home / Programs print page share tweet like. Program in Global Public Policy and Social Change. ... What Happens to Your body if you stop smoking Right now? Contributed byLiz Lewis I think one of the main reasons it's so hard to quit smoking is because all the benefits of quitting and all the dangers of continuing seem very far away.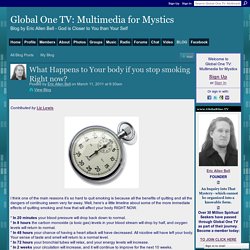 Well, here's a little timeline about some of the more immediate effects of quitting smoking and how that will affect your body RIGHT NOW. * In 20 minutes your blood pressure will drop back down to normal. * In 8 hours the carbon monoxide (a toxic gas) levels in your blood stream will drop by half, and oxygen levels will return to normal. * In 48 hours your chance of having a heart attack will have decreased. NutritionData.com NutritionData's Nutrition Facts Calorie C. The 100 Healthiest Foods. In the fast-paced world of nutrition research, it seems like a hot discovery hits the news every week.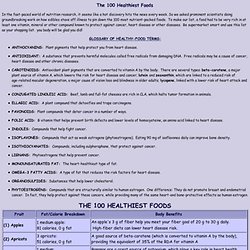 So we asked prominent scientists doing groundbreaking work on how edibles stave off illness to pin down the 100 most nutrient-packed foods. To make our list, a food had to be very rich in at least one vitamin, mineral or other compound known to protect against cancer, heart disease or other diseases. Be supermarket smart and use this list as your shopping list. you body will be glad you did! ANTHOCYANINS: Plant pigments that help protect you from heart disease. Tips for Feeding Vegetarian Kids -- Feeding Your Toddler -- WhatToExpect.com. It's dinnertime.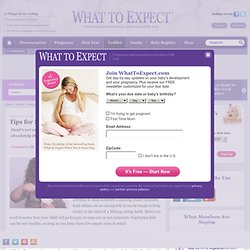 Got veggies? Check. Feeding Your Preschooler - Ages 4 to 5 Years. Nutrition during preschool years is important for kids' growth and learning and to provide energy for high activity levels.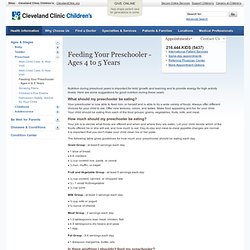 Here are some suggestions for good nutrition during these years. What should my preschooler be eating? Your preschooler is now able to feed him- or herself and is able to try a wide variety of foods. Corn & Broccoli Calzones. CalorieConnect.com. Bootstrapper » Top 100 Foods to Improve Your Productivity. Besides eating to lose weight, why not eat to improve your productivity?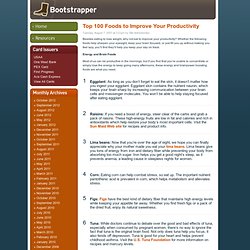 Whether the following foods help sharpen your eyesight, keep your brain focused, or just fill you up without making you feel lazy, you'll find they'll help you keep your day on track. Energy and Brain Foods. Calculate Daily Calorie Needs. Your daily calorie needs varies depending on your sex, body weight, This calculator will calculate your daily calorie needs for losing, maintaining and gaining weight.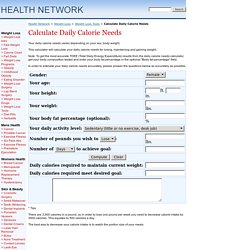 Note: To get the most accurate TDEE (Total Daily Energy Expenditure) results from the daily calorie needs calculator, get your body composition tested and enter your body fat percentage in the optional "Body fat percentage" field. In order to estimate your daily calorie needs accurately, please answer the questions below as accurately as possible. * Tips There are 3,500 calories in a pound, so in order to lose one pound per week you need to decrease calorie intake by 3500 calories.
Fatfree Vegan Recipes. Vegan-pyramid-1024x768.jpg (JPEG Image, 1024x768 pixels) - Scaled (70%) The 19 Healthiest Foods You're Probably Not Eating. There are a lot of very healthy foods out there, and nutritionists have been kind enough to let you know which ones to eat.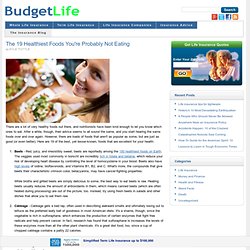 After a while, though, their advice seems to all sound the same, and you start hearing the same foods over and over again. However, there are loads of foods that aren't as popular as some, but are just as good (or even better). Here are 19 of the best, yet lesser-known, foods that are excellent for your health: Beets - Red, juicy, and irresistibly sweet, beets are reportedly among the 150 healthiest foods on Earth. 50 Lifehacks to Help You Live Longer and Healthier. With all the work that's put into fitness and health, it's a wonder how some people manage to have lives outside of work and exercise.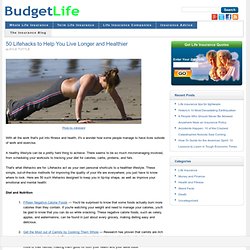 A healthy lifestyle can be a pretty hard thing to achieve. There seems to be so much micromanaging involved, from scheduling your workouts to tracking your diet for calories, carbs, proteins, and fats. That's what lifehacks are for.
---