Psychology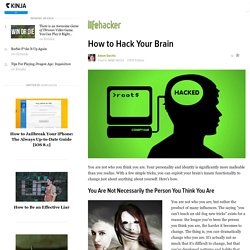 I've been doing this sort of thing since I was a freshman in highschool; I used to be a super shy person that didn't talk to anyone, currently I'm a shy person that doesn't really care about anything, thinks he has the capacity to do absolutely anything with limitless potential yet still amounts to nothing as there's always someone better (psychological trick to improve capabilities faster) and is far more social than ever. ;D I just find it easier to teach myself that I truly don't exist, I'm simply what I want to be whilst influenced by the knowledge I have. Deciding what you want to be and what factors decide how that can happen is the hardest part, but once you figure it out you can literally do or be anything you'd like.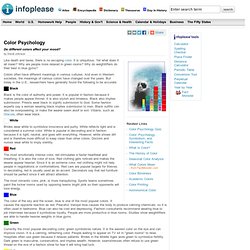 by David Johnson Like death and taxes, there is no escaping color. It is ubiquitous. Yet what does it all mean?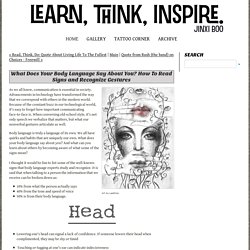 Art by LaetitziaAs we all know, communication is essential in society. Advancements in technology have transformed the way that we correspond with others in the modern world. Because of the constant buzz in our technological world, it's easy to forget how important communicating face-to-face is. When conversing old-school style, it's not only speech we verbalize that matters, but what our nonverbal gestures articulate as well. Body language is truly a language of its own. We all have quirks and habits that are uniquely our own.
"Music helps me concentrate," Mike said to me glancing briefly over his shoulder.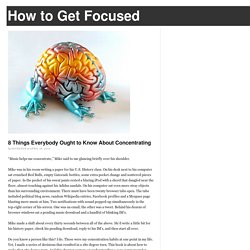 The end of 2010 fast approaches, and I'm thrilled to have been asked by the editors of Psychology Today to write about the Top 10 psychology studies of the year. I've focused on studies that I personally feel stand out, not only as examples of great science, but even more importantly, as examples of how the science of psychology can improve our lives. Each study has a clear "take home" message, offering the reader an insight or a simple strategy they can use to reach their goals , strengthen their relationships, make better decisions, or become happier. If you extract the wisdom from these ten studies and apply them in your own life, 2011 just might be a very good year. 1) How to Break Bad Habits
If you've ever been convinced by a salesperson that you truly wanted a product, done something too instinctively, or made choices that seemed entirely out of character, then you've had an idea planted in your mind. Here's how it's done. Note: We've gotten a lot of emails about how to do this in specific situations. Although some of those situations have been legitimate, this post was written to teach you to detect these tactics rather than use them on others.