Psychology
Brain Fitness And Memory Programs, Brain Training - CogniFit. - StumbleUpon. How to Hack Your Brain. @septentriones: Haha, what you're saying is actually quite indeed close to correct, though there is a bit more.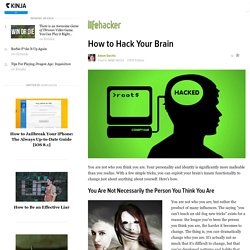 We are a culmination of our experiences, but that doesn't mean that our minds cannot advance further than that, for all that is required is the idea of an experience, for example, I have never been sledding down a mountain. However, I can imagine a sled, imagine a mountain, and myself in motion, so I can build the idea of the experience. If you can transcend your own personal experiences and create new ones idly, your potential for knowledge is increased 10fold. Color Psychology & Infoplease.com - StumbleUpon. By David Johnson Like death and taxes, there is no escaping color.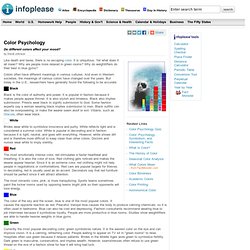 It is ubiquitous. Yet what does it all mean? What Does Your Body Language Say About You? How To Read Signs and Recognize&Gestures - Jinxi Boo - Jinxi Boo - StumbleUpon. Art by LaetitziaAs we all know, communication is essential in society.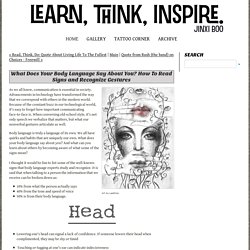 Advancements in technology have transformed the way that we correspond with others in the modern world. Because of the constant buzz in our technological world, it's easy to forget how important communicating face-to-face is. When conversing old-school style, it's not only speech we verbalize that matters, but what our nonverbal gestures articulate as well. Body language is truly a language of its own. We all have quirks and habits that are uniquely our own. 8 Things Everybody Ought to Know About Concentrating - StumbleUpon. "Music helps me concentrate," Mike said to me glancing briefly over his shoulder.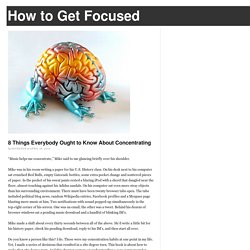 Mike was in his room writing a paper for his U.S. History class. On his desk next to his computer sat crunched Red Bulls, empty Gatorade bottles, some extra pocket change and scattered pieces of paper. The Top 10 Psychology Studies of 2010 | Psychology Today - StumbleUpon. The end of 2010 fast approaches, and I'm thrilled to have been asked by the editors of Psychology Today to write about the Top 10 psychology studies of the year.
I've focused on studies that I personally feel stand out, not only as examples of great science, but even more importantly, as examples of how the science of psychology can improve our lives. Each study has a clear "take home" message, offering the reader an insight or a simple strategy they can use to reach their goals , strengthen their relationships, make better decisions, or become happier. If you extract the wisdom from these ten studies and apply them in your own life, 2011 just might be a very good year. 1) How to Break Bad Habits. How to Plant Ideas in Someones Mind - StumbleUpon. This is really more of a side effect of the way that computer sales work.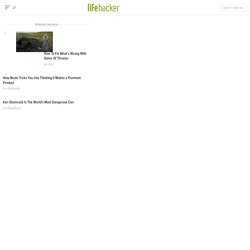 As a computer salesman, my goal is to pair you with a computer that (a) you'll be able to use to accomplish everything you want to do with a computer, including things you weren't thinking about (games, netflix) but that you'll use the thing for anyway, (b) that is capable of running things that your workplace / school will require of you, and also (c) that fits into your lifestyle well enough that it's something you'll be happy to keep using. If I fail at this job, two things will happen. You'll definitely be upset with me, because I sold you a product that didn't do what you needed.
---