Music
Music to use » Search. Guitar Lesson World: Lesson 8 - Flatpicking Technique. Holding the Pick Always point the pick directly down towards the guitar Do not allow it to spin while picking Make sure your grip is comfortable.
List of chord progressions. Random Chords Generator. Chord Progression and Chord Theory Lesson at Access Rock. Welcome To The Essential Guitar Guide. Guitar Lesson World: Lesson 8 - Flatpicking Technique. Play The 7 Modes in 7 Days (Tabs Incl.) Photo by Marta Monleón Modes are used in all kinds of musical styles like Jazz, Rock, Metal, Flamenco, etc.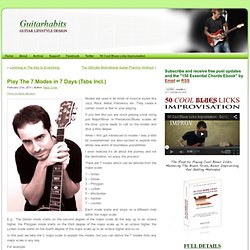 They create a certain mood or feel to your playing. If you feel like you are stuck playing solos using just Major/Minor or Pentatonic/Blues scales all the time, you're ready to call on the modes and dive a little deeper. When I first got introduced to modes I was a little bit overwhelmed, but also excited to explore this whole new world of boundless possibilities.
10 Essentials On Guitar Improvisation. Photo by Simone13 AKA John Pastorello Besides writing and playing songs I just love improvising.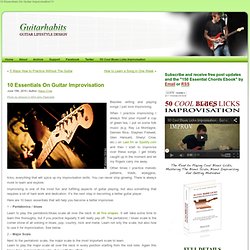 When I practice improvising I always first pour myself a cup of green tea, I put on some folk music (e.g. Ray La Montagne, Damien Rice, Stephen Fretwell, Glen Hansard, Sheryl Crow, etc.) on Last.fm or Spotify.com and then I start to improvise over these songs. I get totally caught up in the moment and let my fingers carry me away. List of chord progressions. Chordbook.com - Learn Guitar Chords, Scales, Guitar Tuner. Free Music Theory Worksheets! Material on this page is free.NEW!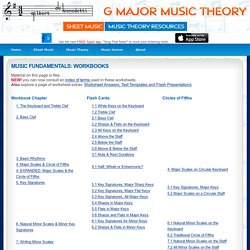 You can now consult an index of terms used in these worksheets. Also explore a page of worksheet extras: Worksheet Answers, Test Templates and Flash Presentations. Chordbook.com - Learn Guitar Chords, Scales, Guitar Tuner. Learning: eMusicTheory.com. Musicsandbox2425 - home. Teoría - Music Theory Web. Chord Calculator. Ricci Adams' Musictheory.net. Scales and emotions. Following up and expanding on a post about learning music theory with Auto-tune.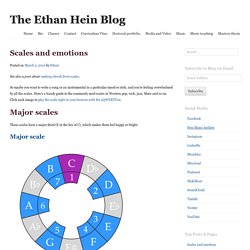 See also a post about the major scale modes and an intro to minor keys. So maybe you want to write a song or an instrumental in a particular mood or style, and you're feeling overwhelmed by all the scales. Here's a handy guide to the commonly used scales in western pop, rock, jazz, blues and so on. They're shown in the way you'd program them into Auto-tune. How to construct chords - Piano Clues: Free tips and lessons for playing piano, organ and electronic keyboard. You don't need a "1000 Chords Dictionary" to be able to read and play chords.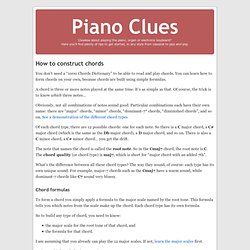 You can learn how to form chords on your own, because chords are built using simple formulas. A chord is three or more notes played at the same time. It's as simple as that. Of course, the trick is to know which three notes… List of chord progressions. Harmonic Progressions | Learning and Loving Music Theory. Kelvin, You actually caught a mistake on the roman numerals!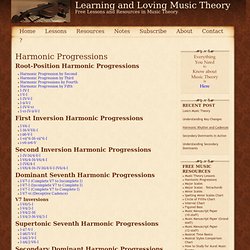 Thanks, I'll have to fix that. Holly Figueroa O'Reilly - Americana, roots and blues...for people who like good music. Audiotool.
---