English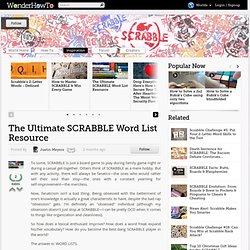 To some, SCRABBLE is just a board game to play during family game night or during a casual get-together. Others think of SCRABBLE as a mere hobby. But with any activity, there will always be fanatics—the ones who would rather sell their soul than stop—the ones with a constant yearning for self-improvement—the merciless.
The Ultimate SCRABBLE Word List Resource « SCRABBLE World
If you can pronounce correctly every word in this poem, you will be speaking English better than 90% of the native English speakers in the world. « SEXY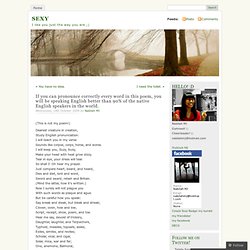 (This is not my poem!) Dearest creature in creation, Study English pronunciation. I will teach you in my verse Sounds like corpse, corps, horse, and worse. I will keep you, Suzy, busy, Make your head with heat grow dizzy.
Unusual Words - StumbleUpon
The Dictionary of Old English (DOE) defines the vocabulary of the first six centuries (C.E. 600-1150) of the English language, using twenty-first century technology. The DOE complements the Middle English Dictionary (which covers the period C.E. 1100-1500) and the Oxford English Dictionary, the three together providing a full description of the vocabulary of English. Each year The Dictionary of Old English produces a report on the progress of the Project. A sample entry from the Dictionary of Old English
The Dictionary of Old English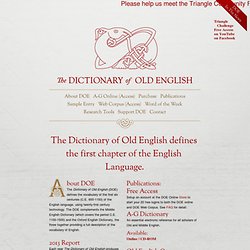 Ambiguous Words
Ambiguous Words Here's a bunch of words that, by themselves, have a handful of meanings. Because of this flexibility, they can be instrumental in titles for your songs/poems/stories/etc. Click on each word to delve deeper into these words' meanings.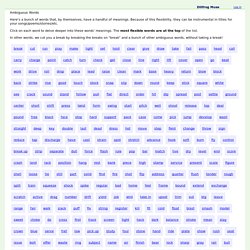 100 Most beautiful words in the English language*
Words to Try to Use in Colloquial Speech Without Sounding Like a Pretentious... - StumbleUpon
oneword.com
Knoword is a quick thinking game that helps boost vocabulary, spelling, speed of thought, as well as increasing analytical, observational and typing skills. When you begin, you will be greeted with a single letter. Underneath will be a dictionary definition to a word, which will begin with the letter in the box. Fill in the rest of the word and be rewarded with points and extra time. The object of the game is to complete as many words as possible. All the definitions are randomly generated and if at any time you get stuck, you can simply click "skip" to receive a new word.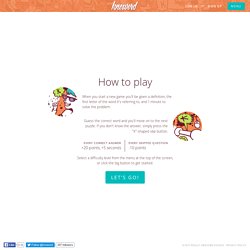 Knoword | Expand your vocabulary!
Unusual Words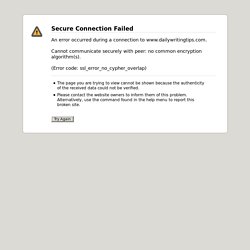 by Mark Nichol Oh, what a tangled web we weave when first we practice to conceive written communication. So many pairs or trios of words and phrases stymie us with their resemblance to each other. Here's a quick guide to alleviate (or is it ameliorate?) your suffering: 1. a while / awhile: "A while" is a noun phrase; awhile is an adverb.
50 Problem Words and Phrases