English
The Ultimate SCRABBLE Word List Resource « SCRABBLE World. To some, SCRABBLE is just a board game to play during family game night or during a casual get-together.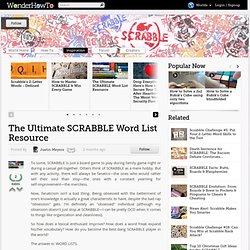 Others think of SCRABBLE as a mere hobby. But with any activity, there will always be fanatics—the ones who would rather sell their soul than stop—the ones with a constant yearning for self-improvement—the merciless. If you can pronounce correctly every word in this poem, you will be speaking English better than 90% of the native English speakers in the world. « SEXY. (This is not my poem!)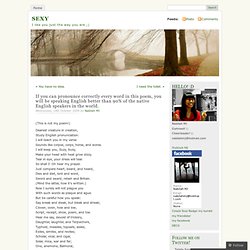 Dearest creature in creation, Study English pronunciation. I will teach you in my verse Sounds like corpse, corps, horse, and worse. I will keep you, Suzy, busy, Make your head with heat grow dizzy. Unusual Words - StumbleUpon. The Dictionary of Old English. Ambiguous Words. Ambiguous Words Here's a bunch of words that, by themselves, have a handful of meanings.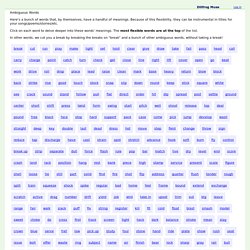 Because of this flexibility, they can be instrumental in titles for your songs/poems/stories/etc. Click on each word to delve deeper into these words' meanings. 100 Most beautiful words in the English language* Words to Try to Use in Colloquial Speech Without Sounding Like a Pretentious... - StumbleUpon. Oneword.com. Knoword | Expand your vocabulary! Unusual Words. 50 Problem Words and Phrases. By Mark Nichol Oh, what a tangled web we weave when first we practice to conceive written communication.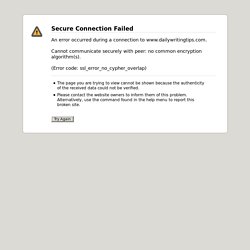 So many pairs or trios of words and phrases stymie us with their resemblance to each other. Here's a quick guide to alleviate (or is it ameliorate?) Your suffering: 1. a while / awhile: "A while" is a noun phrase; awhile is an adverb.
---