Programation
english / japanese openFrameworks is an open source C++ toolkit for creative coding. download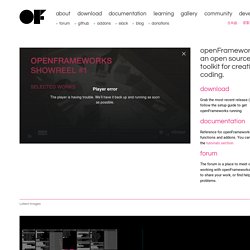 Theodore Watson - Funky Forest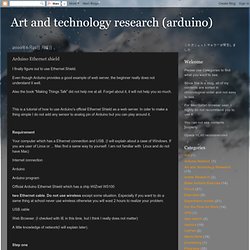 I finally figure out to use Ethernet Shield. Even though Arduino provides a good example of web server, the beginner really does not understand it well. Also the book "Making Things Talk" did not help me at all.
Arduino Ethernet shield
Note for Arduino 1.0 An updated version with 1.0 support is available on github. Installation instructions are at the bottom of that page.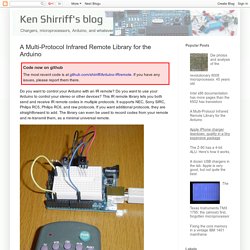 Récupérer état LED sur page HTML locale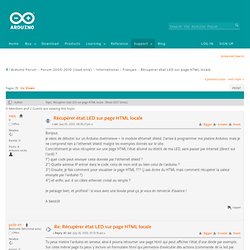 Super, ça marche ! ma 1ère communication Arduino/ordinateur fonctionne, sur tes conseils ! C'est le premier pas.Pour préciser ce que je veux faire : connecter un ordi quelconque sur l'arduino, directement par câble ethernet, et recevoir dans le browser internet de cet ordi des données en temps réel comme "LED allumée" ou la température d'une sonde. Puis donner des ordres ... mais ça c'est l'étape suivante. Ce que j'ai fait (je décortique pour les débutants qui me liraient) :- ordi connecté au ethernet shield par câble ethernet (câble croisé ou non, peu importe les 2 marchent bien, t'avais raison).- chargement du code ci-dessous avec l'adresse IP de l'arduino modifiée (adresse IP réseau non utilisée).
Getting started Software Download the latest Arduino software Resources and documentation Servos Batteries and Servos...Oh My Transistors: TIP 120 Nice page with diagram Lady Ada's terrific tutorials for Arduinosonline LED / resistor calculator: calculator 1 resistor color band calculator: calculator 2 Simple electronics explained If you have found this page and want to try the tutorials we've developed, here is a spread sheet of all the parts in our kit. Part numbers, 2009 costs and where to get them included!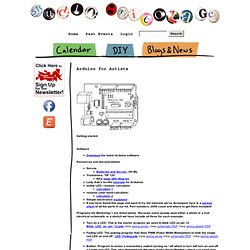 Arduino for Artists | Studio Bricolage
Puredata (fr)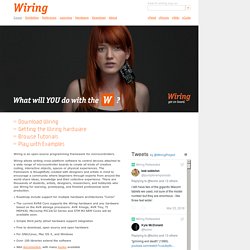 Wiring is an open-source programming framework for microcontrollers. Wiring allows writing cross-platform software to control devices attached to a wide range of microcontroller boards to create all kinds of creative coding, interactive objects, spaces or physical experiences. The framework is thoughtfully created with designers and artists in mind to encourage a community where beginners through experts from around the world share ideas, knowledge and their collective experience. There are thousands of students, artists, designers, researchers, and hobbyists who use Wiring for learning, prototyping, and finished professional work production. » Roadmap include support for multiple hardware architectures "Cores" » The current AVR8 Core supports the Wiring hardware and any hardware based on the AVR atmega processors.
Download ProcessingPlay With ExamplesBrowse Tutorials Processing is a programming language, development environment, and online community. Since 2001, Processing has promoted software literacy within the visual arts and visual literacy within technology.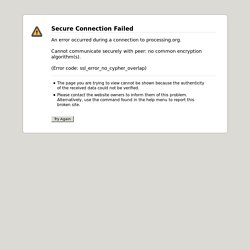 http://creativecomputing.cc/p5libs/procontroll/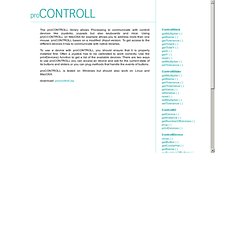 The proCONTROLL library allows Processing to communicate with controll devices like joysticks, joypads but also keyboards and mice. Using proCCONTROLL on MacOSX for example allows you to address more than one mouse. proCONTROLL bases on a modified JInput version. To get access to the different devices it has to communicate with native libraries.