Project Management
P2 LabZip -- The WordPress alternative for HighRise, Basecamp or Evernote users. Projectmanagement. Web project Management Apps. Task/Project Management. Misc ([2] project management[1]) Web project Management Apps. Google+ takes on Facebook. Is Basecamp next? - TNW Google. With Google slowly pulling all the strings together between their various products, tightening them into Google+, and giving users a more streamlined experience, it's possible that they might have a serious contender for Basecamp and other project management tools on their hands.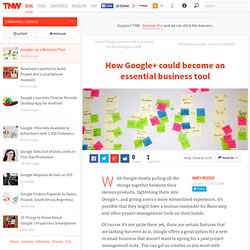 Of course it's not quite there yet, there are certain features that are lacking but even as is, Google offers a great option for a new or small business that doesn't want to spring for a paid project management suite. You can get as creative as you want with how you put Google+ to use. Google+ Basecamp Competitor? | Zincubate. I just got done reading the well written (and long!)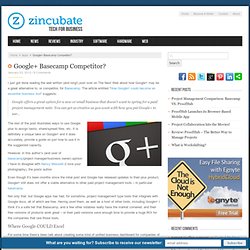 Post over on The Next Web about how Google+ may be a great alternative to, or competitor, for Basecamp. The article entitled "How Google+ could become an essential business tool" suggests: Basecamp vs Huddle vs Deskaway. Basecamp alternatives. My Top 8 Free Project Management Tools. Trello. Your entire project in a single glance. Google+ takes on Facebook. Is Basecamp next? - TNW Google. Online Service for Small Business - TeamLab. CONSIDEO MODELER for Meetings part 2. LibrePlan Overview. LibrePlan - Open Web Planning. LibrePlan main features. [Agile Tool Review] - Moovia - Team Collaboration Network.
[We review Agile tools.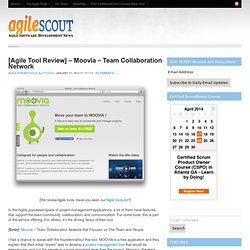 Have you seen our Agile tools list?] In the highly populated space of project management applications, a lot of them have features that support the team-community, collaboration, and communication. For some tools, this is part of the service offering. For others, it's the driving factor of their tool. [Enter]: Moovia – Team Collaboration Network that Focuses on The Team and People. MOOVIA - Team Collaboration Network. Wunderlist 2 is coming soon.
Recurring to-dos Capture your daily, weekly and monthly to-dos.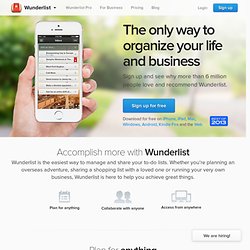 Subtasks Break big tasks intosmaller achievable goals. Share. NavalPlan Calendars Demo. LibrePlan: The open source web application for project planning, monitoring and control. TeamWox Groupware & Online Collaboration Software. LibrePlan Planet. Shared folder made easy - Wiggio. "Wiggio is our go-to place for class projects.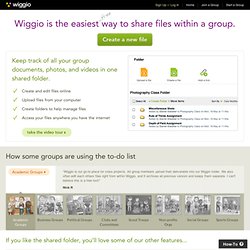 All group members upload their deliverable into our Wiggio folder. We also often edit each others files right from within Wiggio, and it archives all previous version and keeps them separate. I can't believe this is a free tool!" Project Management 2.0 – Was it really about Project Management? | The Project Wall. In response to project management challenges, project teams have turned to technology to attempt to reduce the costs of collaboration.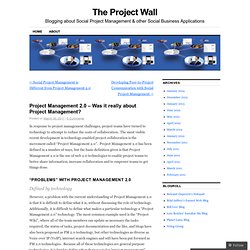 The most visible recent development in technology-enabled project collaboration is the movement called "Project Management 2.0". Project Management 2.0 has been defined in a number of ways, but the basic definition given is that Project Management 2.0 is the use of web 2.0 technologies to enable project teams to better share information, increase collaboration and to empower teams to get things done. "Problems" with Project Management 2.0. The Next Big Thing in Social Business Software… | The Project Wall. Alistair Rennie (General Manager, IBM Collaboration Solutions) was interviewed recently on Forbes, and was asked several questions about the future of social software.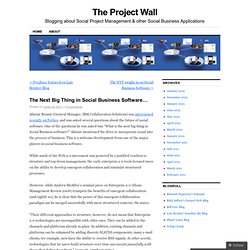 One of the questions he was asked was "What is the next big thing in Social Business software?" Alistair mentioned the drive to incorporate social into the process of business. Project management 2.0. Project Management 2.0[1] (sometimes mistakenly called Social Project Management[2]) is one branch of evolution of project management practices, which was enabled by the emergence of Web 2.0 technologies.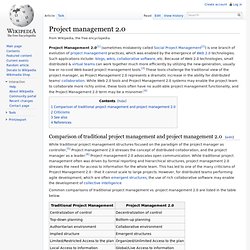 Such applications include: blogs, wikis, collaborative software, etc. Because of Web 2.0 technologies, small distributed & virtual teams can work together much more efficiently by utilizing the new-generation, usually low or no-cost Web-based project management tools.[3] These tools challenge the traditional view of the project manager, as Project Management 2.0 represents a dramatic increase in the ability for distributed teams' collaboration.
While Web 2.0 tools and Project Management 2.0 systems may enable the project team to collaborate more richly online, these tools often have no audit-able project management functionality, and the Project Management 2.0 term may be a misnomer.[4] Comparison of traditional project management and project management 2.0[edit] Wiggio - Makes it easy to work in groups. To-do lists made easy - Wiggio. Free Take the Video Tour "All my class project groups and labs now use Wiggio To-Do lists.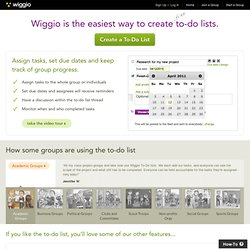 We each add our tasks, and everyone can see the scope of the project and what still has to be completed. Everyone can be held accountable for the tasks they're assigned - very easy!" Jennifer W "My 15-person real estate agency banks of Wiggio's to-do's. Wiggio. Wiggio is a Web application with a focus on group collaboration, offered by Desire2Learn.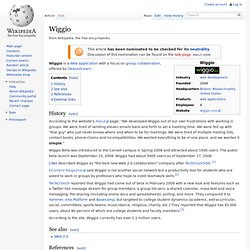 History[edit] According to the website's About page: "We developed Wiggio out of our own frustrations with working in groups. We were tired of sending eleven emails back and forth to set a meeting time. What is Wiggio? Project management tool for everyone who work in teams | Backlog. A Free and Open Source Project Management Software - About TaskJuggler. Project Planner | Online Gantt Chart | Tom's Planner. Kanban Tool - Online Kanban Board for Business | Visual Project Management Software. Better than Mind Mapping. PMI. Free Editable Agile Roadmap PowerPoint Template. Agile Roadmap PowerPoint Template is a free editable template for Microsoft PowerPoint and project planners that you can download if you are using agile methodologies in your organization. By using this business document for free, you can take advantage of the free template to design your roadmap with a premium editable slide template.
You can download this company roadmap template to design other roadmap presentations visually, for example to make a goals deployment roadmap in PowerPoint or show the product delivery roadmap in a PowerPoint dashboard template. By using this free agile template you can configure the roadmap goals and many different workstreams for the product tasks. Redmine Intro - 5 - Wikis. Activity stream. Though activity stream arises from social networking, nowadays it has become an essential part[5] of business software.
Enterprise social software is used in different types of companies to organize their internal communication and acts as an important addition to traditional corporate intranet. Such major collaboration software like Jive Software, Yammer, eXo Platform or Chatter offer activity stream as a separate product. At the same time other major software providers, such as tibbr, Central Desktop and Wrike offer activity stream as an integrated part of their collaboration software solution.[6][7] Redmine Tutorial. Kanban Tool Reviews | Latest Customer Reviews and Ratings. Kanban Tool. Main features[edit] List of collaborative software.
The Essential Skills Series - Project Management. Online Project Management. ProWorkflow Reviews | Latest Customer Reviews and Ratings. Keiron from Benson Design on Thursday, August 16, 2012 Our building design business has been needing a software solution to manage the many projects we work on at any one time. After using several disappointing so called project management solutions over the past 10 years we were keen to get it right this time. Free Project Management Trial - Web-Based Project Software - ProWorkflow. Simple Project Management | LeanKit. Basecamp vs Teamwork PM : Why we packed up camp and moved - Geeky Scribbles.
43 Project management software alternatives compared | Time Doctor - Time Management Software. Time - What are the free alternatives to basecamp for managing projects. Trello. Trello for Web, iPhone, Android. Online Project Collaboration Software For Small Business & Teams | DeskAway. Collabtive - Open Source Collaboration. Comparison of project-management software. Stop using Basecamp! Free, Open Source, and Better Alternatives | Jonathan Mumm. Why Backpack is getting phased out | Stunf. Free Hosted Services Project Management/Team Collaboration Tools | PM-Sherpa. Clocking IT. Clocking IT. Producteev vs Basecamp. 10 alternatives to Basecamp | Technology. Need a Basecamp Alternative? | PM-Sherpa.
FreedCamp: A Free Alternative To Basecamp. Do - get work done. Online Project Management Software: Doolphy. Project Management Software, Project Planning Software, Time Tracking Software: Wrike. Web Based Project Management Software Comparison. Free Time Tracking Software. Weekend Quickie: Alternatives to Basecamp For Project Management. Product Tour. Home | ProjectPier.org. ProjectPier Tutorial Videos | ProjectPier Hosting with One-Click Installer. 3 Free Alternatives to BaseCamp. Siasto · The BEST way to manage your projects on the web!
Build a Free and Viabile Basecamp Alternative with Joomla. Build a Free and Viabile Basecamp Alternative with Joomla. Projectfork Powerful & Intuitive Project Management for Joomla! What's All the Fuss About Evernote? Should I Be Using It?
Dashboard
---