Typographie
Good Web Fonts: Lively, subtle, perfectly legible fonts for the web.
Among the numerous faults of those who pass their lives recklessly and without due reflexion, my good friend Liberalis, I should say that there is hardly any one so hurtful to society as this, that we neither know how to bestow or how to receive a benefit. It follows from this that benefits are badly invested, and become bad debts: in these cases it is too late to complain of their not being returned, for they were thrown away when we bestowed them. Nor need we wonder that while the greatest vices are common, none is more common than ingratitude: for this I see is brought about by various causes.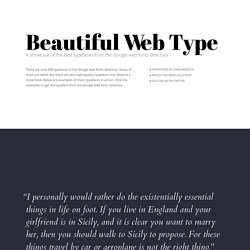 Issue 4 of Codex, guest edited by Sumner Stone, is a prismatic look at the classical Roman capital as it has influenced artists, artisans and designers over two millennia. The groundbreaking work of Father Edward M. Catich in changing our understanding of the methods used to make the Trajan inscription and similar letters is outlined by Paul Shaw while the story of his commission for Reed College is told by Greg MacNaughton.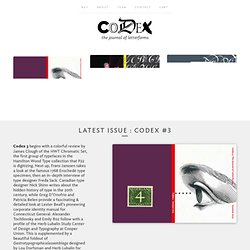 Codex journal of typography / journal of letterforms
Great Lettering & Typography Designs
Via la Société Emile Zola, voici une série d'affiches des œuvres théâtrales, littéraires et cinématographiques issues de l'œuvre d'Emile Zola.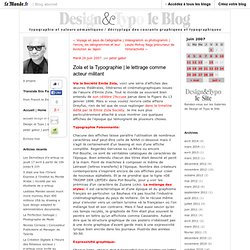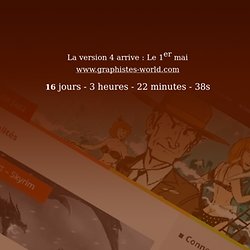 Posté par ArnoS Le 17 juillet 2010 La typographie constitue une réelle source d'inspiration pour de belles créations. Pour être au top, Graphistes World vous propose un petit détour par de superbes réalisations basées sur la typo. Cette sélection mélange les styles et les supports comme les posters, affiches ou autre flyers. La typographie nous apprend beaucoup sur l'organisation des pages et l'importance des éléments dans une composition.