Typographie
Good Web Fonts: Lively, subtle, perfectly legible fonts for the web. Handpicked free fonts for graphic designers with commercial-use licenses. | Font Squirrel. Beautiful web type — the best typefaces from the Google web fonts directory. Among the numerous faults of those who pass their lives recklessly and without due reflexion, my good friend Liberalis, I should say that there is hardly any one so hurtful to society as this, that we neither know how to bestow or how to receive a benefit.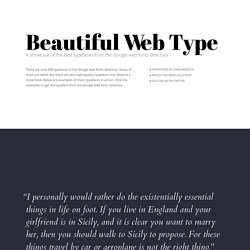 It follows from this that benefits are badly invested, and become bad debts: in these cases it is too late to complain of their not being returned, for they were thrown away when we bestowed them. Nor need we wonder that while the greatest vices are common, none is more common than ingratitude: for this I see is brought about by various causes. The FontFeed | Fonts, Typography, Lettering, Design. Codex journal of typography / journal of letterforms. Codex 3 begins with a colorful review by James Clough of the HWT Chromatic Set, the first group of typefaces in the Hamilton Wood Type collection that P22 is digitizing.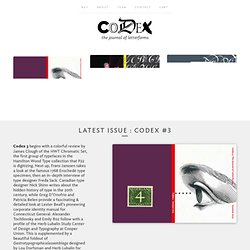 Next up, Frans Janssen takes a look at the famous 1768 Enschedé type specimen; then an in-depth interview of type designer Freda Sack. Canadian type designer Nick Shinn writes about the hidden history of type in the 20th century, while Greg D'Onofrio and Patricia Belen provide a fascinating & detailed look at Lester Beall's pioneering corporate identity manual for Connecticut General. Great Lettering & Typography Designs. Typographica. Type Reviews, Books, Commentary.
13,554 free fonts for Windows and Mac. Zola et la Typographie | le lettrage comme acteur militant - des. Via la Société Emile Zola, voici une série d'affiches des œuvres théâtrales, littéraires et cinématographiques issues de l'œuvre d'Emile Zola.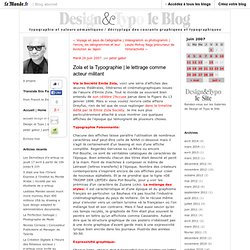 Tout le monde se souvient bien entendu de son célèbre J'Accuse parue dans le Figaro du 13 janvier 1898. Mais si vous voulez revivre cette affaire Dreyfus, rien de tel que de vous replonger dans le timeline édité par la Emile Zola Society. Je me suis plus particulièrement attaché à vous montrer ces quelques affiches de l'époque qui témoignent de plusieurs choses. Typographie Foisonnante: Inspirations typographiques ! | Graphistes-World | Le Blog. The Ministry of Type.
---