Arquitectura
plusMOOD
Architonic | architecture and design
arqa.com | Comunidad abierta de arquitectura, construcción y diseño
Interior Design Ideas, Interior Designs, Home Design Ideas, Room Design Ideas, Interior Design, Interior Decorating
materialicious
Architecture Design for Architects
Dwell - At Home in the Modern World
Interior Design Ideas, Interior Designs, Home Design Ideas, Room Design Ideas, Interior Design, Interior Decorating
materialicious
Home Decor- Home Decorating Ideas- elledecor.com
Architecture Design for Architects
WorldArchitectureNews.com
Modern Furniture, Contemporary Furniture, Modern Design, Canada USA | Next Modern Home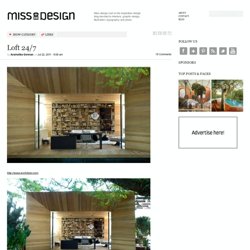 Loft 24/7 | Miss Design - StumbleUpon
miss, miss design, miss-design, missdesign, design, illustration, interior, interior design, style interior, interior old style, workspace, workplace, creative workspace, veranda, garden, balcony, exterior, photography, studio, 3d, typography, blog, person, architecture, arts, creative, layout, design studio, inspire, inspiration, technology, resources, tools, internet tools, discussions, bridal bouquet, font, free font, digital art, logo, logotype, typographic design, tutorial, tutorials, icon, icon tutorial, how to, industrial design, camera lens, canon, nikon, pentax, olympus, books, bookshelves, cupboard, chair, unique style, unique design, unique interior, before and after, benchmark
LifeEdited
Empowering Architecture: architects, buildings, interior design, materials, jobs, competitions, design schools
domus
critique this!
Dezeen architecture and design magazine
Architecture Competitions, Events & News
Architects' Journal
Architonic
© Studio Daniel Libeskind Construction of the new EDP Foundation Arts & Technology Centre, designed by Lo... Mathews Nielsen Landscape Architects' plan for Pier 42, the missing connectio... The New Cities Foundation, the international non-profit organisation dedicated ... Art+ArchitectureCamp WHAT: Design-build camp for learning-by-doing on African architecture WHO CAN PARTICIPA ...read more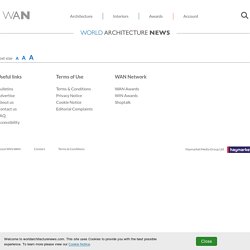 World Architecture News, Official Home Page, architecture news,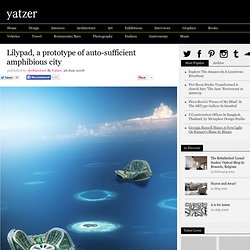 Lilypad, a prototype of auto-sufficient amphibious city | Yatzer™
LILYPAD, A FLOATING ECOPOLIS FOR CLIMATICAL REFUGEES 2100, a large crowd of ecological refugees Further to the anthropogenic activity, the climate warms up and the ocean level increases. According to the principle of Archimedes and contrary to preconceived notions, the melting of the arctic ice-floe will not change the rising of the water exactly as an ice cube melting in a glass of water does not make its level rise. However, there are two huge ice reservoirs that are not on the water and whose melting will transfer their volume towards the oceans, leading to their rising.
Architonic | architecture and design
ArchDaily | Broadcasting Architecture Worldwide
Plataforma Arquitectura