Arquitectura
Spa in Mallorca \ A2arquitectos In 1967, a small hotel, Hotel Castell dels Hams, was established on the island of Majorca amid the Mediterranean vegetation. Over time, and through subtle improvements and extensions, it has become one of the most distinctive hotels on the eastern part of the island. The last of the alterations, meant to celebrate the Mediterranean light […] Tags: Random pattern, Spa, Swimming pool
plusMOOD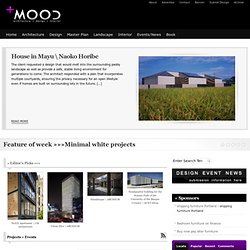 Architonic | architecture and design
arqa.com | Comunidad abierta de arquitectura, construcción y diseño
Interior Design Ideas, Interior Designs, Home Design Ideas, Room Design Ideas, Interior Design, Interior Decorating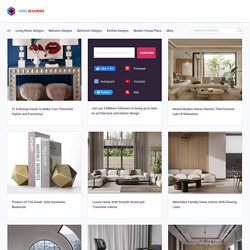 Bathroom Vanity Ideas A great selection of bathroom vanity unit storage and organization ideas to conceal jewelry, makeup and clutter. Outdoor Dining Furniture Ideas Get ready for finer weather by brushing up trends in outdoor furniture, including resin wicker chairs, teak finish tables and wrou... Modern Villa With Pool
materialicious
Architecture Design for Architects
Dwell - At Home in the Modern World
Interior Design Ideas, Interior Designs, Home Design Ideas, Room Design Ideas, Interior Design, Interior Decorating
materialicious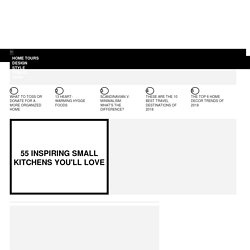 Home Decor- Home Decorating Ideas- elledecor.com
Setting The Tone An unexpected color palette in a Normandy home. Zen Mastry A design couple crafts a simple, refined space in Sweden. High Style In Paris Inside the Paris apartment of the editor of ELLE DECORATION France.
Architecture Design for Architects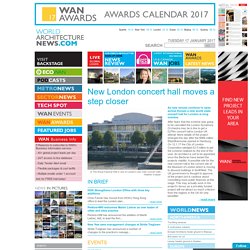 The Silk Road provides inspiration for winning competition entry to Ningbo Yinzhou Southern CBD Portal Project Competition amphibianArc has been awarded first prize in the Ningbo Yinzhou Southern CBD Portal Project Planning Design Competition. The competition was commissioned by Ningbo Yinzhou Urban Construction Investment and Development Corporation, who is responsible for successfully implementing the Ningbo Museum project designed by Wang Shu. The subject of the competition was the fourth phase of the Ningbo Yinzhou Southern CBD, the Portal Project. The winning plan is not only a successful summary of the first three developing phases of the CBD, but a driving force for the area's future dynamic urban life.
WorldArchitectureNews.com
Modern Furniture, Contemporary Furniture, Modern Design, Canada USA | Next Modern Home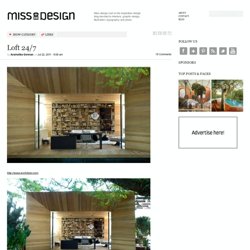 Loft 24/7 | Miss Design - StumbleUpon
miss, miss design, miss-design, missdesign, design, illustration, interior, interior design, style interior, interior old style, workspace, workplace, creative workspace, veranda, garden, balcony, exterior, photography, studio, 3d, typography, blog, person, architecture, arts, creative, layout, design studio, inspire, inspiration, technology, resources, tools, internet tools, discussions, bridal bouquet, font, free font, digital art, logo, logotype, typographic design, tutorial, tutorials, icon, icon tutorial, how to, industrial design, camera lens, canon, nikon, pentax, olympus, books, bookshelves, cupboard, chair, unique style, unique design, unique interior, before and after, benchmark
Dutch Hotel Bares All There are many rooms that are worthy of being on the cutting-room-floor of architectural orthodoxy: the formal dining room, the foyer and some might even argue the bedroom. But the bathroom? The Lloyd Hotel of Amsterdam seems to think so..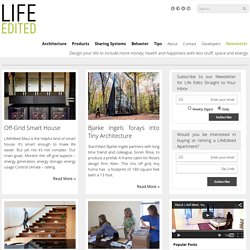 LifeEdited
Empowering Architecture: architects, buildings, interior design, materials, jobs, competitions, design schools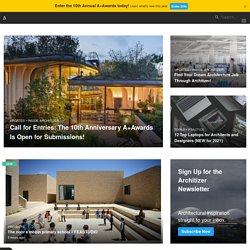 East Hampton Beach House Renovation by Utopus Studio A full restoration and renovation of an existing summer vacation home in East Hampton, the main requirements called for the restoration of the existing shell throughout the façade.
domus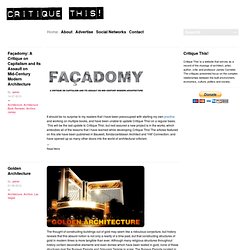 It should be no surprise to my readers that I have been preoccupied with starting my own practice and working on multiple books, and have been unable to update Critique This! on a regular basis. This will be the last update to Critique This!, but rest assured a new project is in the works, which embodies all of the lessons that I have learned while developing Critique This! The articles featured on this site have been published in Bauwelt, florida/caribbean Architect and YAF Connection, and have opened up so many other doors into the world of architectural criticism. … continue reading Façadomy: A Critique on Capitalism and Its Assault on Mid-Century Modern Architecture The thought of constructing buildings out of gold may seem like a ridiculous conjecture, but history reveals that this absurd notion is not only a reality of a time past, but that constructing structures of gold in modern times is more tangible than ever.
critique this!
Dezeen architecture and design magazine
Architecture Competitions, Events & News
Architects' Journal
Architonic
Dongguan Leopards' new basketball stadium takes it cue from the sport, with net-like facade and orange hues throughout German design practice von Gerkan, Marg and Partners (gmp) have seen their design for a 14,730-seat basketball stadium in Dongguan, China come to life in recent months as the new home for the Dongguan Leopards finally reached completion. The 60,600 sq m stadium is located in the new district of Liaobu and is separated from the busy nearby thoroughfare by expansive landscaping. gmp worked with local practice CABR and structural engineers schlaich bergermann and partners to create a new home for the Dongguan Leopards that would also act as a recognisable structure for the city, providing an orientation point and attraction that local residents can be proud of.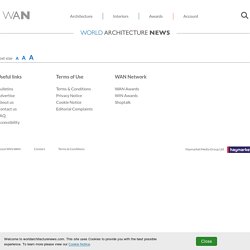 World Architecture News, Official Home Page, architecture news,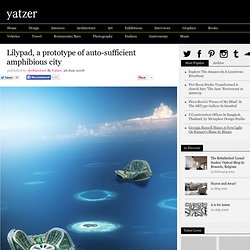 Lilypad, a prototype of auto-sufficient amphibious city | Yatzer™
LILYPAD, A FLOATING ECOPOLIS FOR CLIMATICAL REFUGEES 2100, a large crowd of ecological refugees Further to the anthropogenic activity, the climate warms up and the ocean level increases. According to the principle of Archimedes and contrary to preconceived notions, the melting of the arctic ice-floe will not change the rising of the water exactly as an ice cube melting in a glass of water does not make its level rise. However, there are two huge ice reservoirs that are not on the water and whose melting will transfer their volume towards the oceans, leading to their rising.
Architonic | architecture and design
This article by Marc Kristal from Metropolis Magazine, originally titled "Digital Details," looks at the work of NRI, a New York company that is leading the way when it comes to 3D Printing (or rather, additive manufacturing) – finding that there is a craft in these machine-produced models after all. First things first: The term "3-D printing" is a misnomer according to Arthur Young-Spivey, the digital fabrication specialist at NRI—a 116-year-old, New York–headquartered supplier of reprographic services to architects and their tradespeople. "The correct term is 'additive manufacturing,'" he explains. "People call it 3-D printing because it enables you to wrap your head around it, but in some ways it's confusing."
ArchDaily | Broadcasting Architecture Worldwide
Henderson-Hopkins School / Rogers Partners © Albert Vecerka-Esto Arquitectos: Rogers Partners Ubicación: 2100 Ashland Avenue, Baltimore, MD 21205, USA Arquitectos A Cargo: Robert M.
Plataforma Arquitectura