Inne narzędzia, nieposortowane, czekające na nazwanie.
Dropcanvas - instant drag and drop sharing. Mind Mapping & Diagrams. Mind Maps. Mind Mapping. Demonstration Portal. Online. Web Equation. Save web articles as PDF for reading later: Joliprint.
PDFmyURL.com - Free & Online: Convert and save PDF from any web page. Web Highlighter and Sticky Notes, Online Bookmarking and Annotation, Personal Learning Network. Print Friendly & PDF. Smarter online research - annotate, organize & collaborate on web pages. BO.LT | A more interesting way to share.
58 niezastąpionych narzędzi dla webmasterów – Lajfmajster.pl. Życie webmastera nie jest usłane różami.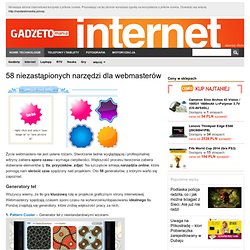 Stworzenie ładnie wyglądającej i profesjonalnej witryny zabiera sporo czasu i wymaga cierpliwości. Większość procesu tworzenia zabiera dobieranie elementów tj. tła, przycisków, zdjęć. Na szczęście istnieją narzędzia online, które pomogą nam skrócić czas spędzony nad projektem. Oto 58 generatorów, z którymi warto się zapoznać. Generatory teł.
Surf the Web Together — Channel. Online Whiteboards. Issuu - You Publish. Useful Software/websites. Online Mind Mapping and Brainstorming app - SpiderScribe. Minus - Share simply. Bubbl.us | brainstorm and mind map online.
Web 2.0 scientific calculator. Thinkmap Visual Thesaurus - An online thesaurus and dictionary of over 145,000 words that you explore using an interactive map. Play GIF. Employee feedback, motivation and teamwork software | Rypple. Bounce – A fun and easy way to share ideas on a website. Collaborate Online | Mind Mapping | Business Process Planning. Wallwisher. FreedomShare. Cacoo - Create diagrams online Real time collaboration. Secure Social Learning Network for Teachers and Students. CopyPasteCharacter.com.
Visuwords™ online graphical dictionary and thesaurus. Splashup. Diagramly - Draw Diagrams Online. Scrible | smarter online research - annotate, organize & collaborate on web pages. Screenr | Instant screencasts: Just click record.
Studio - Virtualize Your Apps. Spoon Studio packages virtual applications that are easy to deploy and manage—no installs, dependencies, or conflicts.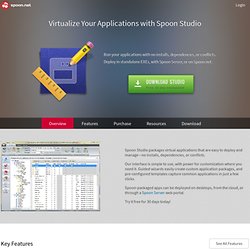 Our interface is simple to use, with power for customization where you need it. Guided wizards easily create custom application packages, and pre-configured templates capture common applications in just a few clicks. Spoon-packaged apps can be deployed on desktops, from the cloud, or through a Spoon Server web portal. The Zooming Presentation Editor. Toolbox. Online Apps. Web2.0 tools.
Collaborative Learning. Content Curation - Tools. Online Search Tools. Social learning. Web Tools. Useful Online Tools.
Presentations 2.0. Creativity Tools. Web tools/APIs. Web tools/APIs 2. Visualization Tool. Online Whiteboards. Dabbleboard - Online whiteboard for drawing & team collaboration - Interactive whiteboard software. Scriblink - Your Online Whiteboard.
JayCut. Scr.im - email.
---