For Sharing
For Sharing is now placed in the Showcase Pearltree and is accorded a certain amount of respect for its members, the collection and organisation of wonderful Pearls. Please continue to make a contribution and to polish our Alladin's lamp.

On the other side of my galaxy, I've created Sandbox where stars collide and supernovae go off unexpectedly! pauljacobson Apr 6
Patrice Lamothe
Since I last published thoughts on how QR Codes could be used for learning in a short audioBoo (click the link or scan the QR Code on the right), there has continued to be a growing and significant buzz about QR Codes on Twitter and in the blogosphere. A narrative is developing as ideas, experiences and best practices are shared and discussed. The ball got rolling at TeachMeetX where Julian S. Wood delivered a thoroughly engaging presentation on storytelling and QR Codes.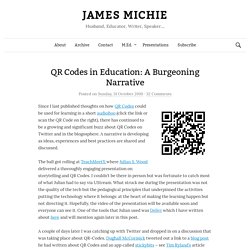 Article_Music_in_Classroom.pdf (application/pdf Object)
Diana Rhoten - On a Mission to Fast-Forward Mobile Learning [02Feb11]
Augmented Reality - Education and QR Codes [04Feb11]
Maps
wdydwyd?
examples World Gallery > upload your picture with an answer, or do it anonymously > join the group of collaborating artists Burning Man 2006, Black Rock City, NVpolaroids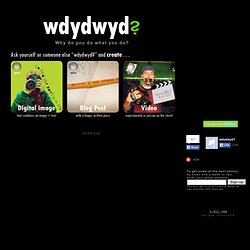 Information Ecology Crawl
MDL2: Free Moodle 2.0 MDL2 is not a company. We are just a few moodle fans enjoying an unexpected success while offering free tools for the e-learning community. We are hosting near seven thousand e-learning sites and every month we provide service to over 200.000 students at no cost. We provide this service at no charge and with no guarantees. Server abuse, spamming, hacking, piracy and other illegal activities are forbidden.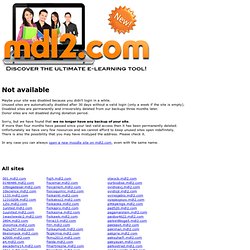 Maybe your site was disabled because you didn't login in a while. Unused sites are automatically disabled after 30 days without a valid login (only a week if the site is empty). Disabled sites are permanently and irreversibly deleted from our backups three months later. Donor sites are not disabled during donation period.
Moodle 2.0 Sandbox
Polytechnic West - Home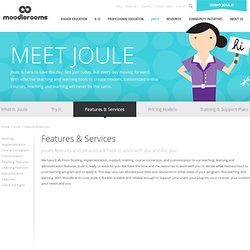 Moodle Rooms
We have it all. From hosting, implementation, support, training, course conversion, and customization to our teaching, learning and administration features, Joule is ready to work for you. We have the time and the resources to work with you to decide what matters most to your learning program and to apply it. This way, you can allocate your time and resources to other areas of your program- like teaching and learning.
NN/g conducts groundbreaking research, evaluates user interfaces, and reports real findings – not what's popular or expected. With our approach, NN/g will help you create better experiences for real people and improve the bottom line for your business. Richly illustrated reports include case studies and actionable design guidelines for websites, intranets, applications, and mobile interfaces. Browse all reports Recent Research: Intranet Information Architecture Design Methods and Case Studies Full-day, immersive courses inform anyone working on web, application, and mobile design.