For Sharing
For Sharing is now placed in the Showcase Pearltree and is accorded a certain amount of respect for its members, the collection and organisation of wonderful Pearls. Please continue to make a contribution and to polish our Alladin's lamp.

On the other side of my galaxy, I've created Sandbox where stars collide and supernovae go off unexpectedly! pauljacobson Apr 6
Patrice Lamothe
The GIIKS demonstration with touch-screen is a "killer"! Patrice - you should throw away the cartoons and get on the screen with Camtasia to demonstrate how you use Pearltrees. You're the Man! by pauljacobson Jan 19
Since I last published thoughts on how QR Codes could be used for learning in a short audioBoo (click the link or scan the QR Code on the right), there has continued to be a growing and significant buzz about QR Codes on Twitter and in the blogosphere.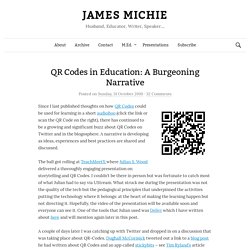 Article_Music_in_Classroom.pdf (application/pdf Object)
Hello Elle - you must keep us posted with details of your Book Project. The evanescent pixels of the Internet have yet to survive the centuries that manuscripts regularly do. by pauljacobson Mar 5
thanks Paul, been away on the book project, mostly checking in to find messages from you, this is a good one...will add it to music search. by dcoda Mar 4
Diana Rhoten - On a Mission to Fast-Forward Mobile Learning [02Feb11]
In all of this discussion we have to distinguish what is a resource and what facilitates learning. Mobile access to global resources is easy now; but facilitating learning (say) between a teacher and a student is problematic. That's the part that is very difficult to achieve. by pauljacobson Mar 19
Augmented Reality - Education and QR Codes [04Feb11]
Maps
Where do you think this Presidential Palace is? by pauljacobson Jan 31
wdydwyd?
My strategy is to organize what I want to read quickly rather than attempt to take it all in as it flies by...force myself to stop at some point and actually read what stands out as relevant at the time. by dcoda Dec 16
I'm starting to think "curatorial". Beng swamped in data defeats the purpose of making meaning out of information. by pauljacobson Dec 16
so many open doors for expression these days...one must simply walk through "-) by dcoda Dec 15
It's so simple I love it! Realised that I don't combine portrait and text when it is so easy to do. Must do more: maybe do it always from now on. by pauljacobson Dec 15
Information Ecology Crawl
Hi Elle, hello Marc-A and friends, this URL is a valuable contribution to our Shared Pearltree because of its compact treatment of a weighty subject. I would also like to draw your attention to Logistics as a fundamental category of the ecosystem because getting things from a point of origin to somewhere else (whether they be ideas, energy or objects) has a big overall effect. We cannot take for granted that distribution, diffusion or transportation just happens (or happens in a particular way, such as in the Internet) because as complexity grows, emergence appears with new properties never before imagined. by pauljacobson Dec 26
MDL2: Free Moodle 2.0
Moodle 2.0 Sandbox
Hello Elle - I sent an email to dcoda@ozarkseedexchange.com with details. Hope you can receive it. by pauljacobson Dec 29
Paul, I got a message on my blog that you had signed me up for Moodle, just checked and it takes more than a name to sign in so I need to know the details. Hope you've had a good Christmas (you have a vacation?) by dcoda Dec 28
thought it might be something like that, please feel free to email me directly at dcoda@ozarkseedexchange.com by dcoda Dec 22
Dear Elle - Moodle being what it is, requires enrolment for participation. That's easy enough to do; but there are privacy issues about letting a participant know their login and password. This information is currently communicated via a personal email. It's a "catch 22". I'll try bypassing these public forums by contacting you through your Blog to see if that's OK. In schools I've noticed that they are not even posting photos of students anymore - everyone is using avatars. by pauljacobson Dec 22
Just visited the forum on the moodle sandbox, signed in as a guest, I didn't see a way to comment. Do I need to sign in another way? If so, how? Btw, am pleased with the direction you took starting the forum. by dcoda Dec 20
Now I have to work out how to encourage people to become participants and give some feedback of using the site. by pauljacobson Dec 18
great, dcoda@ozarkseedexchange.com by dcoda Dec 18
I've discovered that I have to create an account for you to participate in the Moodle site. If you want to, provide basic details including an email address. You're welcome. by pauljacobson Dec 16
I've just started it - please login as a Guest and watch a few videos . . . then leave a comment in the Social Forum. by pauljacobson Dec 12
Polytechnic West - Home
Figured that's going to be the case, hope they don't get too tangled in the meantime. by dcoda Dec 18
The Institution would take a year to decide on hiring a consultant. by pauljacobson Dec 18
Would they be interested in hiring one of the best as a consultant? Jan Wiley? by dcoda Dec 18
My college website is struggling to discern its taxonomy. It covers more than 30,000 students doing more than 10,000 courses (and has to service new enquires and enrolments). We have a large team of people wondering how it all fits together. by pauljacobson Dec 18
Moodle Rooms
Hi Rowland, check out my Moodle 2 sandbox as a guest. by pauljacobson Dec 18
Good one: I will consult the findings when field testing our Moodle designs online. There are many variables that need tweaking. by pauljacobson Dec 16