For Sharing
For Sharing is now placed in the Showcase Pearltree and is accorded a certain amount of respect for its members, the collection and organisation of wonderful Pearls. Please continue to make a contribution and to polish our Alladin's lamp.


On the other side of my galaxy, I've created Sandbox where stars collide and supernovae go off unexpectedly! Patrice Lamothe. QR Codes in Education: A Burgeoning Narrative. Since I last published thoughts on how QR Codes could be used for learning in a short audioBoo (click the link or scan the QR Code on the right), there has continued to be a growing and significant buzz about QR Codes on Twitter and in the blogosphere.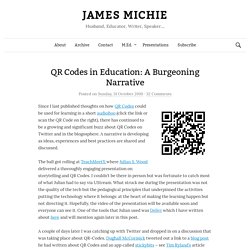 A narrative is developing as ideas, experiences and best practices are shared and discussed. The ball got rolling at TeachMeetX where Julian S. Wood delivered a thoroughly engaging presentation on storytelling and QR Codes. Article_Music_in_Classroom.pdf (application/pdf Object) Diana Rhoten - On a Mission to Fast-Forward Mobile Learning [02Feb11] Augmented Reality - Education and QR Codes [04Feb11] Maps.
Cognitive Development. Social & Educational. Aboriginal People. Tools & apps. D'Coda's links. Paul's Frivolity.
Wdydwyd? Information Ecology Crawl. MDL2: Free Moodle 2.0. Moodle 2.0 Sandbox. Polytechnic West - Home. Moodle Rooms. We have it all.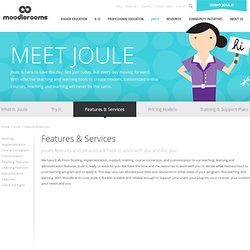 From hosting, implementation, support, training, course conversion, and customization to our teaching, learning and administration features, Joule is ready to work for you. We have the time and the resources to work with you to decide what matters most to your learning program and to apply it. This way, you can allocate your time and resources to other areas of your program- like teaching and learning. Usability and Web Design. Join Me In Other Social Network.
---
dcoda Jan 12 2011

I've just received a request from nuken777 to join our team and said ok, not sure about the protocol on new members but think more is better!

dcoda Jan 12 2011

oooo, can't wait to get my hands messy!

pauljacobson Jan 3 2011

Over this week, I will start re-assembling our For Sharing wheel; and the Team is welcome to move it and shake it accordingly too. It's an experiment in curatorial arts after all - not a pile of wet spaghetti.

dcoda Jan 3 2011

ok, I like the idea of starting with a "person pearl"; makes it easy to find out who contributes & talk with them about interests.

pauljacobson Dec 30 2010

Go easy - rearrange things if you want to show us how. I was thinking to create a Pearl for each person on the team to begin with: when I am working with students, I would probably start with each person and as the portfolios grow, we could "bring things out" to relate to each other.

dcoda Dec 30 2010

I'll look at our collection & suggest a schema, will you have time? I'll email it to you.

pauljacobson Dec 19 2010

Dear Team - we are expanding without any coherence. Have a think about Pearltrees that cluster our contributions. Leave a comment when you add a pearl, so we know its relevance.

pauljacobson Dec 16 2010

Thanks - I'll pick it up your Glass invitation tonight (my time).

dcoda Dec 15 2010

Just tried to send an invite and got message that your email was already registered so I searched your name & connected....Hope its you this time!

dcoda Dec 15 2010

this is weird,got a message from saying to sign onto glass and type in something like "welikethis" to connect and when I did , the person is named Wayne, Iassumed another name you go by...but he says he's not you! So I'm going back to glass with your email to connect you up. Wonder who Wayne is???
---