OER Websites & Communities
Här har vi samlat de studiematerial och öppna lärresurser som producerades av flitiga folkbildare inom Flexlär 2011. Allt är fritt tillgängligt och gratis. Välkommen att prova!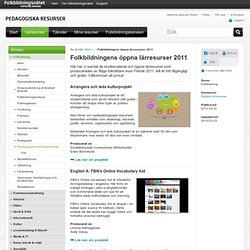 Folkbildningens öppna lärresurser
The "practice" feature used with Google/Facebook login is a really great way for students to work through different areas of maths at their own pace and in their own way and keep track of (and show their teachers) how they're progressing. by gormcc May 1
Zunia OER
MIT Understanding Lasers and Fiberoptics full course by MIT Lasers are essential to an incredibly large number of applications. Today, they are used in bar code readers, compact discs, medicine, communications, sensors, materials processing, computer printers, data processing, 3D-imaging, spectroscopy, navigation, non-destructive testing, chemical processing, color copiers, laser "shows", and in the military.