OER Websites & Communities
Folkbildningens öppna lärresurser. Här har vi samlat de studiematerial och öppna lärresurser som producerades av flitiga folkbildare inom Flexlär 2011.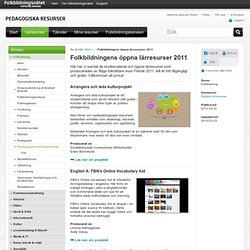 Allt är fritt tillgängligt och gratis. Välkommen att prova! CMU Open Learning Initiative. MIT OpenCourseWare. Khan Academy. MERLOT - Multimedia Educational Resource for Learning and Online Teaching.
Temoa : Open Educational Resources (OER) Portal | Open Educational Resources Portal. Zunia OER. Learning for everyone, by everyone, about almost anything. Wikiversity. Welcome to Wisc-Online.com. EDU. Academic Earth | Online Courses | Academic Video Lectures.
---