Flexibelt lärande
Why and how we should implement flexible learning.
Wikipedia And The Death Of The Expert. "Learners are doers, not recipients.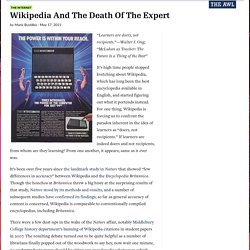 "—Walter J. Ong, "McLuhan as Teacher: The Future Is a Thing of the Past" It's high time people stopped kvetching about Wikipedia, which has long been the best encyclopedia available in English, and started figuring out what it portends instead. Homepage. Startsida. Risk för skolifiering! Om jag möter en 6:e klass som har en dator per elev och frågar eleverna vad de använder sina datorer till i skolan och de svarar: - Vi skriver och typ söker ibland….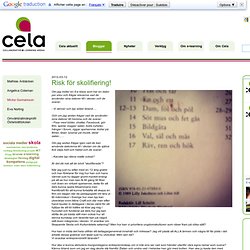 Och om jag sedan frågar vad de använder sina datorer till hemma och de svarar: - Fixar med bilder, chattar, Facebook, gör film, spelar, bygger saker, kolla nyheter, hänger i forum, riggar spelservrar, kollar på filmer, läser, lyssnar på musik, delar saker..…. Om jag sedan frågar igen vad de kan använda datorerna till i skolan om de själva fick välja helt och hållet och de svarar: - Kanske typ räkna matte också? Är det då risk att de blivit "skolifierade"? Brian (@iEducator) sur Twitter. Digidel 2013 - En kampanj för digital delaktighet i Sverige. Visions of Students Today. Skolan Dödar Motivationen. Mwesch. A Vision of Students Today.
Rethinking Education. The Machine is Us/ing Us (Final Version) Re:flex » Nättidning för folkbildningens flexibla lärande. Internet för alla. Re:flexbloggen. Riv väggarna! Jag sitter framför spisen och värmer mig.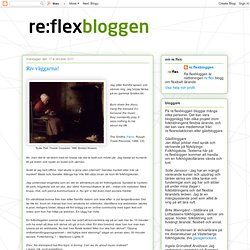 Jag börjar tänka på en gammal Smiths låt: Burn down the disco, hang the blessed DJ, because the music they constantly play, it says nothing to me about my life. The Smiths. Folkbildning 2.0: Behövs studieförbund överhuvudtaget? Folkbildning 2.0: Behövs studieförbund överhuvudtaget?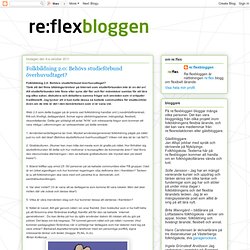 Tänk att det finns bildningsrörelser på Internet som studieförbunden inte är en del av! Att studieförbunden inte finns eller syns där fler och fler människor samlas för att lära sig olika saker, diskutera och debattera samma frågor och områden som vi erbjuder traditionellt.
---