Photo
ALTFoto. Villanos de la tercera edad. Alguna vez se han preguntado cómo se verían los villanos de las películas de antaño en la actualidad?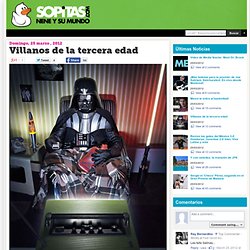 El fotógrafo Federico Chiesa ha imaginado cómo los personajes como Darth Vader, Freddy Krueger y Michael Myers podrían haber envejecido. Darth Vader aparece sentado en una silla cómoda, con una botella de agua caliente y con una manta sobre sus piernas, mientras mira fijamente a la televisión. Su Lightsaber roja se inclina contra la pared de su departamente. Su casco le tapa la cara, pero si fuera visible, sería melancólico. The Lost America. The Lost America America, One of the Most Powerful Continent in World as well as, the Most Modernized and Advanced Continent of Today.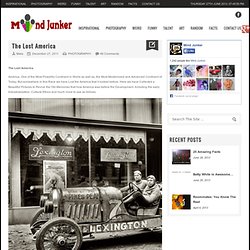 But somewhere in this Race we have Lost the America that it looked before. Here we have Collected a Beautiful Pictures to Revive the Old Memories that how America was before the Development. Including the early Industrialization, Cultural Ethics and much more to see as follows. Source: Shorpy.com. Secuencia de fotos de Yugus.
Kellie" by John Schell. Designer's Terminal - A Peerless Station For Design Inspiration And Resources. This is a book you just need to read once.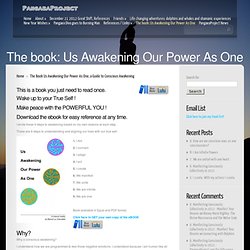 Wake up to your True Self ! Make peace with the POWERFUL YOU ! Download the ebook for easy reference at any time. I wrote these 9 steps to awakening based on my own lessons at each step. HEDI SLIMANE ROCK DIARY. Magazine. Popular Photos. Photos. 75 photos by 75 photographers.
It is a little overwhelming for me to look at how much this place has grown in the last 12 months.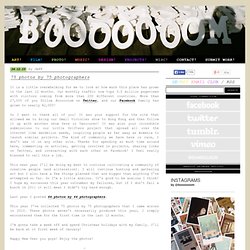 Our monthly traffic now tops 3.2 million pageviews with visitors coming from more than 200 different countries. More than 27,000 of you follow Booooooom on Twitter, and our Facebook family has grown to nearly 42,000! So I want to thank all of you! It was your support for the site that allowed me to bring our Small Victories show to Hong Kong and then follow it up with another show here in Vancouver! It was also your incredible submissions to our Little Drifters project that spread all over the internet like dandelion seeds, inspiring people as far away as Armenia to launch similar projects. Mark Jenkins // Glazed Paradise. Art Photos by Andrey Yakovlev and Lili Aleeva. Have you ever thought of creating your own responsive website?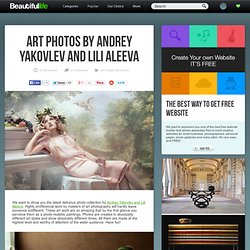 It could be your own personal webpage or your blog or even a site for your business? How about to create a website by yourself using one of today's most advanced website builder? Feel free to use the best website builder with wide opportunities allowing to create beautiful websites of different topics in minutes. Great variety of creative website templates, advanced drag-and-drop editor, mobile/tablet optimized versions, SEO features and all this is free. Pencil Vs Camera - 57 | Flickr: Intercambio de fotos. 8 Effects Every Photographer Should Know About. Photography seems easy at first glance.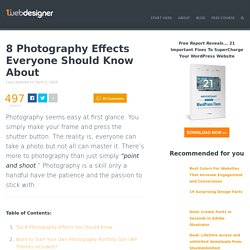 You simply make your frame and press the shutter button. The reality is, everyone can take a photo but not all can master it. There's more to photography than just simply "point and shoot." One big photo » a picture is worth a thousand words. 72 Stunning Examples of Bokeh Photography. Photographis. Classic Collection | Staley-Wise Gallery.
---