Defenders
Future of Privacy Forum
Jules Polonetsky (JulesPolonetsky) on Twitter
CenDemTech on Twitter
CenDemTech @ Ustream.TV - {ABOUT}. Free .TV shows, LIVE Video Ch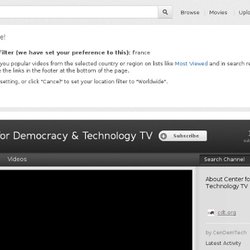 Chaîne de CenDemTech
Welcome to YouTube! The location filter shows you popular videos from the selected country or region on lists like Most Viewed and in search results.To change your location filter, please use the links in the footer at the bottom of the page. Click "OK" to accept this setting, or click "Cancel" to set your location filter to "Worldwide".
Information Security: Covering today's security topics
PrivacyCamp
Shaun Dakin (PrivacyCampDC) on Twitter
EFF (EFF) on Twitter
An outspoken civil libertarian, Gilmore has sued the FAA, Department of Justice, and others.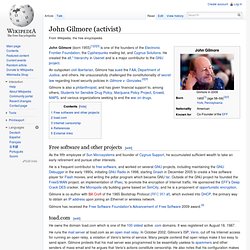 John Gilmore (activist)
John Naughton on WikiLeaks | Technology | The Observer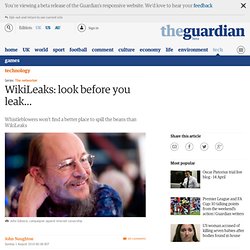 The Gilmore aphorism about censorship first saw the light of day in 1993 – in a Time article about the internet – and since then has taken on a life of its own as a consoling mantra about the libertarian potential of the network. "In its original form," Gilmore explains, "it meant that the Usenet software (which moves messages around in discussion newsgroups) was resistant to censorship because, if a node drops certain messages because it doesn't like their subject, the messages find their way past that node anyway by some other route." But, he continues, "The meaning of the phrase has grown through the years. Internet users have proven it time after time, by personally and publicly replicating information that is threatened with destruction or censorship." The aphorism came up a lot last week following publication by the Guardian, the New York Times and Der Spiegel of extensive reports based on the stash of classified US military reports published on the WikiLeaks website.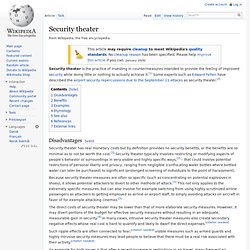 Security theater is the practice of investing in countermeasures intended to provide the feeling of improved security while doing little or nothing to actually achieve it.[1] Some experts such as Edward Felten have described the airport security repercussions due to the September 11 attacks as security theater.[2] Disadvantages[edit]
Security theater
Enough Security Theater, Already
Bruce Schneier is not the first to suggest that the security mania at airports is not 'real' but a form of show, but he's one of the most credible security analysts, today. Our security systems don't accomplish what they are theoretically supposed to do, and at huge expense: it's theater, intended to cause an emotional response of feeling safe, without actually doing much: It's not security theater we need, it's direct appeals to our feelings. The best way to help people feel secure is by acting secure around them. Instead of reacting to terrorism with fear, we — and our leaders — need to react with indomitability, the kind of strength shown by President Franklin D. Roosevelt and Prime Minister Winston Churchill during World War II.By not overreacting, by not responding to movie-plot threats, and by not becoming defensive, we demonstrate the resilience of our society, in our laws, our culture, our freedoms.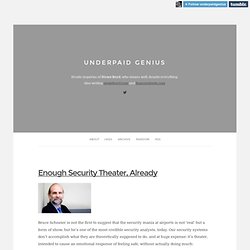 Daniel Solove
Daniel J. Solove is the John Marshall Harlan Research Professor of Law at the George Washington University Law School. He is a Senior Policy Advisor at Hogan Lovells.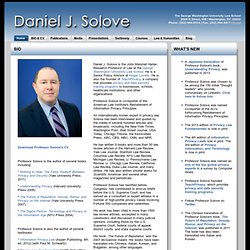 Daniel J. Solove (DanielSolove) on Twitter
privacyint on Twitter
Police State UK
PoliceStateUK on Twitter
privacy140 (privacy140) on Twitter
Center for Media and Communication Studies (CMCS) | CMCS
Big Brother AwardsInter national
Privacy First - Welkom bij Privacy First
Privacy First (privacyfirst) on Twitter
Big Brother Watch is a campaign from the founders of the TaxPayers' Alliance, fighting intrusions on privacy and protecting liberties.
Big Brother Watch
Big Brother Watch (bbw1984) on Twitter
BROAD - Broadening the Range Of Awareness in Data protection
Privacymatters
Privacy and Human Rights
The Public Voice
The Public Voice (thepublicvoice) on Twitter
Bits of Freedom (bitsoffreedom) on Twitter
Chaîne de BitsofFreedom
PogoWasRight.org - Privacy News
ACLUNC dotRights |
dotRights Campaign (dotRights) on Twitter
Ultimate Privacy Total Online PRivacy
ICO Data Protection and FreedomofInformation
ICOnews on Twitter
Personal information online - code of practice
Bring your own device (BYOD) This guidance explores what you need to consider if permitting the use of personal devices to process personal data for which you are responsible. Cloud computing
Security.NL
Ik heb toch niks te verbergen
VRIJBIT.NL - home
boxcrack.net - Home
boxcrack on Twitter
CPB College Bescherming Persoonsgegev
Viviane Reding - Commissioner for Information Society and Media
The Justice portfolio is new – it was only created with the start of this European Commission, under the leadership of President José Manuel Barroso, in 2010.
Of het nu gaat om rfid-chips, of behavioral targeting, Europeanen moeten het recht hebben om zelf te bepalen hoe hun persoonsgegevens gebruikt worden.
EC blik op online privacy