Defenders
Future of Privacy Forum
Jules Polonetsky (JulesPolonetsky) on Twitter
CenDemTech on Twitter
CenDemTech @ Ustream.TV - {ABOUT}. Free .TV shows, LIVE Video Ch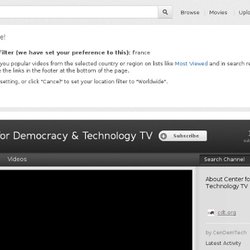 Chaîne de CenDemTech
Welcome to YouTube! The location filter shows you popular videos from the selected country or region on lists like Most Viewed and in search results.To change your location filter, please use the links in the footer at the bottom of the page. Click "OK" to accept this setting, or click "Cancel" to set your location filter to "Worldwide".
Information Security: Covering today's security topics
PrivacyCamp
Shaun Dakin (PrivacyCampDC) on Twitter
EFF (EFF) on Twitter
John Gilmore (born 1955) [ 1 ] [ 2 ] [ 3 ] is one of the founders of the Electronic Frontier Foundation , the Cypherpunks mailing list, and Cygnus Solutions .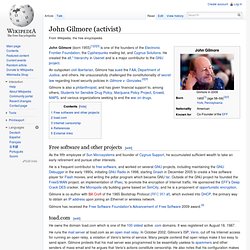 John Gilmore (activist)
John Naughton on WikiLeaks | Technology | The Observer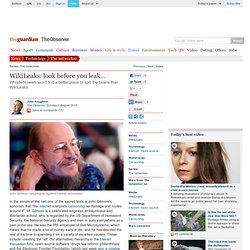 John Gilmore, campaigner against internet censorship.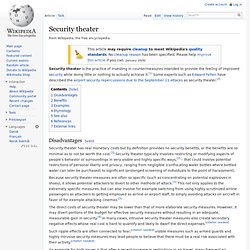 Security theater is the practice of investing in countermeasures intended to provide the feeling of improved security while doing little or nothing to actually achieve it. [ 1 ] The term was coined by computer security specialist and writer Bruce Schneier for his book Beyond Fear , [ 2 ] but has gained currency in security circles, particularly for describing airport security measures. It is also used by some experts such as Edward Felten [ 3 ] to describe the airport security repercussions due to the September 11 attacks .
Security theater
Enough Security Theater, Already
Bruce Schneier is not the first to suggest that the security mania at airports is not 'real' but a form of show, but he's one of the most credible security analysts, today. Our security systems don't accomplish what they are theoretically supposed to do, and at huge expense: it's theater, intended to cause an emotional response of feeling safe, without actually doing much: It's not security theater we need, it's direct appeals to our feelings.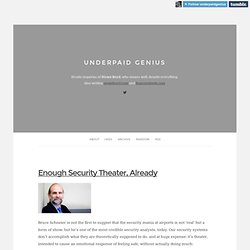 Daniel Solove
Daniel J. Solove (DanielSolove) on Twitter
privacyint on Twitter
Police State UK
PoliceStateUK on Twitter
privacy140 (privacy140) on Twitter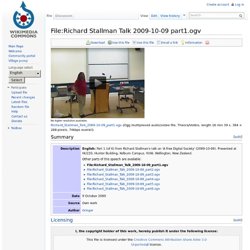 Richard Stallman Talk 2009-10-09 part1.ogv - Wikimedia Comm
Cancel Edit Delete Preview revert
Center for Media and Communication Studies (CMCS) | CMCS
STATEWATCH - monitoring the state and civil liberties in Europe
Big Brother AwardsInter national
Privacy First - Welkom bij Privacy First
Privacy First (privacyfirst) on Twitter
Big Brother Watch is a campaign from the founders of the TaxPayers' Alliance, fighting intrusions on privacy and protecting liberties.
Big Brother Watch
Big Brother Watch (bbw1984) on Twitter
BROAD - Broadening the Range Of Awareness in Data protection
Privacymatters
Privacy and Human Rights
The Public Voice
The Public Voice (thepublicvoice) on Twitter
Bits of Freedom (bitsoffreedom) on Twitter
Chaîne de BitsofFreedom
PogoWasRight.org - Privacy News
ACLUNC dotRights |
dotRights Campaign (dotRights) on Twitter
Ultimate Privacy Total Online PRivacy
ICO Data Protection and FreedomofInformation
ICOnews on Twitter
Personal information online - code of practice
Bring your own device (BYOD) This guidance explores what you need to consider if permitting the use of personal devices to process personal data for which you are responsible. Cloud computing
Security.NL
Ik heb toch niks te verbergen
VRIJBIT.NL - home
boxcrack.net - Home
boxcrack on Twitter
CPB College Bescherming Persoonsgegev
Viviane Reding - Commissioner for Information Society and Media
Of het nu gaat om rfid-chips, of behavioral targeting, Europeanen moeten het recht hebben om zelf te bepalen hoe hun persoonsgegevens gebruikt worden.
EC blik op online privacy