Visualization
Shop Flow | iCreate to Educate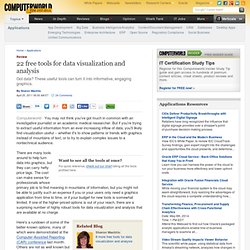 Review April 20, 2011 06:00 AM ET Computerworld - You may not think you've got much in common with an investigative journalist or an academic medical researcher. But if you're trying to extract useful information from an ever-increasing inflow of data, you'll likely find visualization useful -- whether it's to show patterns or trends with graphics instead of mountains of text, or to try to explain complex issues to a nontechnical audience. Want to see all the tools at once?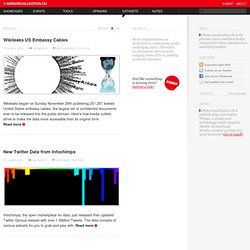 Wikileaks US Embassy Cables 29 Nov 2010 Datasets Infographic, Politics Wikileaks began on Sunday November 28th publishing 251,287 leaked United States embassy cables, the largest set of confidential documents ever to be released into the public domain.
Datasets on Datavisualization
When I meet with people and talk about our work, I get asked a lot what technology we use to create interactive and dynamic data visualizations. At Interactive Things, we have a set of preferred libraries, applications and services that we use regularly in our work. We will select the most fitting tool for the job depending on the requirements of the project. Sometimes a really simple tool is all you need to create something meaningful.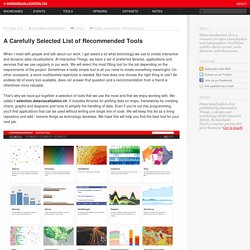 How Teachers Actually Feel About Education Technology [Infographic]
How Online Education Has Changed In 10 Years 7.65K Views 0 Likes We all know that education, specifically online education, has come a long way in the last few years. We've already taken a look back - way back - at online education as we rarely think of it (in the 1960's and 70's), but it is also interesting to see just how much online education has evolved in just the more recent past.
This presents nine sources of visual thinking guides: Exploratree, Gamestorming, LexIcon, Education Oasis, TeacherVision, Freeology, Education Place and Writing Fun. Exploratree hosts a set of interactive thinking guides. This is a free web resource where you can use the guides, print them, edit them or make your own. You can share them and work on them in groups. It is aimed at schools and students, but has ideas for thinkers of all ages.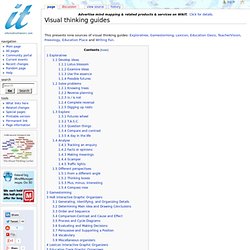 Ready-made thinking guides Map your ideas Blank template Futurelab A blank thinking guide where you can create your own from scratch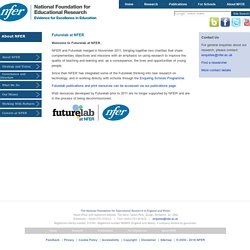 Nicolas Rapp and Anne Vandermey with a straightforward look at new jobs added at the top 100 companies to work for, according to Fortune. Fat paychecks, sweet perks, fun colleagues, and over 70,000 jobs ready to be filled — these employers offer dream workplaces. Like Google, which reclaims the top spot this year to become a three-time champion. Meet this year's top 100, network with the winners on LinkedIn, and more. Number of new jobs added or lost is on the horizontal, and number of employees at the start of the year on the vertical.
Job growth at the best companies to work for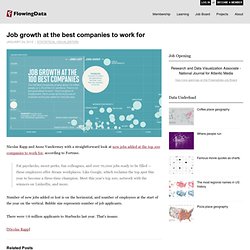 DataViva, Built in Brazil, Available to All Make no mistake, DataViva was created for the Brazilian state government of Minas Gerais, but it's just one possible implementation of this completely open source tool. Built with D3plus and a host of other well documented web technologies, DataViva serves as a model that could be adopted in any… Dec 17 2013 Bloomberg's Guided Tour of the October Jobs Report The Bloomberg Visual Data team and Matthew C. Klein have released an interactive walkthrough of the October 2013 job numbers. Matthew writes that: No single data release probably affects markets more than the monthly jobs report published by the U.S. Bureau of Labor Statistics, which today noted… Dec 3 2013 Human Progress Pushes Today's Big Issues Forward When a website has an inauguration event it's a pretty good sign you should pay attention.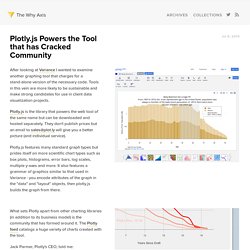 The Why Axis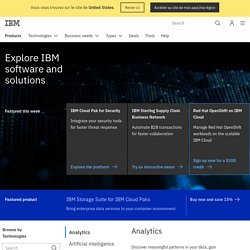 Try out the newest version of IBM Many Eyes! New site design and layout Find visualization by category and industry New visualization expertise and thought leadership section Expertise on the Expert Eyes blog Learn best practices to create beautiful, effective visualizations New, innovative visualizations from the visualizations experts of IBM Research
November 2002. Updated: 16 May 2004; 12 April 2005; 27 March 2006; 20 September 2006; 25 March 2007;5 November 2008; 29 January 2011 Last Update and Link Check: 7 December 2011. First published at Intraspec.ca. Moved here, reformatted, with minor updates, 16 June 2013.
Pantheon, a project from the Macro Connections group at The MIT Media Lab, explores cultural influences across countries and domains. To make our efforts tractable, Pantheon will not focus on culture, as it is understood in its broadest sense, but on cultural production. In a broad sense, culture can be understood as all of the information that humans—or animals [1]—generate and transmit through non-genetic means [2].
word stemming program
Here is a set of first sketchnotes from Samantha Hosea: Samantha wrote me with a little more detail about her experience: This morning I did a workshop on sketchnoting by @micheleidesmith at a conference in Cambridge (#uxcam). My relationship with sketchnoting has always been a bit... let's say... complicated.
This software has been renamed to Gapminder World Offline Because of technical problems the software on this page is no longer being maintained! Please visit Gapminder World Offline (Beta) instead. Gapminder Desktop
Interactive, 14 Nov 2013: Who would have thought that the marriage of two tiny little words - pine from the Latin 'pīnus' meaning "sap, juice" and apple from 'apple' meaning "apple" would have split the UK from the rest of the world way back when it was first recorded in 1398? And what about the word orange? Or beer? Or bear?