Panoramique-360°
Société Regards - Spécialiste des contenus innovants et des nouvelles interfaces. Les calanques panoramique 360° Lacs et cascades des Vosges - photos panoramiques 360° et Albums photos. PHOTOS PANORAMIQUES Vosges, Alsace, Lorraine - 360° plein écran. Le Forlet (lac des truites) Roches du Bihay (Saint-Dié) Crêtes au lever du jour du lac Noir vers le Lac des Truites Massif de la Madeleine - St-dié.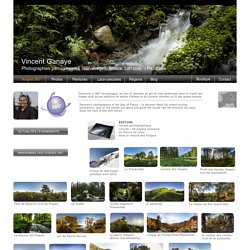 Visite virtuelle Dordogne-Périgord 24 - panoramas 360 - photo panoramique 360 - Philippe Lainé - visite 3D - location 24. Visite virtuelle Cédric Poyet. New York City - Tour by Estelle Lesieur - 2008. Profil Twitter pour 360Cities. Le Pèlerinage en Terre Sainte | Holyland Pilgrimage. Le pape François effectuera un pèlerinage en Terre sainte, du 24 au 26 mai prochain, pour commémorer le 50e anniversaire de la rencontre entre le pape Paul VI et le patriarche Athënagoras.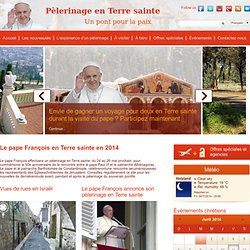 Le pape et le patriarche Bartholomée de Constantinople, célébrerontune rencontre œcuméniqueavec les représentants des Égliseschrétiennes de Jérusalem. Consultez régulièrement ce site pour les nouvelles de dernièreminute avant, pendant et après le pèlerinage du souverain pontife. Le Vatican. Overview and History All roads lead to Rome, the capital of Italy, current football world champions, where western civilization really got cookin' and Christianity gained its foothold on an empire.
According to legend, the city was founded on the Palatine Hill by Romulus and Remus, just after they finished wiping wolf's milk from their lips. Romulus killed his brother Remus in a fight over who had the right to name the city, hence "Rome" and not "Remo". He attained divine status after his death, being given the name "Quirinus," the root of which you can see in the Quirinale Palace. The Quirinale Palace is the home of the President of the Italian Republic. Visites virtuelles 360 et visites virtuelles flash HD de la France: Visite virtuelle 360° HD de Nîmes (panorama 4)
Nouvelle étape nîmoise aujourd'hui, avec cette visite virtuelle 360° du Parvis des Arènes.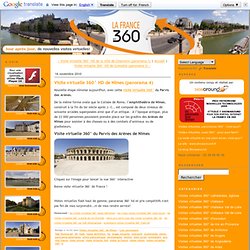 De la même forme ovale que le Colisée de Rome, l'Amphithéâtre de Nîmes, construit à la fin du Ier siècle après J. -C., est composé de deux niveaux de soixante arcades superposées ainsi que d'un attique. Panoramic Earth. Earth is unique in the solar system for the known capacity to support life.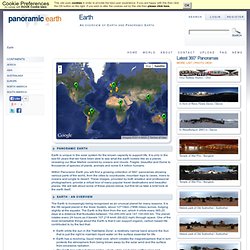 It is only in the last 60 years that we have been able to see what the earth looked like as a planet, revealing our Blue Marble covered by oceans and clouds. Fragile, beautiful and Home to thousands of species of plants, animals and some 6.4 billion humans. Within Panoramic Earth you will find a growing collection of 360° panoramas showing various parts of the world, from the cities to countryside, mountain tops to caves, rivers to oceans and jungle to desert. Panorama. Patrimonium-mundi.org : Sites du patrimoine mondial en panophotographies - images panoramiques immersives et interactives. 50 sites similaires Panoramas.dk | Sites Panoramas.dk similaires. "Венесуэла. Окрестности водопада Анхель" - (©)AIRPANO.RU - проект Олега Гапонюка.
PARIS - panorama. Paris 26 Gigapixels - Interactive virtual tour of the most beaut. Panoramas.dk - Travel the world in 360degrees. Corse panoramique 360° 360Cities.net. Panoramique 360° les gorges du verdon. PanoGuide galleries. Marija Bistrica - Croatiaby PanLUX View full-size / more info You are here: Gallery.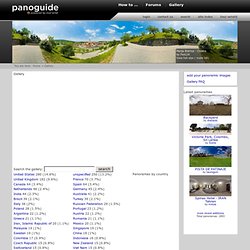 Www.AirPano.ru. Altivue 360 Provence Côte d'Azur. London World Record Panoramic Photo: See Big Ben, London Eye, Tower Bridge, and more than you can imagine. À propos de cette photo Il s'agit d'une photo panoramique de 80 gigapixels, fabriquée à partir de 7886 images individuelles.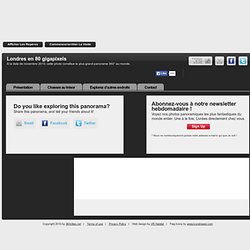 Ce panorama a été photographié à partir du sommet de l'édifice Centre Point, situé dans le centre-ville de Londres, durant l'été 2010. Panorama.dk. PARIS - panorama | © gillesvidal - photographe. Photosynth - Capture your world in 3D. Sevilla 111 Gigapixeles. Visita interactiva de Sevilla, Record mundial de fotogtafía panorámica en diciembre de 2010.
>FromParis : Paris panoramas, virtual visits, panoramic views, photographs, 360° views, Quicktime VR, free ecards from Paris. All photographs are copyright "Eric Rougier / FromParis.com".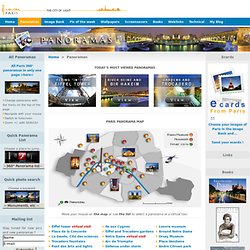 Please, do not to use without written authorization. The pyramid of the Louvre museum: Leoh Ming Pei, architect. "La Geode": Adrien Fainsilber, architect. Arounder - Voyage et Mode de vie à 360 ° Quicktime VR - Virtual Reality panoramas plein écran.
La liste complète | Panorama à 360 degrés aérienne | 3D Tours virtuel autour du monde | Photos des lieux les plus intéressants sur la Terre | AirPano.com. Тop 20 New 7 Wonders of the World Petra, Jordan Great Wall of China Grand tour of Moscow, Russia Grand tour of Iceland Barcelona, Spain Everest from the height of 7000 meters, Nepal Santorini (Thira), Oia, Greece 360 video, Plosky Tolbachik Volcano, Kamchatka, Russia, 2012 Iguasu Falls, Argentina-Brazil.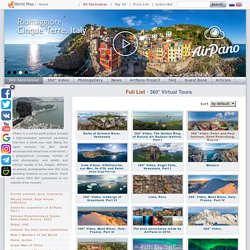 Grand tour Flight to Stratosphere Volcano Plosky Tolbachik, Kamchatka, Russia, 2012 Taj Mahal, India Christ the Redeemer Statue, Rio de Janeiro, Brazil Great Pyramids of Giza in Egypt Grand tour of Manhattan, New York, USA Angel Waterfall of Venezuela - The World's Highest Waterfall St-Petersburg, Virtual Tour Swaminarayan Akshardham, Delhi, India Hong Kong - the City Where Dreams Come True Las Vegas at Dusk and Night Machu Picchu — the ancient city of the Inca Empire Victoria Falls, Zambia and Zimbabwe border Virtual Tour of Dubai City, UAE St.Moritz, Swiss Alps, Virtual Tour.
Aquatique Show à Strasbourg - Au coeur des Etoiles. Les photos du diaporama du présent site internet ont été prises a Strasbourg en aout 2009 pendant le show aquatique de la société Aquatique Show International : Au Coeur des Etoiles.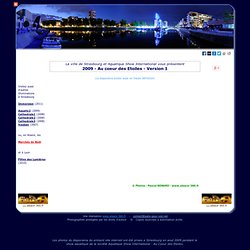 On retiendra comme mots clefs : Strasbourg, Bas-Rhin, Alsace, Spectacle, Rivetoile, Presqu'ile, Malraux, Seegmuller, Aquatique, Show, Diaporama, mais également plus largement, tourisme, tourisme en Alsace, vacances, congés, voyages, agences de voyages, hôtels, restaurants, location, appartements, Inde Tibet Nepal Egypte Chine Malaysie Cambodge Kathmandou Taj-Mahal New-York Niagara Yosemite Tourisme virtuel en 360° avec panoramas du monde. Vous n'irez jamais plus haut que le sommet de l'Everest! Vous ne descendrez jamais plus bas qu'un voyage (presque) au centre de la terre, en Slovénie, sur les traces de Jules Verne... la grotte de Krizna Jama (seules 30 personnes y sont descendues!) Entrée de la grotte cliquez ensuite sur les 12 points rouges pour parcourir cette grotte qui s'étend sur plusieurs km! Et pour vous rendre sur place, pourquoi ne pas embarquer à bord du Titanic Vous n'aurez jamais plus chaud qu'en visitant un volcan! Magnifiques vues panoramiques aériennes avec Airpano.com.
Alsace 360 - Photographies Sphenoramiques TM. Gouffre de Padirac. Photo : panoramas du monde entier à 360° en 3D. J'ai découvert hier un site web que je tiens à vous faire découvrir : 360 Degres Aerial Panorama est un projet à but non-lucratif pour photographier les plus beaux sites du monde entier en 3D, projet exécuté par une équipe de photographes russes talentueux.
Je viens d'y passer une bonne heure, grâce à l'un de mes contacts sur Facebook (qu'il en soit remercié !) , et je ne pouvais pas ne pas vous montrer ! Visite virtuelle 360 de l'arrière pays Héraultais.
Photographie Panoramique Mondiale - 360 Cities. Panorama 360° Panorama corse 360° 360° geo. 7 Wonders - Panoramas Le 7 nouvelles merveilles-Travel Grande Muraille, le Taj Mahal, le Machu Picchu - Panoramas 360 degrés. 360 degrés - panoramiques et visites virtuelles. Versailles Galerie des Glaces - Panoramiques 360 panorama photo à 360 degrés QTVR. Copyright @ Hans Nyberg - panoramas.dk · www.qtvr.dk · www.360-foto.dk · www.virtualdenmark.dk · Privacy Policy I panoramas.dk is hosted by: VRWAY Important info about Copyright: All panoramas featured at panoramas.dk are copyright the individual photographers.
Linking directly to the movies Quicktime or Flash is strictly forbidden. If you which to use any of the panoramas for any purpose, commercial or editorial you are requested to contact the photographer who has the copyright and is listed on all fullscreen pages. Links to panoramas.dk are welcome. You are allowed linking directly to the panoramapages using a small screenshot as long as it is used directly as a link or associated with a link .
Everest-Monte Everest -360 vue panoramique depuis le sommet - Escalade Mont Everest - Trekking au Népal-photo panoramique du haut du Mont Everest.
---