Social entrepreneurship
Blog. The Impact of Better Teachers: $100 Trillion More in U.S. GDP. Forget the cliche of bringing an apple to your favorite teacher.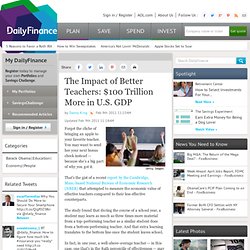 You may want to send her your next bonus check instead -- because she's a big part of why you got it. That's the gist of a recent report by the Cambridge, Mass. -based National Bureau of Economic Research (NBER) that attempted to measure the economic value of effective teachers compared to their less effective counterparts. The study found that during the course of a school year, a student may learn as much as three times more material from a top-performing teacher as a similar student does from a bottom-performing teacher. And that extra learning translates to the bottom line once the student leaves school.
Social Impact Bonds: Lessons from the Field. In piloting social impact bonds, governments have already yielded some lessons from the field.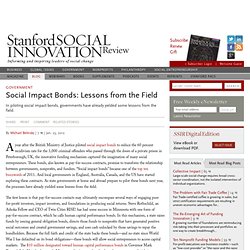 A year after the British Ministry of Justice piloted social impact bonds to reduce the 60 percent recidivism rate for the 3,000 criminal offenders who passed through the doors of a private prison in Peterborough, UK, the innovative funding mechanism captured the imagination of many social entrepreneurs. These bonds, also known as pay-for-success contracts, promise to transform the relationship between governments, nonprofits, and funders. "Social impact bonds" became one of the top ten buzzwords of 2011. And local governments in England, Australia, Canada, and the US have started exploring these contracts.
How Schools' Poor Infrastructure Can Blunt EdTech Advances. Technology is often more of a spectator sport than anything else.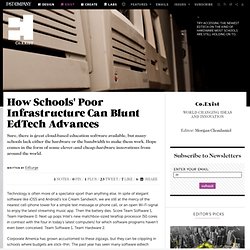 In spite of elegant software like iOS5 and Android's Ice Cream Sandwich, we are still at the mercy of the nearest cell-phone tower for a simple text message or phone call, or an open Wi-Fi signal to enjoy the latest streaming music app. Then the battery dies. The Corporation As You Know It Is Probably Obsolete. There is a groundswell in new kinds of corporate forms that is gaining steam.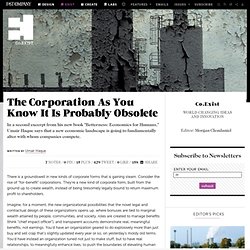 Consider the rise of "for-benefit" corporations. They're a new kind of corporate form, built from the ground up to create wealth, instead of being tiresomely legally bound to return maximum profit to shareholders. Imagine, for a moment, the new organizational possibilities that the novel legal and contractual design of these organizations opens up, where bonuses are tied to marginal wealth attained by people, communities, and society, roles are created to manage benefits (think "chief impact officer"), and transparent accounts demonstrate real, meaningful benefits, not earnings. You'd have an organization geared to do explosively more than just buy and sell crap that's slightly updated every year or so, on yesterday's moldy old terms. How Haiti's Earthquake Inspired LinkedIn's Skill-based Volunteer Marketplace. In 2010, a 7.0-magnitude earthquake stuck west of Port-au-Prince, Haiti's capital, disrupting life for millions of residents and razing infrastructure across the impoverished country.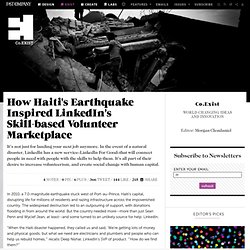 The widespread destruction led to an outpouring of support, with donations flooding in from around the world. But the country needed more--more than just Sean Penn and Wyclef Jean, at least--and some turned to an unlikely source for help: LinkedIn. "When the Haiti disaster happened, they called us and said, 'We're getting lots of money and physical goods, but what we need are electricians and plumbers and people who can help us rebuild homes,'" recalls Deep Nishar, LinkedIn's SVP of product. "'How do we find them?' " Blueseed: A Floating Startup Incubator Off The California Coast. You can lament retrograde American immigration laws that prevent highly skilled foreigners from coming here to work in the tech industry, or you can set up an office at sea.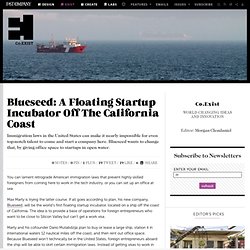 Max Marty is trying the latter course. If all goes according to plan, his new company, Blueseed, will be the world's first floating startup incubator, located on a ship off the coast of California. The idea is to provide a base of operations for foreign entrepreneurs who want to be close to Silicon Valley but can't get a work visa. Marty and his cofounder Dario Mutabdzija plan to buy or lease a large ship, station it in international waters 12 nautical miles off the coast, and then rent out office space.
Pay for Success: How a New Kind of Bond Could Save Taxpayer Money and Improve Social Services - Business. Two federal agencies will steer tax money for social programs through a new for-profit investing tool tested in the United Kingdom and Australia, according to a report co-authored by the White House and the Nonprofit Finance Fund.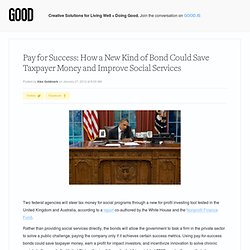 Rather than providing social services directly, the bonds will allow the government to task a firm in the private sector to solve a public challenge, paying the company only if it achieves certain success metrics. Using pay-for-success bonds could save taxpayer money, earn a profit for impact investors, and incentivize innovation to solve chronic social challenges. In the United States, this is all theoretical at this point, but 2012 may be the year that changes. The Department of Labor will make available $20 million for pay-for-success projects that help Americans find work through its Workforce Innovation Fund. Former "Seasteaders" Come Ashore To Start Libertarian Utopias In Honduran Jungle. The seasteader-in-chief is headed ashore.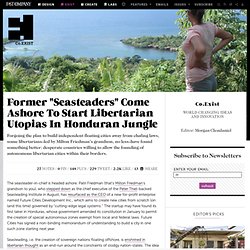 Patri Friedman (that's Milton Friedman's grandson to you), who stepped down as the chief executive of the Peter Thiel-backed Seasteading Institute in August, has resurfaced as the CEO of a new for-profit enterprise named Future Cities Development Inc., which aims to create new cities from scratch (on land this time) governed by "cutting-edge legal systems.
" The startup may have found its first taker in Honduras, whose government amended its constitution in January to permit the creation of special autonomous zones exempt from local and federal laws. Future Cities has signed a non-binding memorandum of understanding to build a city in one such zone starting next year. Seasteading, i.e. the creation of sovereign nations floating offshore, is enshrined in libertarian thought as an end-run around the constraints of stodgy nation-states. Charles Leadbeater on innovation. Www.charlesleadbeater.net/cms/xstandard/social_enterprise_innovation.pdf. EdSurge. Philosophy of Education. First published Mon Jun 2, 2008; substantive revision Thu Aug 15, 2013 All human societies, past and present, have had a vested interest in education; and some wits have claimed that teaching (at its best an educational activity) is the second oldest profession.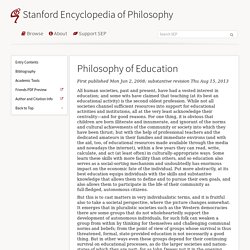 While not all societies channel sufficient resources into support for educational activities and institutions, all at the very least acknowledge their centrality—and for good reasons. For one thing, it is obvious that children are born illiterate and innumerate, and ignorant of the norms and cultural achievements of the community or society into which they have been thrust; but with the help of professional teachers and the dedicated amateurs in their families and immediate environs (and with the aid, too, of educational resources made available through the media and nowadays the internet), within a few years they can read, write, calculate, and act (at least often) in culturally-appropriate ways.
Aestheticism. The Peacock Room, Aesthetic Movement designed by James Abbott McNeill Whistler, one of the most famous examples of Aesthetic style interior design Aestheticism (or the Aesthetic Movement) is an art movement supporting the emphasis of aesthetic values more than social-political themes for literature, fine art, music and other arts.[1][2] It was particularly prominent in Europe during the 19th century, but contemporary critics are also associated with the movement, such as Harold Bloom, who has recently argued against projecting social and political ideology onto literary works, which he believes has been a growing problem in humanities departments over the last century.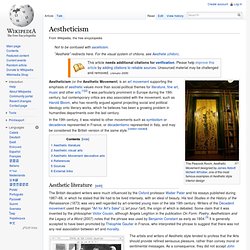 Aesthetic literature[edit] The British decadent writers were much influenced by the Oxford professor Walter Pater and his essays published during 1867–68, in which he stated that life had to be lived intensely, with an ideal of beauty. Non-profit or for-profit? | microeducation. Microfinance, so why not Micro-Education? | Pole to Pole Consulting Blog. To begin, microfinance in its strictest sense does not propose to alleviate poverty nor is it the panacea for all developing country (and developed for that matter) woes. What it does do is provide access to formal financial services for hundreds of millions of people left out of the traditional formal financial sector. Microfinance provides steady credit lines, places to save (those that offer it), with the long-term goal/hope that those accessing these services will in turn graduate up-market to the previously mentioned formal financial sector.
Now, if a market exists, with profits to be gained by lending to the poor, why would this not work with education. It's more complex, I recognize that. Microschools – Opportunity International's Contribution for Achieving MDG 2 « International Affairs – Analysis and Reflections. Microschools of Opportunity™ The United Nation's Millennium Development Goals (MDG's), established at the Millennium Summit in 2000, consist of eight goals related to international development topics such as poverty eradication (#1), promotion of gender equality (#3), global health issues (#6), or environmental sustainability (#7), and to which all UN member states have agreed to accomplish by 2015. MDG #2—to achieve universal primary education—addresses the importance of literacy for advancing human development and tackling extreme poverty.
International launches Microschools™ – new frontier in breaking the chain of poverty. New research shows 'schools for the poor' outperform public schools in developing world Oak Brook, Ill. – July 31, 2007 – Opportunity International, a leading innovator in the microfinance industry, today announced the expansion of its microfinance school loans program to bring greater educational opportunity to poor children, especially girls.
Microschools of Opportunity™ is a new initiative that provides loans to "edupreneurs" who open schools in poor neighborhoods where children cannot access public school for a variety of reasons. Groundbreaking research by James Tooley, a leading academic expert on schools for the poor, has shown that these schools outperform their public school counterparts across Africa, India and China. Private Schools for the Poor. The accepted wisdom is that private schools serve the privileged; everyone else, especially the poor, requires public school. The poor, so this logic goes, need government assistance if they are to get a good education, which helps explain why, in the United States, many school choice enthusiasts believe that the only way the poor can get the education they deserve is through vouchers or charter schools, proxies for those better private or independent schools, paid for with public funds.
But if we reflect on these beliefs in a foreign context and observe low-income families in underprivileged and developing countries, we find these assumptions lacking: the poor have found remarkably innovative ways of helping themselves, educationally, and in some of the most destitute places on Earth have managed to nurture a large and growing industry of private schools for themselves. For the past two years I have overseen research on such schools in India, China, and sub-Saharan Africa. Microeducation | Education & Empowerment Technology Design. Creating the National Laboratory for Education Transformation, or NLET, has been a fascinating journey. The idea is simple enough. On the one hand, we know that education systems, learning strategies, and knowledge access have to change. Mon, 11/21/2011.
Venture Capital and the Finance of Innovation (9780470074282): Andrew Metrick. How to Break Into Venture Capital. What Do You Do as a Venture Capitalist? Www.mycapital.com/VenetureCapital101_MyCapital.pdf. Www.dblinvestors.com/portfolio-detail.php#livescribe. Impact investing: Happy returns. Social Finance | J.P. Morgan. Social Entrepreneurs 2011: Impact Investors. Www.jpmorgan.com/cm/BlobServer/impact_investments_nov2010.pdf?blobcol=urldata&blobtable=MungoBlobs&blobkey=id&blobwhere=1158611333228&blobheader=application%2Fpdf. TEDxSydney - Andrew Kuper - Profit with Purpose: the impact investing revolution.
Www.ncspe.org/publications_files/OP112.pdf. About Us. McKinsey on Society. How the world's most improved school systems keep getting better. Givology. Ed Tech Map: NewSchools Venture Fund. Venture Investing, The Socially Responsible Way - Venture Capital Dispatch. Teach For All: Network: Locations & Programs. School Choice | College Achievement | Public Schools. Study Shows School Choice Improves College Achievement Gap.
---