Aéronautique - Spatiale - Défense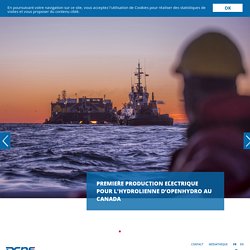 DCNS s'engage en faveur des quartiers prioritaires à Toulon Le site DCNS de Toulon rejoint les cinquante entreprises signataires de la Charte « Entreprises et Quartiers », initiative lancée en juin 2013 par le Ministre délégué en charge de... Lire la suite OpenHydro et Alderney Renewable Energy (ARE) créent une joint-venture pour le développement d'une ferme hydrolienne tournée vers l'Europe La société OpenHydro, filiale de DCNS spécialisée dans les systèmes d'énergie hydrolienne, et Alderney Renewable Energy (ARE) ont signé aujourd'hui un accord pour la création d'une joint-venture, Race Tidal Ltd....
DCNS
La direction générale de l'armement (DGA) a organisé son second forum innovation le 21 novembre 2013 sur le campus de l'école polytechnique à Palaiseau. Articulée autour d'un village exposition, d'une séance plénière et d'ateliers thématiques, cette manifestation est l'événement annuel majeur de la recherche et de l'innovation duale. Un buggy volant, un microdrone qui roule et grimpe aux murs, une caméra qui voit en couleur aussi bien le jour que la nuit, une boussole qui se fixe sur l'abdomen pour donner discrètement ses informations de manière tactile, un pansement bio inspiré qui facilite la réparation des tissus… Toutes ce pépites scientifiques et technologiques, et d'autres encore, ont été présentées au 2e forum innovation organisé par la DGA.Lieu ...
DGA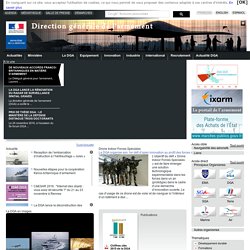 NEXTER
It is during the traditional July 14 th celebration that the French Army, National Navy and Air Force will march down the Champs Elysées. Nearly 450 vehicles will drive down the most famous avenue in the world between the Place de l'Etoile and Place de la Concorde. As the incumbent supporter of the country's defense system, Nexter Systems will be particularly present with its entire range in service in the French armed forces. Tens of thousands of spectators will thus see the Leclerc and AMX 10-RC tanks parade respectively with the 1 st and 4 th rifle regiments, the VBCI with the 92 nd Infantry Regiment and the "ARAVIS" VBHP with the 13 th Regiment of Engineers. In artillery, the CAESAR 155 mm gun will be central piece of the 93 rd Artillery Mountain Regiment. A supplier of high-performing systems for the French army, Nexter Group also provides services through its operational readiness programs for its vehicles like the Leclerc, ARAVIS or VBCI.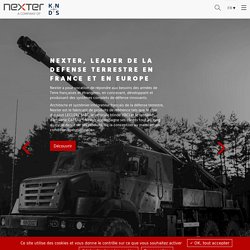 Safran
Cassidian
MBDA
Dassault